Gall bladder stones in medical terminology also know as  CHOLELITHIASIS.
The gall bladder is a small pear shaped organ that is attached to the underside of the liver. The gall bladder stores bile- fluid that helps digest fat. The bile flows into the gut along a small tube called CBD(Common Bile Duct). Gall stones usually form in gall bladder because of excessive cholesterol in bile and bile salts.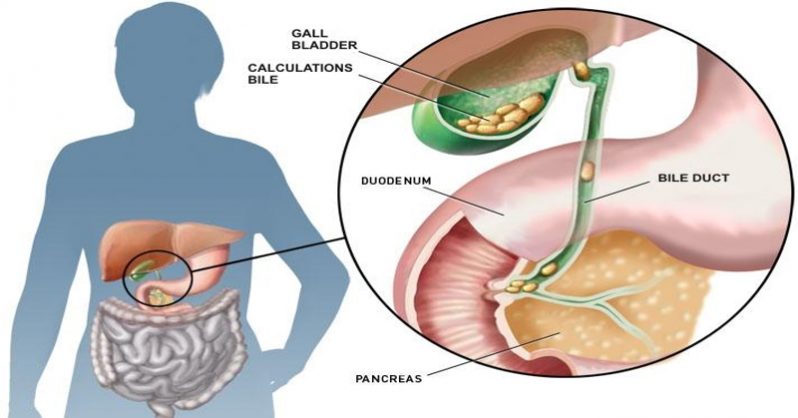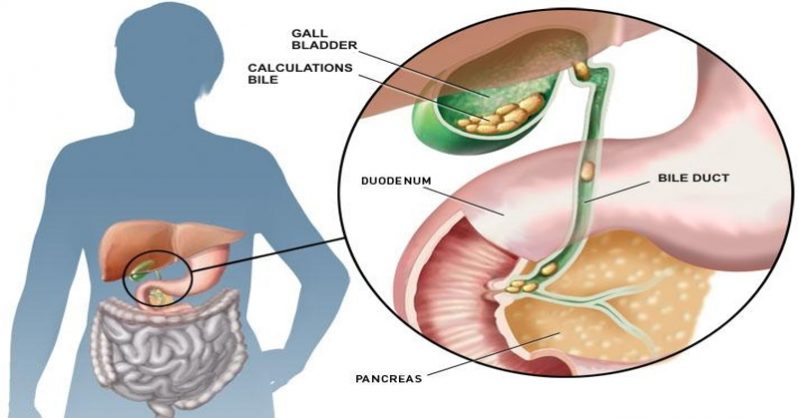 SIGNS AND SYMPTOMS

Gall Bladder stones may cause PAIN,BLOATING,NAUSEA AND VOMITING. Sometimes stones travel into the bile duct and cause blockage leading to jaundice and it needs urgent treatment. Although a lot of people develop gallstones-not everyone will have problems. However, those who do not have problem may go on to develop complication  like inflammation of gall bladder, inflammation of pancreas and blockage of bile duct causing jaundice and infection.
INVESTIGATION AND TREATMENT
Patients suspected of gall bladder stone disease or having above mentioned signs &symptoms should under following investigations-
Ultrasound Whole Abdomen-FASTING
Routine Lab Investigations –COMPLETE HAEMOGRAM, RFT,LFT,
SERUM ELECTROLYTE.
In case of Jaundice or in Bile Duct stones(diagnosed on USG) one should get MRCP(Magnetic Resonance cholangiopancreatography).
Special Investigation (Required for surgery)- ECG,CHEST X RAY AND
VIRAL MARKERS,COAGULOGRAM
For Diagnosed case of Acute Pancreatitis (Gallstone Induced)-CECT WHOLE ABDOMEN IS DONE.
VARIOUS OPERATIVE TREATMENT MODALITIES AVAILABLE  FOR  GALL BLADDER STONES
OPEN CHOLECYSTECTOMY and
LAPAROSCOPY CHOLECYSTECTOMY
The surgery is usually done it the organ is inflamed or obstructed . In the past open cholecystectomy was treatment of choice. The procedure required a 3 to 7 days of hospiral stay with a 3 to 7 inch incision and scar on the abdomen.
Laparoscopy cholecystectomy is the surgical removal of  gall bladder  using a laparoscope , commonly known as KEY HOLE SURGERY.  For most of the patients it is a safe and effective procedure. There are usually four small cuts about size of 0.5 to 1.0 cm long in the abdomen wall. The number of cuts  and their position vary between patients.
OUTCOME AND BENEFITS OF HAVING THE LAPAROSCOPIC CHOLECYSTECTOMY
In most of people there is relief of pain, nausea and vomiting.
It will also prevent complications and the gallstones from coming back.
Ease of recovery.
Minimal stitches thus minimal incision pain.
Patient usually goes home same day or next day.
Within few days normal activity can be resumed thus recovery time is much quicker.
Minimal scar on the abdomen thus cosmetically better.
RISK AND COMPLICATIONS OF THE PROCEDURE
While majority of patients have an uneventful surgery and recovery but few cases may be associated with complications. These are seen infrequently and not all the ones listed below are applicable to one individual. However it is important that your are aware of the complications that may arise out of this procedure which are listed below:
EXCESSIVE BLEEDING
INJURY TO GUT WHILE INSERTING PORTS AND PASSING INTRUMENTS INTO ABDOMEN
NEED FOR OPEN SURGERY
SLIPPING/ESCAPING OF STONES INTO BILE DUCT REQUIRING ON TABLE CONTRAST STUDY
BILE LEAK
BIKE DUCT INJURY
WOUND INFECTION
BLEEDING FROM WOUND
WOUND MAY NOT HEAL NORMALLY
ADHESIONS
SYMPTOMS MAY PERSIST AFTER SURGERY FOR FEW PATIENTS
INCREASED RISK IN OBESE PATIENTS
INCREASED RISK IN SMOKERS
AFTER SURGERY CONTACT YOUR DOCTOR IF:
FEVER OVER 100
REDNESS, SWELLING, PAIN, OR DRAINAGE FROM INCISION.
YOU BECOME DIZZY AND FAINT.
CHEST PAIN.
PERSISTENT NAUSEA AND VOMITING.
SHORT OF BREATH.
ABDOMINAL PAIN OR SWELLING THAT GETS WORSE.