Gambhir launches Southern-leg of India's First Cricket Scholarship : Two-time World Cup winner and Arjuna Awardee Gautam Gambhir along with Sports Technology firm Funngage.com has launched a nation-wide program for Cricket Scholarship, the first of its kinds for Sports in India.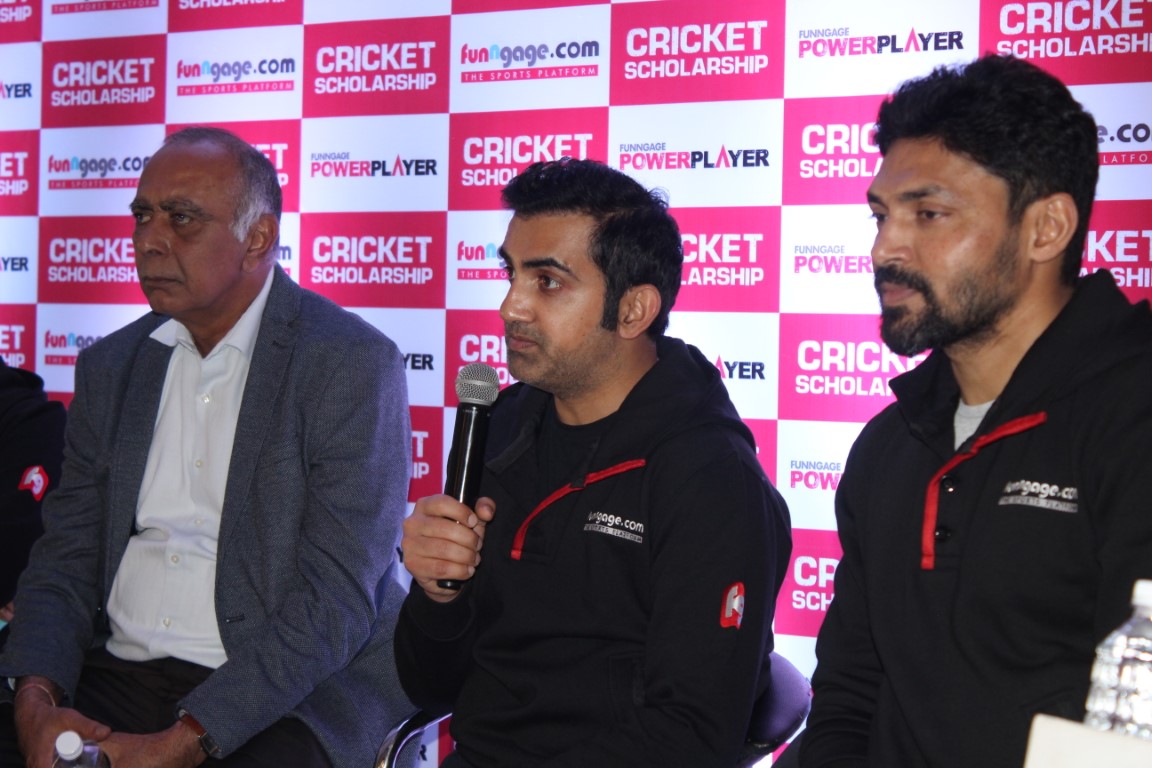 Named 'FG PowerPlayer',  through this program, boys and girls in the age group of 12-24 years will get a fully paid for Cricket Development Scholarship with a 3-week of fully paid for training camp in Perth, Australia at Guildford Grammar, under the guidance of former South African Test Cricketer, HD Ackerman.
The selection for the Scholarship will happen through an Absolutely Transparent, Unique and Scientifically Designed methods of Assessment. Stage 1 will be done through Video based Trials with each participating cricketer getting Full HD Videos of their Performance along with the report card highlighting the scores for each attribute of their skills and improvement areas.
It is a Pan India initiative and after successfully conducting trials in Delhi, Noida, Meerut, Chandigarh, Jaipur, Mumbai, Pune, Patna, Ranchi and Kolkata, the sports platform – Funngage.com is now starting with the Southern India leg with Bangalore being the first city. The trials will be conducted in FG academy.
However, with a successful collaboration, Cricket Academy of Pathans (CAP) is the preferred academy partner for the scholarship program. The selected students from Funngage PowerPlayer trials will get an opportunity to be trained for 5 years in CAP academies under the guidance of cricket experts and coaches.
These scholarships will help in unearthing new talent and give young kids a platform to kick-start their budding cricketing careers.
Bangalore trials begin from 27th January at Hyper Turf Cricket Ground, Yelahanka, Bangalore. More locations will get added and announced soon.
The Cricket Scholarship will be given for 5 Years and will cover the following:
Free of cost Cricket Coaching at any Indian cricket academy for 5 years
Free of cost Cricketing Equipment for 5 years
Free of cost Medical Support along with Sports Physiotherapy Sessions at Funngage's wellness partner and hospitals across India
Free of cost Participation in Cricket Matches and Tournaments across India
Free of cost periodic Cricket Camps by Experts for Exposure and Training
Free of cost Training at Perth, Australia (Guildford Grammar School), this includes Visa Fee, Return Air Fare, Accommodation, Trainings, Nutrition Sessions, Injury Management, and Matches with Local Clubs etc.
The objective is to provide the Talented Cricketers the holistic support to Develop their Cricket by means of giving them Financial and Administrative Support. "Through this platform, we want to ensure that anyone who wants to realize his or her dream of being a cricketer can do so.
It's an Initiative to help the Cricketers Develop their Skills and not worry about Finances. Funngage doesn't claim to make anyone play for a State or any BCCI affiliated Team or in any League. The cricketers need to follow the selection norms set by the respective Cricket Associations to get through there.
We are here to ensure that all kids get their performance stats and none should be deprived of Good Cricket Coaching and facilities due to lack of funds," said Karan Singh, Founder & CEO, Funngage.com
REGISTRATION FOR TRIALS
Registration for trials can be done at www.funngage.com or by downloading the Funngage mobile application from Google PlayStore for Android Users and App Store for IOS users. Registrations can also be done at Funngage counter set up at Hyper Turf Cricket Ground, Yelahanka, Bangalore and at 24/1, First Main, Chunchappa Block, RT Nagar from 24 January onwards from 11 AM to 7 PM. The interested participants will also be able to meet the Funngage team at these venues to know more about the Selection Process for the Cricket Scholarship – FG PowerPlayer.
The basic and only administration fee to register into the program INR 1,050 (all-inclusive) for batsmen and bowlers and INR 1,950 (all-inclusive) for all-rounders and wicket-keepers. "This is the only fee for any participant.
"This is an opportunity for all boys and girls aspiring to live the dream of cricket to get the best training not only in India but also abroad. More importantly, Funngage will also mentor and manage the selected cricketers by helping them evolve as a sportsman and a better human being.
A participant need not to be a part of any academy, its more about the wish and willingness to pursue his passion of becoming a professional cricketer. All are welcome to come and live their dream without worrying about the means and finances. Talent, Perseverance and Passion are the only yardsticks here." said Karan Singh, Founder & CEO, Funngage.com.
AGE-GROUP and SCHEDULE FOR TRIALS
27th January'19 – Trials will be conducted for 12-16 years of Age Group
28th January'19 – Trials for 16-19 years of Age Group
29th January'19 – Trials for 20-24 years of Age Group
30th January'19 – Trials for all groups in their respective Age Categories.
Funngage team will also be doing on-the-spot registrations on the days of the trials as well. All the participating and their guardians will be served refreshment at the venue.
TRIAL AND SELECTION PROCESS
Initial trials are held on center wicket of the ground with at least 5 High Definition (HD) cameras making ball by ball videos of each and every cricketer. These videos are shared with players on their Funngage account for their view and records. These videos are also shared with top coaches on Funngage, for them to assess and do a performance assessment for each player. The detailed report card and assessment scores highlighting their strengths and areas of improvements are given to each player.
Round 1 – Basic Skills Trial: 12-balls trials on the center wicket with each batsman facing 4 bowlers and each bowler bowling to 4 batsmen with at least 5 HD Video cameras capturing the action
Round 2 – Advanced Trial: 24 balls advance trials followed by a fitness test
Round 3 – Camp: 10 days training camp and 5 matches of 40 overs each per players
Round 4 – Awarding Scholarship: Top 120 cricketers to get 5 years of Cricket Development Scholarship and top 60 to train for three weeks at Guildford Grammar School, Perth, Australia.