German & Chinese students get Cricketing tips : Though Germany & China are both non cricket playing countries, but the desire to learn the game among some students from these countries, who were on a trip to tricity under a Young leaders students' exchange programme, was evident.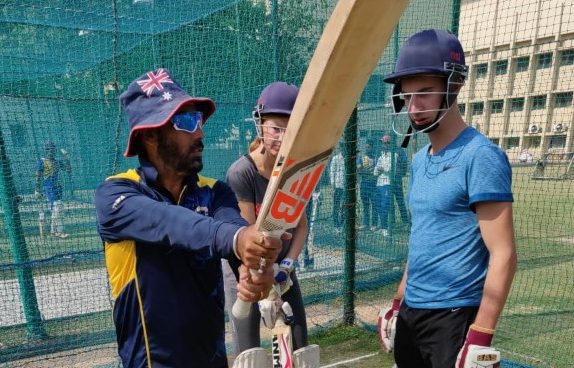 A group of 14 students from Germany & China visited Paragon Senior Secondary School in Sec 71 here, where they were taken to show the cricket academy  being run by coach Sukhwinder Tinku. Tinku is a former cricketer who played one first-class match for Punjab in 1988-89 & who was also part of India's squad for the 1988 Youth Cricket World Cup.
"The students came to India under a youth exchange programme. Not only did they take a tour of the cricket academy , they also saw our school's infrastructure. The German students were really excited to know that we also have a German department. In fact some of them gave tips about the language to the students." Said Iqbal Singh, Director, Paragon Senior Secondary School.
 "I explained the students basics about the game of cricket. They were really excited to learn about the game . We also held a short match for them in our grounds. " Said Sukhwinder Tinku, who runs the academy in the premises of Paragon Senior Secondary School.
"The best part of the visit to Paragon was the knowledge we gained about the game of  cricket. We had great fun learning finer nuances of the game from Coach Tinku. The match we played in full cricket gear was the icing on the cake." Said Chantal Jakstadt, Head of the German delegation.
"It was a very enriching experience for us. We got to see the schooling system being followed in India. The interaction with school students & the staff was very interesting, as we came to know about different aspects of Indian education  & also got the opportunity to share information about our country." Said Ai Lin, who heads Asian & African Department of the Chinese People's Association for Friendship with Foreign Countries.