GGDSD College organises a  Lecture on 'Place of Yoga in Indian Tradition': Goswami Ganesh Dutt Sanatan Dharma College, Chandigarh organized a lecture on  'Place of Yoga in Indian Tradition' Under the joint aegis of Mahadevi Varma Sahitya Parishad (Hindi Department) and Department of Sanskrit.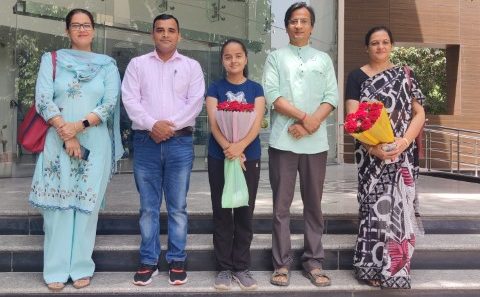 The  keynote speaker for the ocassion  was Dr. Gunanidhi Sharma from Government Yoga Education and Health College ,Sector 23A, Chandigarh. Principal GGDSD College, Dr. Ajay Sharma, welcomed the speaker and talked about the importance of yoga.
He  urged  students to  follow yoga practices to overcome mental and physical stress. Dr. Gunanidhi Sharma explained the Ashtanga Yoga in detail, from its  origin, development and relevance of Yoga as an integral part of Indian tradition.
Student Sukrita also demonstrated yogic activities and asanas The students enthusiastically participated in the question-and-answer round . Dr. Devi Singh , head, department of Sanskrit conducted the stage  and the vote of thanks was proposed by Dr. Pratibha Kumari , head, department of Hindi.