GGDSD College Organises Eighth Edition of TEDx Talks: The eighth edition of TEDx GGDSD College was organised by Goswami Ganesh Dutta Sanatan Dharma College, Chandigarh on Saturday, 24 September 2022.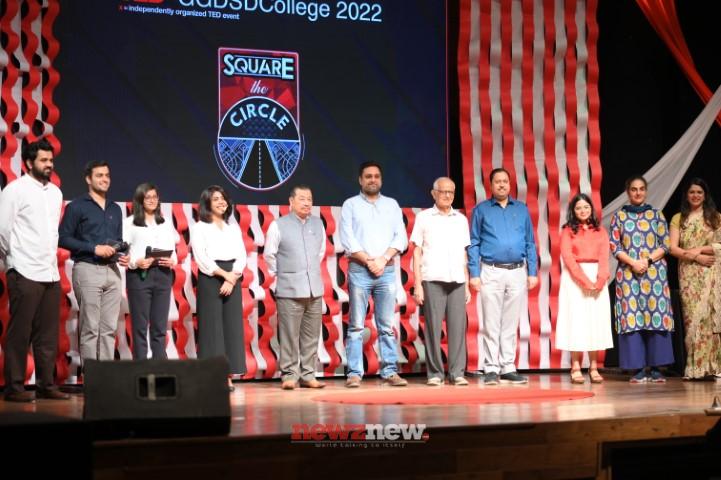 The event, with "Square the Circle' as its theme, was graced by seven luminous speakers from different walks of life, who shared their journeys of exploring the paths untrodden.
TED is a non-profit organization that helps platform ideas and spread them via dynamic talks. The 'x' in TEDx stands for 'independently organized TED event'. The speakers rightly served the motto – 'ideas worth spreading'.
The event commenced with an insightful speech by Dr. Vidhya Nair, a neuro-psychotherapist, who discussed the relationship between technology and distraction. The next talk was held by Retd. Air Marshal Anjan Kumar Gogoi, who inspired the youth with his stories of a forty year-long successful career of service.
Dr. Sapna Malik, a dentist and ex-Roadies contestant, went on to speak about the inevitable struggles that one has to undergo for success. Ms. Srishti Garg, a content creator, emphasized upon self-love, and Mr. Samir Soni, actor and director, addressed the true meaning of happiness and success to the audience.
Mr. Arush Chopra, CEO and Co-founder of Just Herbs, gave the golden tips for becoming an entrepreneur, and to provide an wholesome end to the event, Mr. Nitin Jai Singh Siwach, a poet, spoke of his love for writing and shared his story of battling depression.
The edition also included a musical performance by the renowned band 'Gamak'. The event turned out to be an epitome of success and the perfect blend of thrill and inspiration for the September gathering.