Glasgow summit: EcoSikh to present its forests' plantation work & its impact in countering climate change: Environmental organization EcoSikh which has been active in 'save environment' campaigns with a focus on planting Guru Nanak Sacred forests in Punjab and different parts of India, will be presenting its progress and the action plan in a meeting of various stakeholders in Glasgow at the United Nations Climate Summit CoP26.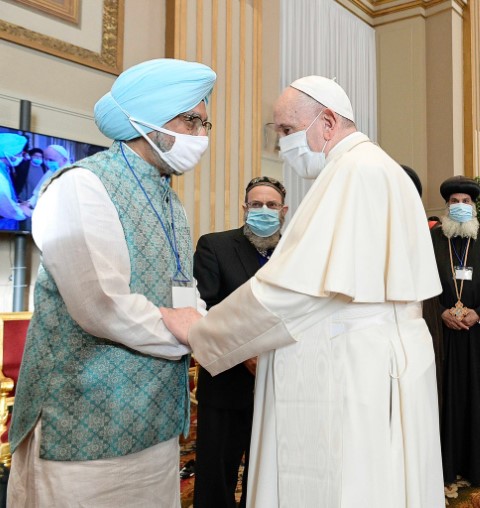 "This COP26 holds immense significance given the massive ecological crisis looming over the Earth and humanity. If the world does not take action today, we may not have any other chance to avert the disaster that is coming upon us". Said Dr. Rajwant Singh, EcoSikh's Global President.
Dr. Rajwant Singh will be showcasing the Sacred Forest initiative as an effective climate solution for ecological restoration and will offer collaboration with governmental organizations and faith groups with EcoSikh's 'Sacred Forest' Project. A global meeting by FaithInvest will be addressed by EcoSikh in Glasgow on Nov 7.  COP26 is being held from Oct 31 till Nov 12, 2021.
Explaining the significance of Guru Nanak Sacred Forest project Dr Singh further said, "EcoSikh plants sacred forests throughout India using Miyawaki methodology. These sacred forests are named after 'Guru Nanak', the founder of Sikh faith. They attract biodiversity within months and help restore the local ecological imbalance."
It is noteworthy that EcoSikh has successfully completed planting 366 sacred forests ahead of the United Nations Climate Summit CoP26. Recently EcoSikh planted its 366th sacred forest of 950 trees in the heart of India's capital city – New Delhi, which also faces severe ecological issues.
Last month, in October 2021, Dr. Rajwant Singh was among the faith representatives who joined an Interfaith meeting hosted by Pope Francis ahead of COP26 at the Vatican. The faith leaders, including Dr. Singh, signed a joint appeal directed at the political leaders gathering in Glasgow to take major steps to reduce the effects of climate change.
Charan Singh, EcoSikh's Forest Convener said, "The strategy to fight climate change should not only be focused on emissions reduction. We need to remove carbon from the atmosphere. These sacred forests are 'carbon sinks' and will help by reducing the temperature in that area. EcoSikh's project meets 8 UN SDGs and promotes circularity in our lifestyle."
EcoSikh was founded in 2009 in collaboration with the United Nations Development Program as the Sikh community's response to climate change. For over a decade, EcoSikh has been working on environmental issues in Punjab, India, and North America. It has represented the Sikh community at various national and international platforms on climate change and sustainable development. It has been invited by the White House, United Nations and is working with the World Economic Forum in 2019, as a way to celebrate the 550th birth anniversary of 'Guru Nanak', EcoSikh pledged to plant 1 million trees. As of now, EcoSikh has planted over 195,250 trees in India and 20,000 trees worldwide.