GMMSA Elections term 2018-20 held unanimously
Narinder Kumar elected President, Ram Krishan nominated Chairman
General House meeting / Genaral elections 2018-20 of Garments Machinery Manufacturers and Suppliers Association (Regd.) (GMMSA) were held on Saturday 1st September' 2018 at Hotel Nagpal Regency, Ludhiana under the supervision of presiding officer Ajit Lakra (President Ludhiana Knitters Association) and observers Harbhajan Singh (Oster Group) and Narinder Miglani (Knitwear Club).
Ajit Lakra and his team declared the following elected as unanimously:
1. Narinder Kumar – President
2. Teja Singh – Sr.Vice President
3. Gurpreet Singh – Vice President
4. Gurdev Singh – General Secretary
5. Amit Jain – Treasurer
6. Parmesh Wassist (Robby) – Joint Secretary
7. Sukhwinder Singh – Secretary Public Relations
The newly unanimously elected team received thunderous applause from the members. Narinder Kumar, President and entire newly elected team nominated and announced Ram Krishan as Chairman for the term and assured the members that his team will leave no stone unturned for the betterment of the association and the industry on the whole.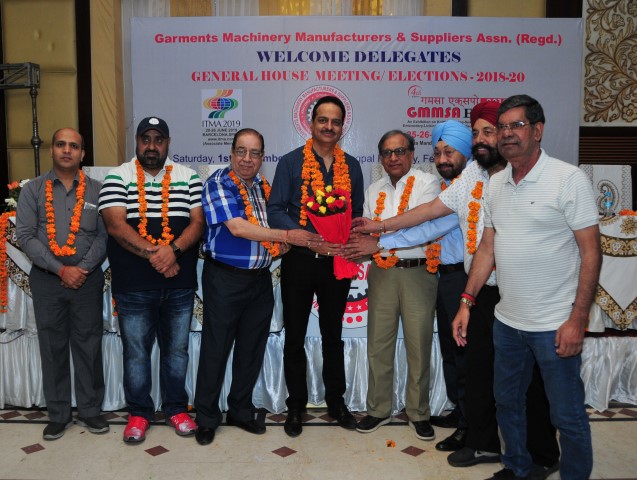 Ram Krishan addressed the elite gathering that it's a proud moment for the association to elect the new team unanimously for the ninth time in a row. He further added that the credit goes to the positive approach and vision of the members.
Teja Singh, Gurpreet Singh and Parmesh Wasist (Robby) appreciated the efforts of team GMMSA. Gurdev Singh – General Secretary spoke about the achievements of the association during the last term. Amit Jain – Treasurer briefed about the financial status of the association.
Deepak Kumar Singh, Vice-President HDFC Bank Pvt Ltd – Ludhiana Zone appraised the members about the importance and role of banking in the Indian economy and to boost your financial status in the present scenario and services of HDFC Bank available for the industry.
Ram Krishan and Narinder Kumar appreciated the efforts of the team GMMSA to hold GMMSA Expo INDIA 3rd Edition this year in February and vowed to organize the much awaited 4th edition of GMMSA Expo INDIA 2019 on a grandeur scale to be held from 25th January to 28th January 2019 at Dana Mandi, Bahadurke Road, Ludhiana. Large number of members of association graced the occasion.