NewZNew (Ludhiana) : Bringing the products of the garment machinery manufacturers and suppliers under one roof the Garments Machinery Manufacturers & Suppliers Association (GMMSA) kicked off the GMMSA EXPO-INDIA 2016 on 19th February, Friday, at Dana Mandi, Bahadurke Road in Ludhiana.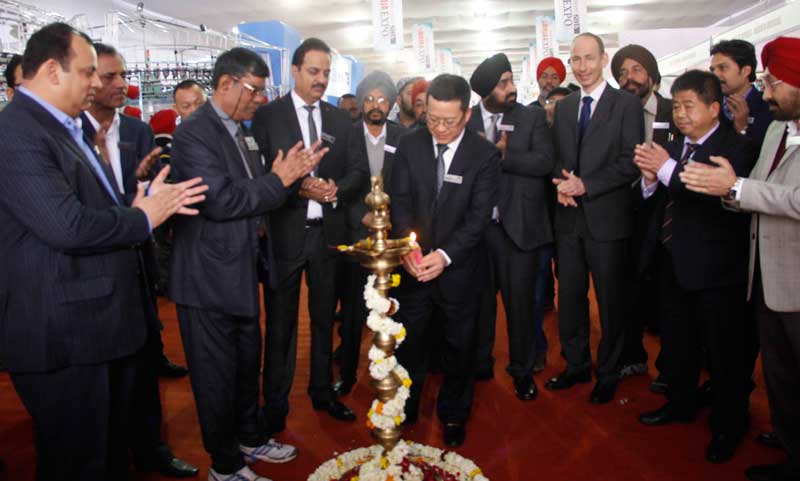 The Expo has brought together the garment machinery manufacturers and suppliers giving them a platform to showcase their products that come with the latest world class technology. On the first day of the expo more than 5,000 people visited the expo.
The Expo was inaugurated with lamp lightning ceremony by Mr. Franksun – Chairman Ningbo Cixing Co. Ltd from China and Mr. Gu Zhen Gang – Chairman Changshu Guoguand Machine Coompany Ltd. from China along with Mr. Ram Krishan – Administrator GMMSA, Mr. Pritam Singh, Mr. Narinder Kumar, Mr. Gurpreet Singh, Mr. Rajesh Krishan, Mr. Amit Jain, Mr. Parmesh Wasist, Mr. Gurdev Singh, Mr. Jatinder Sudera, Mr. Pankaj Kalra, Mr. Teja Singh, Mr. Kamal Saini, Mr. Sandeep Gopal, Mr. Mohan Chawla, Mr. Rajinder Bhamra, Mr. Narinder Jain, Mr. Sukhwinder Singh, Mr. Davinder Pal and other delegates.
Speaking on the occasion, Mr. Ram Krishan – Administrator, GMMSA Expo India 2016 said that "The objective of this Expo is to capitalize the opportunity to provide latest technology and know-how at the doorsteps of the industry at the Manchester of India, Ludhiana to give a shot in the arm of garment manufacturing industry and keep the industry appraised to compete in the domestic as well as in the global market.
"Everyone tries to achieve minimum wastage and we have tried to introduce machines in the market that save yarn and reduce wastage. The machines that come with the new cutter and gripper technology achieve this end," said Parmesh Wassist, Director Ramana International Pvt Ltd." We also hope that the new knitting machines that do not require external cooling and a UPS will find a place in the market as they will reduce electricity consumption."
Eco friendly being the theme of inventions in today's times, Ludhiana based Sukhwinder Singh of Gurusons said, "The dying and washing machines that are available in the market use 12 liters of water per kg to get the job done. With our water saving technology the job will be done using 3 liters per kg making our machines eco friendly keeping the current situation of usable water available to us."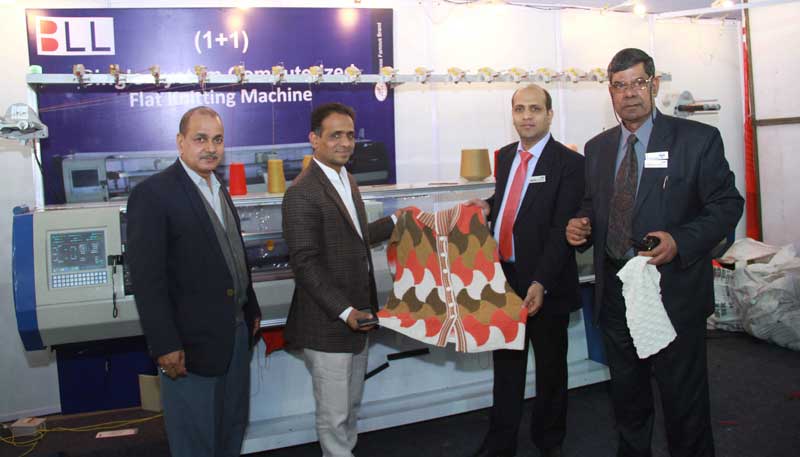 Very well decorated stalls presented an eye catching look with machines looking like gems and each carrying value added features enhancing productivity as well as quality of the end product significantly. Top notch brass of the industry in knitting houses, dyeing, finishing, processing houses marked their presence with their production and quality control teams. They were frightened by the class arrangements made by organisers on their maiden venture and very well praised the collection of the machinery showcased by over 400 leading brands of the world. The visitors to the expo had very contended feeling even though having to walk more than 1.25 kms within Expo periphery.