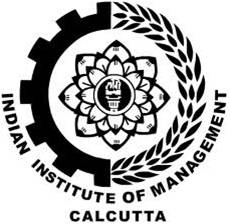 NewZNew (Chandigarh) : IIM Calcutta achieved 100% final placements for the Class of 2014-16 in just 2.5 days. IIM Calcutta saw great enthusiasm from the industry to recruit some of the brightest minds of the country. For the largest batch of 439 students amongst the older IIMs, a whopping total of almost 500 offers were made during the entire process, including 21 international offers.
IIM Calcutta stays unchallenged as the Finance Campus of India, registering an unparalleled 100+ offers in the sector and reaffirming its position as the Global No.1 B-school for Careers (FT MIM Rankings 2015). Bank of America Merrill Lynch, Citibank, BNP Paribas, Deutsche Bank, JPMC, Avendus Capital, ICICI Securities, Kotak IBD, Edelweiss and other finance firms recruited for multiple roles during final placements. Blackrock & MasterCard were the first time recruiters for finance roles on campus. Some major banks brought in front-end Investment Banking (IBD) roles exclusively to IIMC, justifying the efforts put in to improve the quality of offers along with the numbers.
 Consulting firms continued their dominance in the campus with over 20% of the total offers. The major firms hiring in the consulting sector included Boston Consulting Group (BCG), Bain & Co., McKinsey, AT Kearney and Accenture Management Consulting. In the consulting domain, Bain & Co. emerged as the largest recruiter. Other consulting firms which hired from IIM Calcutta included Alvarez and Marsal, Opera Solutions (exclusive recruiter), Ernst & Young and Deloitte Consulting (USI) among others.
 Sales & Marketing contributed 19% of the offers. Firms that recruited students include Hindustan Unilever (HUL), Procter & Gamble (P&G), Reckitt Benckiser (RB), Johnson & Johnson (J&J), STAR India, Asian Paints, ITC, Phillips etc. International offers in marketing were made by AdCuratio, a first time recruiter.
 This year saw a marked rise in the number of Leadership & General Management roles, with firms like Tata Administrative Services (TAS), Aditya Birla Group (ABG), CK Birla Group, Samsung India, Reliance Industries Limited (RIL), Wipro (Global 100 Program) etc. hiring in large numbers. Aditya Birla Group (ABG) with 17 offers for IIM Calcutta students stood as the highest recruiter in this category.
 The steady growth of the E-Commerce sector, additionally fuelled by GoI's initiatives like Start-up India, was echoed in the placement statistics. Over 20% of the offers were made by E-Commerce and Web-based startups like Amazon, Snapdeal, Flipkart, PayTM, Olacabs, Uber, RedBus etc. with Amazon being the top recruiter. Electronics & Mobile Phones Chinese giant Xiaomi hired exclusively from IIM Calcutta for their prestigious Product Manager role. Online medical practice management firm CallHealth, digital marketing firm Amagi Media Labs (Marketing) & Loginext Solutions (Logistics start-up) participated for the first time and offered managerial roles.
 Placement chairperson Prof. Rajiv Kumar said, "It is satisfying to be able to place the entire batch in about 2.5 days. Such results are obtained due to a variety of factors such as the quality of our admission as well as education, relentless efforts put in by the placement team, the societal and market acceptance of IIM Calcutta and the support of our alumni. But as I have said earlier, the expectations from stakeholders continue to increase, and we'll strive even harder in coming years to meet these expectations."