NewZNew (Chandigarh) : Godrej Appliances, one of India's leading players in the Home Appliances industry, has always endeavored to push research & development in its relentless effort to ensure that its products consume as little energy as possible. The core design features of the company's products are based on the pillars of energy efficiency, driven by the company's commitment to the environment. In line with this philosophy, Godrej appliances today launched India's most energy efficient air conditioner under its premium sub-brand NXW with an ISEER of 5.2.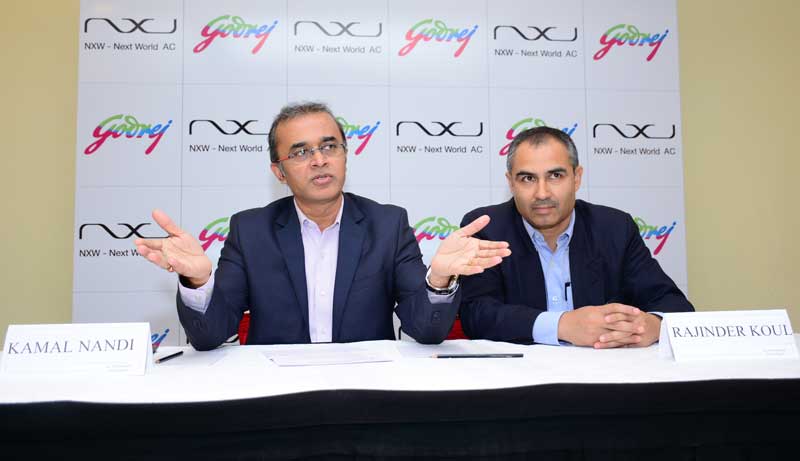 ISEER or Indian Seasonal Energy Efficiency Ratio is a new rating system introduced by BEE (Bureau of energy efficiency) in June 2015, for inverter ACs. ISEER calculates efficiency as a ratio of the total amount of heat that an AC can remove from indoor air to the total annual amount of energy consumed by the AC to do that over a period of a year. Essentially, it rates ACs based on how much power they consume to cool a certain amount of air. So a more efficient AC will use less power to cool a larger volume of air than a less efficient one. The higher the ISEER awarded to an AC, the more energy efficient it is. The minimum ISEER required for an inverter AC to be rated as 5-star is 4.5.
It also broadens the NXW brand's premium range of products, with Godrej having launched super-premium refrigerators under the banner early this fiscal. Inverter ACs is the fastest growing segment with 75% growth every year and 10% contribution to industry sales. After having achieved 15% market share in the premium and 5-star AC segment, Godrej Appliances plans to have a market share of 15% in the 5-star inverter AC segment with this launch.
While strengthening its premium portfolio, this strategic launch of NXW AC also keeps in mind the environment and consumer concern. It perfectly follows the long-held brand philosophy of Godrej Appliances as a pioneer and leader in green technology revolution across the appliances industry with achievements both in green products and green manufacturing.
Godrej NXW ACs work on the Green Balance technology using R290- the most Energy Efficient Refrigerant which has 0 ozone depletion potential (ODP) and the lowest Global Warming Potential (GWP) of 20, as against an industry average of 1810, making them the most energy efficient and the greenest AC range in the country. This launch builds on the company's reputation for developing products that are on the cutting edge of the energy efficiency envelope.
Commenting on the launch, Kamal Nandi, Business Head and EVP – Godrej Appliances, said, "Global temperatures have been rising and phenomena like Ozone Depletion and Global Warming have become an inescapable reality today. Reports suggest that the five-year period from 2011 to 2015 has been the hottest on record and we are witnessing more and more usage of air conditioners even in winters, and higher and prolonged usage rest of the year. Air Conditioners, because of the usage of ozone depleting refrigerants and being among the highest guzzlers of electricity are a serious threat to the environment. As an organization, Godrej is always in the process of evolving new technology which justifies our customers' trust in us and underlines our commitment to the environment. The NXW range of ACs, designed in keeping with Godrej Appliances' culture of driving innovation sustainably, is the most energy efficient and the greenest range of inverter air conditioners available in the country today."
Anup Bhargava, Product Group Head- Air Conditioners, Godrej Appliances, said, "We have designed NXW to be the best 5-star inverter AC in the industry with the highest efficiency of 5.2 ISEER, offering 31% power savings over a 5-star non-inverter AC. This AC has been specially designed to suit the Indian climatic conditions while delivering high efficiency – and therefore comes packed with advanced technology and features such as 3X BLDC Motor Technology; Parallel Flow Condenser with Nano-Coating Technology; Moisture Resistant Conformal Coating on PCB; Intelligent Air Throw as well as User defined Air Throw along with many other features which deliver comfortable cooling."
The NXW range of ACs will be available in two different cooling capacities of 5000 W and 3440 W. Godrej Appliances' NXW Air Conditioners club classy aesthetics with smart features and new technology. They are priced between the range of Rs. 57500 and Rs. 66300.  Focus will be on creating service as a key differentiator. To make it even more delightful for consumers, Godrej Appliances is offering a 10-year compressor warranty and a 5-year condenser warranty.
This product will be available across all channels and leading stores.