ALPS to open 100 franchise outlets in Chandigarh & Punjab region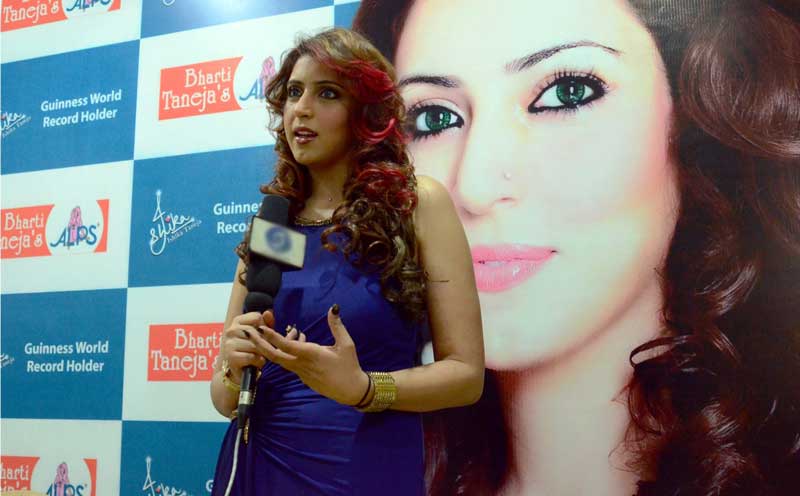 NewZNew (Chandigarh) : Guinness World Record Holder, Hollywood-return International Makeup Expert and Executive Director of ALPS Beauty Group, Ms. Ishika Taneja is now all set to take her beauty-care brand to a new high by launching her flagship brand in Chandigarh and Punjab region. She announced her plans in a press-conference held at Press Club, Chandigarh. Ishika Taneja also gave tips for Holi Skin & Hair Care along with other beauty tips in the press conference.  A highly recognized name in the field of makeup & beauty, Ishika, is in Chandigarh to take part in two-day beauty event (March 19 & 20) at Hotel Taj Chandigarh.

Ms. Ishika Taneja, the makeup maestro has been awarded with Guinness World Record in 2014 for fastest and best airbrush makeup of 60 models in 60 minutes. After gaining huge popularity & success in Delhi & NCR, Ishika Taneja is geared to expand ALPS to every nook and corner of the country, starting from Chandigarh & Punjab region.  
Executive Director of ALPS Beauty Group, Ms. Ishika Taneja said "With experience of 30 years of Alps in the industry, we are aiming to open 100 franchise outlets in the coming year in Chandigarh & Punjab region. For the last few years, the makeup and beauty industry has reportedly grown at 28%. It has been rising at a rapid and consistent pace due to huge demand of services.
Ishika further says: "The career opportunities in the beauty industry are virtually endless and so is the demand. The industry offers various options for individuals from make-up artist to hairdresser, beauty therapist to spa owner and salon manager to salon owner to excel in their preferred field". "Today, cosmetology is considered as a profitable business as trends keeps on changing constantly and new customer base emerge. From metros to Tier I and Tier II cities everyone is attracted towards beauty. The pressure on personal grooming, beauty-consciousness and maintaining attractive appearance is constantly rising among youngsters regardless of their sex. Correspondingly, the demand for professional beauticians is increasing as well. In India, cosmetology is becoming a high income sector with scope for a multitude of employment opportunities. It is also considered as one of the most rewarding careers of all art works" says Ishika on the boom of industry. 
Ms. Ishika Taneja, the makeup maestro, is Guinness World Record Holder for Fastest and Best Makeup in the World; has worked with best Hollywood and Bollywood Celebrities and is also the Executive Director of ALPS group. She comes with strong credentials of Advanced Make Up course from London School and Beauty & Makeup. She also mastered Prosthetics from the world renowned Atti Tabak, also known as "Picasso of Prosthetics" from Netherlands. In Hollywood, Taneja has worked with the likes of Britney Spears, Micky Avalon, Jay Young, ED HARDY's designer, Madison, LMFAO, Ron Artest – while she was also the makeover expert for Beauty Pageant Winners; Miss USA, Miss Teen USA, Miss Poland, Miss Sri lanka, Femina Miss India, Gladrags Miss India and many others.
ALPS BEAUTY ACADEMY has a wide range of certificate, diploma and PG Diploma courses on-offer. All the diploma & PG Diploma courses are full-time and certificate courses are part-time. Student assessments are made via course work, viva, practical & written exams. ALPS is offering various BEAUTY, MAKEUP, HAIR, AESTHETICS & OTHER Courses. The courses are thoroughly instilled to our students by ace experts Ms. Bharti Taneja, Gunjan Gaur & Ishika Taneja for skin, hair & makeup respectively.