Aims to launch 200 by FY17-18 in tier II and III cities
NewZNew (Nasik) : Godrej Appliances, India's leading player in the home appliances segment, announced the launch of its 50th exclusive brand store today. The brand aims to launch 200 by the end of fiscal 2017-18 in tier II and III cities. This store also marks the 1st EBO of Godrej Appliances in Nashik in association with Valuable Electronics and 11th in Maharashtra.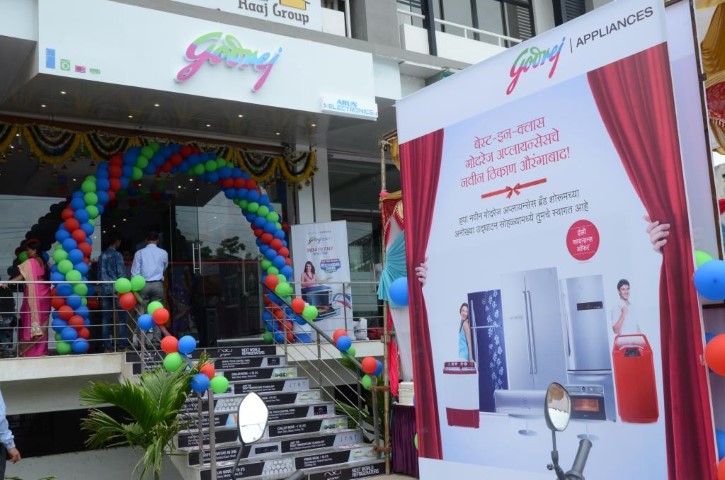 Spread across an area of 850 sqft, the showroom is strategically located on Nashik Road and will offer a wide range of premium home appliances such as Refrigerators, Washing Machines, Air- Conditioners and Microwave Ovens.
Speaking on the occasion of the launch, Kamal Nandi, Business Head and EVP, Godrej Appliances, said "We have always endeavored to be as close to our customers as possible. This is very important milestone for us as EBOs are an important touch point for us to reach our customers especially in tier II and tier III towns. We believe our Exclusive Brand Outlets will give even greater value to our loyal customers. With our own EBOs, we have the opportunity to showcase our entire range of best-in-class appliances at a single location. The company is planning to expand its number of EBOs from 50 to 200 by the end of fiscal 2017-18 in tier II and III cities. These EBOs will be setup in association with dealers of the company."
Added Prasoon Kumar, National Sales Head, Godrej Appliances, "EBO as a channel is currently contributing 10% of overall industry business with a tremendous potential for growth. Godrej Appliances EBOs have been designed for a fulfilling and premium consumer experience. Today, this channel is the fastest growing channel for us and offers a better premium mix than other channels. The brand is strongly committed towards increasing its presence in this channel"
The EBOs will feature the new Godrej NXW- the next generation refrigerator. With  a never seen before  technology like  JTRT – Just the Right Temperature Godrej NXW allows users to customize their refrigerator the way they want by storing food in 3 flexible temperature zones- Chiller (-1 to 3°C), Fridge (1 to 5°C) and Pantry (4 to 8°C). The brand has also recently launched India's most energy efficient inverter AC with 5.2 ISEER, under the premium sub-brand NXW. The highly advanced AC offers 31% power savings over a 5-star non-inverter AC. This AC has been specially designed to suit the Indian climatic conditions while delivering high efficiency – and therefore comes packed with advanced technology and features.
This festive season, Godrej is providing an impetus to the upcoming celebrations through a festive offer under which Godrej customers will get assured gifts worth up to Rs. 18,100 on purchase of select models. The assured gifts include Godrej Air Purifiers, Portico Bedsheets, Dry Irons amongst others. The offer is applicable from October 1 to November 5 and is applicable on purchases made through EBOs as well. Additionally, the brand is also offering free insurance for one year on purchases made through the EBOs.
To make it truly a celebration for the consumer, Godrej Appliances will offer attractive finance options with an  easy EMI as well as extended warranty. Godrej Appliances has always endeavored to provide the most delightful  experience to its customers and therefore, to ensure a problem-free usage after purchase, it will be offering upto 10 years warranty on select products. To top it all is the promise of Godrej Smartcare- the after sales service arm of Godrej Appliances which aims to provide a delightful post purchase experience to the customers for years to come.