Government of Punjab to create awareness about rare diseases: State Institute of Health & Family Welfare, Mohali with support from Lysosomal Storage Disorders Support Society (LSDSS) organized the first Rare Disease Update programme in Mohali.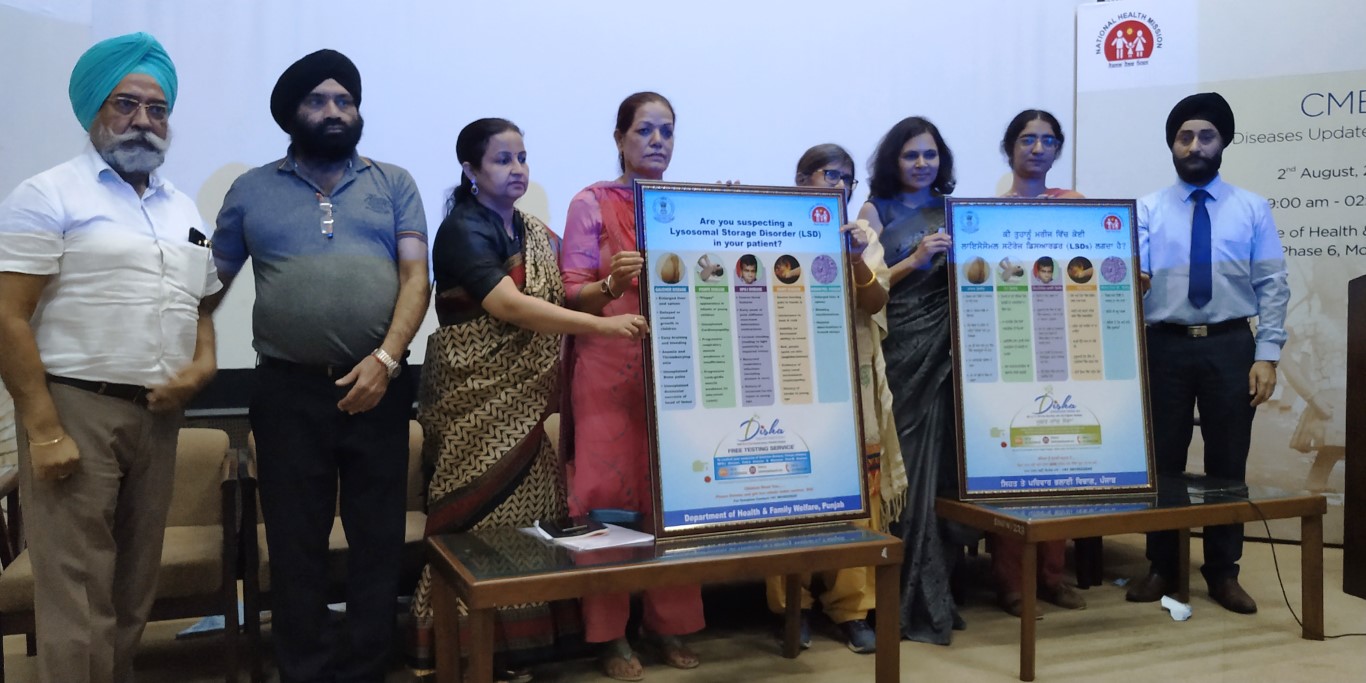 The event was aimed at raising awareness about rare diseases, specifically LSDs, and its different aspects including the support to the rare diseases community at large. Eminent stakeholders including Dr. Jaspal Kaur, Director General Health Services, Punjab, Dr. Inusha Panigrahi, Senior Geneticist and Prof. Genetic-Metabolic unit, Dept. of Pediatrics, PGIMER, Chandigarh, Dr. Amarpreet Kaur, Associate Professor, Department of Pediatrics, Guru Gobind Singh Medical College and Hospital Faridkot and LSDSS President, Mr. Manjit Singh spoke about the various aspects of LSDs, their long-term management and the challenges. Patients currently suffering from LSDs were also present at the event.
The event also highlighted the recent, first of its kind initiative by the state government of making rare diseases a public health priority. It addressed one of the most important challenges – awareness about rare diseases, and simultaneously unveiled Lysosomal Storage Disorders (LSDs) posters, in Punjabi and English languages.
These posters will be disseminated officially through State Health Department Punjab at government medical colleges and District Health Centers. The posters have been tailored for patients and physicians to increase awareness about diagnosis of LSDs. In addition, the posters includes information on donation under 80G to help children afflicted with LSDs.
Commenting on the initiative Dr. Inusha Panigrahi, Senior Geneticist and Prof. Genetic-Metabolic unit, Dept. of Pediatrics, PGIMER, Chandigarh, said, "Patients suffering from rare diseases, especially Lysosomal Storage Disorders (LSDs), often lead a very incapacitating life. These are primarily caused due to deficient or dysfunctional enzymes.
The disorders are often chronic and severely hamper the quality of life of a patient. It is a necessary and important to generate awareness among medical fraternity about rare diseases as a condition. This informative event will enable timely diagnosis of this condition which otherwise is a challenge due to overlapping symptoms with other conditions. 
Once the condition is diagnosed timely treatment is essential for patients to lead a better quality of life. Enzyme Replacement Therapy (ERT) is now available for more than a handful of disorders now; and as a treatment modality, has proved to be effective and has had a positive impact on the life of many patients"
With the release of the National Policy for Treatment of rare diseases in January 2018, the Punjab State Government formed the State Technical Committee (STC) for rare diseases. In their STC meetings, they discussed 3-4 cases of LSDs and had forwarded to Center Technical Committee(CTC) for further consideration and evaluation.
Due to rare nature of the disease, in the last 18-24 months, only about 6-8 patients have been identified suffering from LSDs who have submitted their applications, appealing for treatment to the health government of Punjab.
Lysosomal Storage Disorders (LSD)s mostly affect children below the age of 5. Even adults can be affected by this condition in some cases. The symptoms can vary from mild to severe depending on the age of disorder and onset. The length of time from symptom onset to an accurate diagnosis is between 2 to 5 years for a rare disease. 
Symptoms are often mistaken as more common illnesses and might appear to be of only minor concern. They can include developmental delay, movement disorders, seizures, dementia, deafness and/or blindness. Some of the LSDs are Pompe, Gaucher, Fabry and MPS-1.
Mr. Manjit Singh, Honorary President, LSDSS said, "Rare disease can happen to anyone irrespective of the cast, creed, religion or rich or poor. In the last 10 years, we have made significant progress in terms of raising the awareness about Lysosomal Storage Disorders among various stakeholders including public at large that led to formation of National Policy on Rare Diseases.
We are seeing a ray of hope with the first ever initiative by the Government of Punjab to create awareness about rare disease in the State. Since  health is a state subject, the Punjab state should come forward to set Rare Disease Centers in its major Government Hospitals for compulsory  genetic testing of all conceiving mothers to prevent the incidence of affliction of LSDs rare diseases. 
Since the number of patients are handful in the State, the Health department should immediately set aside funds for the treatment, testing & diagnostic facilities and symptomatic and rehabilitative care. Timely treatment makes the life of patients normal."
It is necessary to recognize the need for diagnosis and treatment of rare diseases in the public domain. Health being a state subject, a state level intervention in this regard would help create an impact through this initiative. Rare disease patients in Punjab are hopeful to witness a positive development on the treatment support soon.