Ease of doing business for Attracting investments, promoting Make in North, Sustainable Agriculture tops CII agenda for North: CII North new Chief
Unveils new Theme of CII NR – Build India, Build North: Invest in Development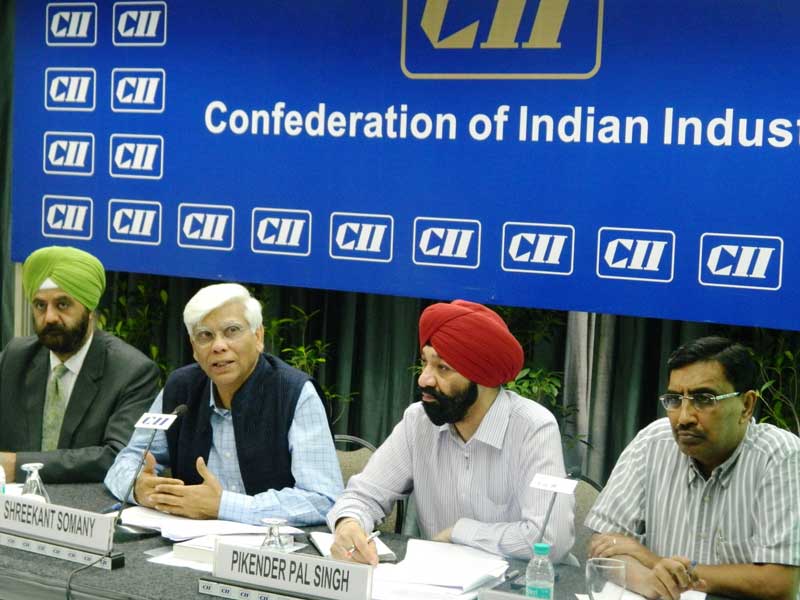 NewZNew (Chandigarh) : "The Governments both at  the Centre & States should focus on early implementation of policies, projects and reforms which would remove various procedural and other bottlenecks to enhance ease of doing business, which is key to attract both domestic and foreign investments in the northern region", emphasised Mr Shreekant Somany, the newly elected Chairman of Confederation of Indian Industry (CII) Northern Region (NR), while addressing the media to share the new theme of CII NR, at CII NR Headquarters in sector 31 A, here today.
"CII believes that various new initiatives like Make in India, Digital India, Skill India, Clean Ganga, Swachh Bharat, Jan Dhan Yojana, plan for Smart Cities, can turn out to be real game changers, if implemented well", he emphasised.
"Further, it is also very imperative to fast track the stalled infrastructure & manufacturing projects along with dedicated Industrial and freight corridors like AKIC, DMIC, western and eastern corridors in order to provide the much needed fillip to growth in north, which is otherwise landlocked and away from raw materials and ports", he added.
"These corridors have the potential to greatly enhance industrial activity and emerge as game changers for growth and expansion of industries in the northern region. These corridors would immensely reduce the cost of transportation of raw material and finished goods, to north both from within and outside the country. A substantial part of these Corridors would pass through the region. Out of the total 1,839 km of Eastern Dedicated Freight Corridor, about 1,209 km (65.7 per cent) falls in the northern region connecting the states of Punjab, Haryana and Uttar Pradesh in the north to West Bengal on the east coast. Similarly, 50.2 per cent of the Western Dedicated Freight Corridor (about 745 km) falls in the northern region connecting the states of Haryana and Rajasthan to ports of Gujarat and Maharashtra on the west coast, which can be a boon for north", he added.
"Against this backdrop, CII Northern Region has adopted 'Build India, Build North: Invest in Development as the theme for the year 2015-16. CII endeavours would primarily focus on facilitating investments, enhancing ease of doing business, promoting Make in North, pushing for GST consensus, ensuring peaceful industrial relations, enhancing MSMEs competitiveness, supporting agriculture, strengthening Infrastructure (both social and industrial) and societal initiatives including focus on Affirmative Action, Sanitation in Schools, CSR, Women Empowerment, etc", informed the new Chairman of CII NR.
"Skill development, good governance and inclusivity will continue to remain as the focus of CII's regional work", he added.
"CII would draw and implement a sustainable growth model for the northern region, which on one hand is seeing an unprecedented scale of urbanization and on the other has a very strong agriculture-based economy", further informed Mr Somany.
CII has been exhaustively supporting the Government to attain success in its Make in India campaign, which is possible with active support and participation of all the stakeholders including States and industry. CII will focus on Make in North and how Northern States could contribute much more to the overall manufacturing GDP through our initiatives at Regional, State & Zonal levels. We would also strive to promote and brand the region as an ideal investment destination. Invest North 2015, and State Investors' Summits such as Resurgent Rajasthan, Progressive Punjab and Emerging Himachal are certain initiatives that would be organized during the year.
"CII has also signed a Memorandum of Understanding (MoU) with Lee Kuan Yew School of Public Policy, National University of Singapore (NUS) with the aim to improve India's rating on ease of doing business and bring it amongst the top 50 countries from the present 142nd slot as per World Bank Report.  As per the MoU, CII and NUS will conduct joint state level research across 11 parameters including starting a business, dealing with construction permits, getting electricity, land acquisition and registration of property, getting credit, protecting minority investors, paying taxes, trading across borders, enforcing contracts, resolving insolvency and labour market regulations. The MoU would subsequently be followed by individual tripartite MoUs between the CII, NUS and respective state governments to in turn create state-wise Master plan for ease of doing business and then prepare a comprehensive state-level action plan.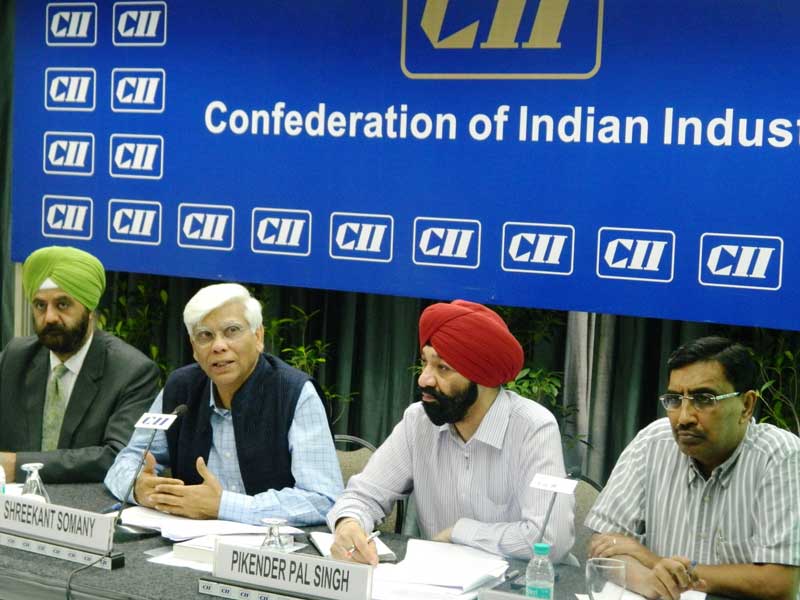 "The state of infrastructure in the country needs much attention and requires an investment of nearly USD 1 trillion during the next five years. Hence, CII would facilitate huge investments in infra projects under PPP mode and improve manufacturing's share in GDP from the present 16 % to 25 % by 2022, as envisaged by The National Manufacturing Policy (NMP). Manufacturing is crucial because of its multifarious forward and backward linkages with the rest of the economy, and its capacity to create mass employment for ever growing job seekers in the country", added Mr Somany.
"Strong Policy Advocacy will continue to remain the cornerstone of our work. To support Positive Governance, CII would work with states to strengthen Single Window Clearance agencies and their IT enablement to improve Ease of Doing Business and promote e-governance in the states. CII would also continue to work with States for speedy reforms in GST, APMC, Land Leasing Act, Land and Power Distribution etc. Our action plan will be effective implementation of policies necessary to encourage investment and trade in the region. CII NR will also work for streamlining the policies and integrating the objectives of the centre with the states. We will create a platform to strengthen Public Private Dialogue & Partnerships, connect with civil society and NGOs", he elaborated.
The Chairman went on to list some proposals for MSMEs, for which CII would actively engage with the central and state governments & agencies like implementation of MSMED Act in totality, Purchase & Price Preference Policy for MSMEs, Re-defining the ceiling of Micro, Small, Medium Enterprises to enhance their competitiveness.
"CII has been helping the MSMEs to enhance their competitiveness, through its CoE, the CII Avantha Centre for Competitiveness for SMEs. For instance, last year, we formed two clusters in Gurgaon and Greater Noida benefitting 19 units. We also closed seven clusters benefitting 44 units, leading to approximate saving of Rs 18 crore and other intangible benefits", he informed.
"Agriculture continues to be the backbone of our economy. For the Northern Region, this sector is very critical as the share of agri sector of the Northern Region in the national agri GDP is about 29 per cent. We will continue with our policy on the land leasing act. Also, implementation of the model APMC act and promoting technologies for post harvest across the states would be on high priority for us in the region. Our endeavour would also be on farmer outreach programmes, sharing of the best practices, enhancing linkages between the agri and the processing sector", he said.
"Skill development & education have remained a thrust area for the Confederation. We would focus on converting CII's adopted ITIs into Institutes of Excellence. We would keep on impressing the state governments for coming up with their respective Technical Education Policies. CII would also hold various Faculty Development Programmes and Skill Missions during the year. In addition to this, we will also be organizing Faculty Development Programme & Best Practice Skill Missions. To enhance university-industry partnership, the CII would work closely with universities on the curriculum, faculty development, lectures by global leaders and R & D Projects", he shared.
Detailing about CII's initiatives in Punjab, he elaborated that "CII is fully committed to support the Government in attracting investments, enhancing the ease of doing business, promoting Make in Punjab Campaign to boost manufacturing and agriculture. We propose to get the tripartite MoU signed between the Government of Punjab, CII and Lee Kuan Yew School of Public Policy to facilitate undertaking joint study on the 'Master Plan for Ease of Doing Business in Punjab'. CII would also strive to strengthen the MSMEs by cluster formation. CII would also promote use of renewable energy in Punjab.
Sharing the CII's agenda for Chandigarh, the Chairman said that "In Chandigarh, CII's focus areas for the year would include promoting Chandigarh as the model smart city, enhancing the Ease of Doing Business, notification & implementation of Industrial Policy and MSMED Act, promoting solar  roof tops and teaming up of principals of private and Govt schools for Skill Development & Education".
"CII has set up a "National Mission on Smart Cities". The objective of this Mission is to play the role of a facilitator and a thought leader to assist the Government of India in the process of the development of 100 Smart Cities by 2022", he informed.
"This Committee comprises industry, institutions and thought leaders to discuss and deliberate on the roadmap for this project. CII has also recently signed two separate Memoranda of Understandings (MoUs) with Hitachi India Ltd and Siemens Ltd to spearhead the conceptualization and implementation of pilot projects in Smart Cities in March 2015. At Chandigarh, we are also proposing a Smart City Conference to provide platform for the stakeholders of Chandigarh to convey their issues & solutions. We will take up Smart Energy & Water Conservation Campaigns for the city", he added.
Sharing CII's plans for Haryana, he informed that "Our focus in Haryana would be promoting Make in Haryana campaign, enhancing ease of doing business, agriculture and ensuring ppeaceful Industrial Relations in the state. Strengthening Infrastructure and advocating for more sub stations and establishment of smart grid to reduce T & D losses as also improving the existing power generation capacity in PPP mode would also be our priority areas in Haryana".
He further shared that "For Himachal Pradesh, CII would focus on Water Management – Rain water harvesting, leveraging the potential of Hydro power and entrepreneurship development in addition to Make in Himachal campaign and enhancing the ease of doing business in the state".
The Confederation will continue its commitment to the 4Es – Education, Employability, Entrepreneurship and Employment, providing skills training, mentoring and scholarship support to SC/ST youth. CII. CII will be organizing 5 Supplier Diversity and vendor development programmes to benefit DICCI / NACDOR members", mentioned Mr Somany.
"As part of its Corporate Social Responsibility, CII would continue working towards Relief & Rehabilitation operations at Uttarakhand and J&K. Women empowerment would be on high agenda for us during the year.The Social Expo, providing market opportunities to artisans, especially women would remain a regular feature of CII's B2C Fairs as also Ability, job fair that places the differently abled to mainstream corporate jobs'', said Mr Somany.