NewzNew-  Shri V.P. Singh Badnore, Governor, Punjab and Administrator, UT, Chandigarh today inaugurated an orientation programme for the councilors of Municipal Corporation, Chandigarh by lightning of lamp. The two day orientation programme was organized by Rambhau Mhalgi Prabodhini.
While addressing the councilors, the Governor said that the programme provided opportunities to members to discuss and analyze various aspects of not only Municipal processes and procedures but they can also learn more about their roles and responsibilities and familiarize themselves more closely with the operational mechanics of the Administration.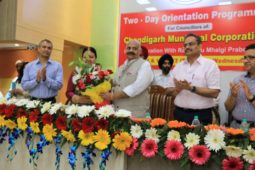 He motivated the newly elected councilors and others to become trendsetters in their chosen field and become the best by rendering their humane services to all the sections of the society. He assured the councilors of Administration's continuous support in achieving the projects of Municipal Corporation. He said that new ideas are required from you and we will jointly improve the living standards of the society.
Focusing upon constructive approach, the Governor said that every councilor should think that how to get Chandigarh in next level, how to make this period golden and it will happen only by joint efforts us.
Earlier, Mrs. Asha Jaswal, Mayor of Chandigarh welcomed the honorable Governor, by saying that it is a historic event for the Municipal Corporation. She also welcomed all the dignitaries and participants of this two day orientation programme.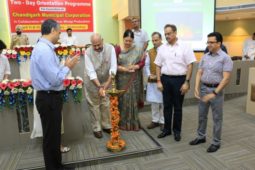 She said that the idea behind organizing orientation programme for councilors is to inculcate in them an appreciation of their role and position as representatives of the people and to familiarize them with the operational mechanics of Administration. She said that the objective is to expose the participants to Municipal norms and traditions and provide them with an insight into the way our Corporation functions.
Sh. B. Purushartha, IAS, Commissioner, MC, Chandigarh extended the vote of thanks to the dignitaries on the dais for gracing this occasion and sharing their experiences with the newly elected councilors and others.
The commissioner started the sessions of the orientation programme by explaining about democracy including session on understanding Chandigarh Municipal Corporation: Act, Administration role and responsibility.
The other sessions of the day were hold by Sh. Prashant Pisolkar on responsibilities, duties and privileges of a councilor and functioning of Municipal Corporation, Sh. Neelesh Kulkarni on Smart City: concept and aspect.
The schedule of 2nd day of the orientation programme will be started at 10.00 am by the 1st session of understanding Municipal Financial management (Budget) by Sh. Alok Shiromany, Dr. Shiny Abraham will organise session on solid waste management and swachh bharat, Sh. Manoj Kumar Teotia will organise session on National urban livelihood mission, Dr. Hitesh Bajpai will organise session on Public conduct of an elected representative and Gauri Maulekhi will organize session on issues related to stray dogs and nimals.
Sh. Parimal Rai, IAS, Adviser to the Administrator, Sh. Anurag Aggarwal, IAS, Home Secretary-cum-Secretary Local Government, Chandigarh, Sh. Ravinder Sate, Director, Rambhau Mhalgi Prabodhini, Sh. Rajesh Kumar Gupta, Senior Deputy Mayor, Sh. Anil Kumar Dubey, Deputy Mayor, Sh. Uma Shankar Gupta, Additional Commissioner, Dr. Shilpy Pattar Dutt, Joint Commissioner, Sh. N.P. Sharma, Chief Engineer, other councilors of MC were present during the sessions.