Govt. Model Sr. Sec. School, RC 1, Maloya gets its Computer Lab with the help of Ceragem India: Under its 7th School Dream Project, Ceragem India Pvt. Ltd, a Global Healthcare Company , today inaugurated a "Computer Lab" for students at Government Model Senior Secondary School, RC 1, Maloya , Chandigarh.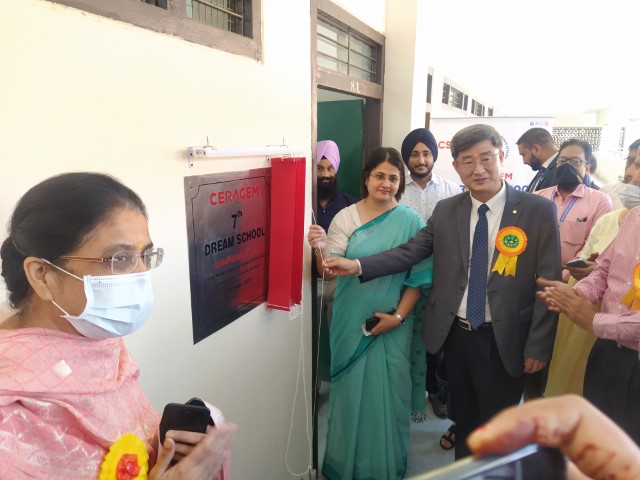 The event was held in the presence of Ms. Palika Arora (PCS) Director of School Education, Mr Sunil Bedi , Deputy Director Education, Mr Ko Suk Bong, CEO, Ceragem India, along with other senior dignitaries from the Education Department . 
Aiming to bridge the digital gap. By ensuring every child gets access to e- learning, Ceragem India donated a Computer lab with 33 computer UPS set up, smart projector Digital printers along with all the infrastructure and mechanical set up. The initiative will help in enhancing the quality of education and allow students to digitally learn in the fast paced world. Moreover, initiatives like these make the education experience more delightful and worthwhile. Indeed, the event marked the beginning of the whole new learning experience and the delightful smile on students, face was both enriching and piquant.
Under its philanthropic initiative, 'Dream School Project', Ceragem India continues to contribute back to society especially adding facilities in the government schools like renovation of classrooms, building new washrooms, setting up RO facilities etc. 
Commenting on the occasion, Mr. Ko Suk Bong, CEO, Ceragem India, said, "In today's time we are all connected through technology and online learning during the times of COVID is one such prime example. However, children studying in government schools are often not having access to computers, internet and are even are deprived of basic education, seeing this, we have set up a computer lab here in Chandigarh for the young bright minds. Use of computer, internet will surely add a new dimension to their learning and help them stay connected to the modern world."
Speaking at the occasion Mrs. Manjeet Kaur Gill, Principal, School Said "This advanced computer lab will help our students to get better quality education, and it will surely open new doors of opportunities for them . With the use of computers, students will be able to research within seconds and acquire knowledge. Lastly I would like to thank Ceragem India, for this remarkable gesture in our school.