Shree launches its newest store in Kharar: Shree, one of India's leading ethnic wear brands from SHR Lifestyle Pvt. Ltd has further expanded its reach to its customers and launched its newest store in Kharar's Amayra City Center.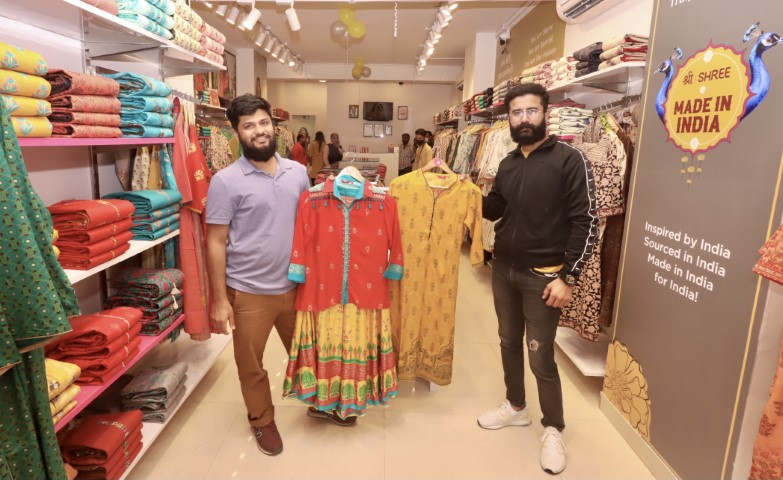 The store was inaugurated by Mr. Saheb Kapoor, Business Strategist, Shree – The Indian Avatar. The strategic location and the amazing design create an incredible shopping experience.
All set to launch its 100th store soon, Shree, the visionary brand built by  Mr. Sandeep Kapoor and Mrs. Sheetal Kapoor continues to expand its retail presence across India. 
The brand that stands firmly for a truly Indian product – inspired, sourced, and made in India for the leading women of India has over the years created a space for itself as a leading brand in its segment. Shree has created a niche for itself in Punjab and is excited to be further expanding in the region.
Speaking at the store launch, Mr. Saheb Kapoor, Business Strategist, Shree – The Indian Avatar said, "Punjab has an amazing customer base. We are excited to be launching our 28th store here and soon enough we are looking forward to launching our 29th store in Punjab and 100th in India! We understand the everyday Indian woman's needs and fashion clothing that suit her every mood. Our newest Khushi ke 100 Bahane collection aka festive collection, which we are showcasing in the store has a wide variety of new styles and selections. We sincerely hope you love this new collection."
ABOUT SHR LIFESTYLE PVT. LTD.
SHR Lifestyle Pvt. Ltd. is an ethnic wear manufacturer and distributor of everyday women's clothing across India and abroad. Harbouring an exquisite range of ethnic wear for women, Shree celebrates the Indian-ness of every woman and takes pride in our Indian culture. The brand, as a whole, is quality conscious and therefore, constantly strives to provide the best to its Parivar without cutting any corners.
Shree traces its origins from the Sanskrit word devi which means divine. Deeply-rooted in our rich Indian culture, 'Devi' is quintessentially the core of every Indian woman. The company draws its inspiration from the modern Indian woman; a woman who maintains a perfect equilibrium between her social and professional life with grace. Its collection reflects an Indian woman's sense of individuality.