Recognize the vibrant variety of skills in the armed forces to 'Create in India', say top veterans from Indian Army, Navy & Air Force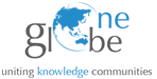 NewZNew (Chandigarh) : Delivering the keynote at One Globe 2015 knowledge conference in New Delhi recently, India's Minister of State for Skills & Entrepreneurship, Rajiv Pratap Rudy reiterated that his ministry will soon sign a MoU with the Ministry of Defence. He said, "We are looking at using the last year of the services of JCOs and below to train all these people in the armed forces like artillery, logistics, tanks, drivers for big vehicles, army medical core and so forth. If they don't want to come out as trainers, they can come out as entrepreneurs."
Minister Rajiv Pratap Rudy added that, "Make in India will not be successful unless we have skilled workforce. In China, 47% of the workforce is skilled, in Australia about 60%, in UK 68%, in Germany 74%, in Japan 80%, and in South Korea 96%, but in India, in 65 years, just 2% of our workforce is skilled. In the next five years or so, we will have the largest youth population of about 465 million in the age group of 20 to 35 years. If you look at the 8 to 9% growth in the next decade or so, infrastructure will require another 100m people, automotive & auto care will require about 35m people, health would require about 12m people, textiles about 36m people. We have teachers in this country but there is a dearth of trainers. We are thinking of many out-of-the-box ideas for creating an ecosystem for the skilled manpower in this country."
The fourth annual edition of One Globe knowledge conference also brought together top and highly decorated veterans from the Army, Air Force and Navy to deliberate on the technological and skills impact of indigenization & modernization of India's defence industry. Moderated by One Globe Conference Chairman Dalbir Singh, Senior Advisor, Forum of Federations, Canada, the heavyweight panel included Vice Admiral Pradeep Kaushiva, Major General Kuldip S Sindhu, former Army Vice-Chief Lt. Gen. A S Lamba, and Air Marshal PK Mehra.
Major General Kuldip Sindhu, VSM, who served as the first Managing Director of the ECHS health scheme for defence pensioners and widows, and was responsible for training & rehabilitating nearly 25 lakh ex-soldiers & 4 lakh widows into civil life in his capacity of the Director General Resettlement in the Ministry of Defence, said, "Whenever a defence serviceman retires, he is always put in security-related job roles. But there are as many as 972 different skills in defence sector including communications and satellite technologies. The work of our Ecology Battalions in the Himalayas is well known. We need to create the recognition and incentives for such a vibrant variety of skills in our defence forces. The average retirement age of our jawans is around 40 years so there is a lot of residual capacity that can be put to good use."
Air Marshal PK Mehra, PVSM, AVSM, VM, who was the 'Air Officer Commanding in Chief' of South Western Air Command, said, "On the skills side, the armed forces need to learn from the civil airlines industry where the retired airmen form the backbone for running all the aviation related equipment."

Former Vice-Chief of Indian Army Lt. Gen. A S Lamba, PVSM, AVSM, stressed on the need for indigenization of defence equipment and said, "We need to learn from the Americans, Israelis and others to be able to become a defense exporting nation. We must place trust in our private sector and given them opportunities unless proven otherwise. The recommendations made by the Kelkar committee were good but their implementation went wrong. Every bureaucrat today is fearful of taking or not taking decisions. National security cannot be outsourced and 'Make In India' puts the focus back on manufacturing and indigenization."
Major General Sindhu added that, "Instead of just a 'Make In India' strategy, which can also include mere assembling of semi-knocked down kits or completely knocked down kits, we need a 'Create in India' strategy to help India become a defense equipment exporter, by encouraging our people to use brainpower to address the nation's priorities creatively. The ingenuity of our dabbawallahs is being taught as a case study at leading institutes like Harvard and we should replicate similar creativity in our defence capabilities."
Added Air Marshal PK Mehra, "We have squandered away the technological superiority we had against our opponents in the 1960 and 70s when we were designing and manufacturing world-class aircrafts with a platform comparable to the one used in the U.S., UK, France or anywhere else. But somewhere, our government found an easier way to import technology at friendly prices and our Indian developers and engineers went into sleep mode for 25 years. You can't call yourself a powerful nation if you are leaning on others too much and are importing 70% of your arms requirements. We need to create an enabling environment for the industry to invest in R&D."
Proposing a three-stage filter while importing defense technology, Vice Admiral (Retd.) Pradeep Kaushiva, UYSM, VSM, former Director, National Maritime Foundation, said, "One, we should ask if it is likely to be used against the exporting country and its allies? Two, will it result in shrinking Indian market? And three, is it likely to reduce the market in the country exporting that technology?" Policy framework by the government should incentivize public-private partnership (PPP), he added, noting that India's skill and technology development failed to evolve in line with the industrial revolution.
This year's One Globe conference, held in partnership with [email protected], US-India Business Council (USIBC), Brookings India and MAIT, focused on the potential of the government's ambitious initiatives like Make in India, Digital India and Smart Cities for building a 21st century knowledge economy in India and South Asia. Cisco, which has worked on projects in transformation of more than 80 smart cities across the world, was the lead partner for the conference, inaugurated by Union Minister of State (Independent Charge) for Coal, Power & Renewable Energy Piyush Goyal. Other distinguished speakers at the conference included Sheila Dikshit, former Chief Minister of Delhi and former Governor of Kerala; Amitabh Kant, Secretary, Department of Industrial Policy & Promotion (DIPP) & Chairman, Delhi-Mumbai Industrial Corridor Development Corporation; Dr. Bibek Debroy, Fulltime Member, NITI Aayog; Dr. Ajay Gondane, Joint Secretary, Ministry of External Affairs, Government of India; Onno Rühl, India Country Director, World Bank; Anurag Thakur, Member of Parliament and National President, Bharatiya Janta Yuva Morcha (BJYM); Meenakshi Lekhi, Member of Parliament and National Spokesperson, BJP; Jerry Hultin, Chairman, Global Advisory Board, Smart Cities Expo World Congress, Barcelona & Senior Presidential Fellow New York University; Dr. Subir Gokarn, Research Director, Brookings India, and former RBI deputy governor. Dr. Surya Dhungel, Advisor to President of Nepal, and Sajjad Ashraf, Former High Commissioner of Pakistan to Singapore & Adjunct Professor, Lee Kuan Yew School of Public Policy.