NewZNew (Chandigarh) : A delegation representing the booming ceramic industry of Gujarat was in the city having toured Punjab having met the Ceramic and sanitary ware industry.
The ceramics industry in India came into existence about a century ago and has matured over time to form an industrial base. India's ceramic tiles industry is estimated to be of Rs. 24,000 crore of which 40% is organized while 60% is unorganized sector.
Vibrant Ceramics Expo and Summit, 2016 is being organized from 16 to 18 December 2016 at the Sabarmati river-front (An initiative of Prime Minister of India – Mr. Narendra Modi) in Ahmedabad, India. This event is being organized in association with the Morbi Ceramics Associations.
VCES 2016 aims at serving as one of a kind knowledge sharing podium for the ceramics and sanitary-ware industry as a whole.
Mr K G Kundariya, President of Gujarat Granito Manufacturers Association, Nilesh Jetpariya, President of Morbi Dhuva Glaze Tiles Association, and Mr Sandip Patel, CEO of Vibrant Ceramics 2016, addressed the media at the Chandigarh Press Club.
Mr Kundariya said that Morbi in Gujarat is world's second largest tile manufacturing zone, with a cumulative industrial investment of more than INR 8000 crores.
Mr Nilesh Jetpariya, President of Morbi Dhuva Glaze Tiles Association said that Morbi is home to more than 600 units manufacturing more than 90 percent of total ceramic production in India.
India's ceramic industry ranks at 2nd position in the world and produces around 12.9% of global output. Today, it is among the top three countries in the field of tile production and is further developing is proceeding by giant strides. The industry provides employment to 550,000 people, of whom 50,000 are directly employed.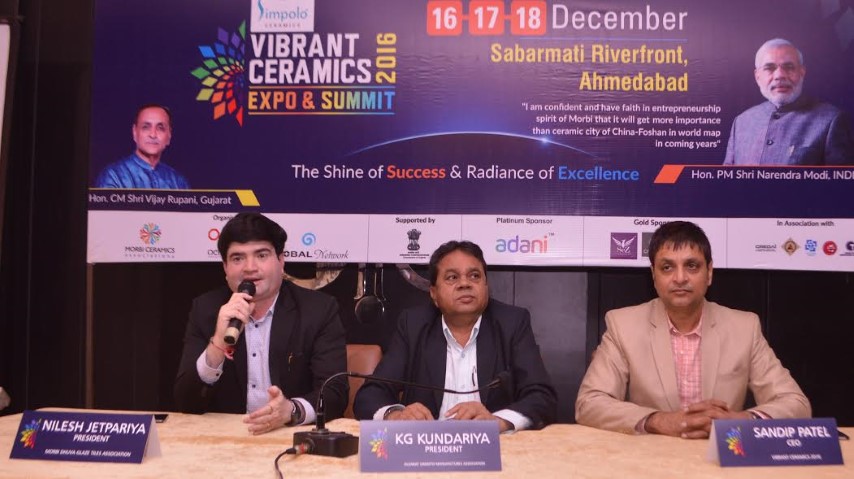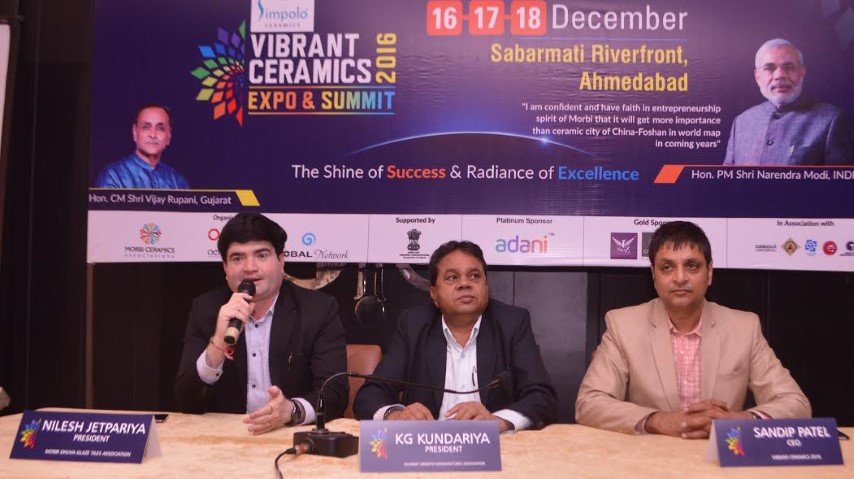 Mr. Sandip Patel, CEO of a major international event, Vibrant Ceramics Expo and Summit 2016 is being held at Ahmedabad on 16-18 December 2016, which would be an opportunity for the region's Ceramic and sanitaryware industry.
Explaining the key highlights of the Vibrant Ceramics Expo and Summit 2016, Mr Patel informed that technology transfer, investment and joing ventures, B2B as well as B2G networking opportunities will be key highlights at the conference, while the exhibition would showcase latest technology, ceramic tiles and sanitary-ware.
Mr Kundariya informed that Morbi also has a distinction of producing India's first 3D tiles that have huge export potentials.