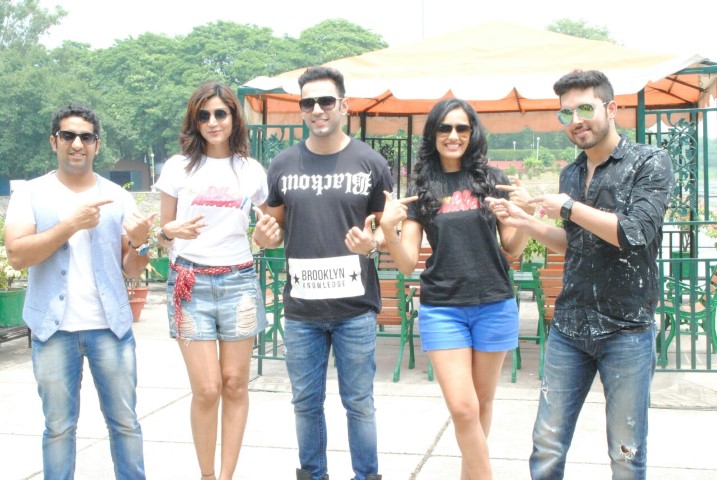 NewZNew (Chandigarh) : Film slated to release on 5th August 2016 Chandigarh, 26 July, 2016: Fans and youth in Chandigarh were treated with a special surprise as they got to interact Sujoy Mukerji, Sahil Anand, Niyati Joshi, Herry Tangiri and the team who were in the city to promote their upcoming film 'Hai Apna Dil Toh Awara'.
Being produced under banner Monjoy Joy Mukerji Productions, the film which is directed by Monjoy Mukerji and will revive legendary actor Joy Mukerji's banner Shri Joy Mukerji Enterprises. Starring Sahil Anand, Niyati Joshi, Vikram Kochchar, Divya Chouksey, Nilesh Lalwani, Jayaka Yagnik, Herry Tangri and Sareh Far the film is shot in Mumbai and Kashmir. The movie is a youthful slice-of-life story of three young couples and is slated to release on 5th August 2016.
The Hai Apna Dil Toh Awara team, not just interacted with the media but also interacted with the effervescent youth of the city during their visit to DAV college. During the interaction with the kids, the team also danced and sang with students and showcased their trailer and songs which were well received by the students.
Hai Apna Dil Toh Awara is a wholesome family entertainer. The film is a slice of life in the life of these couples and how they truly discover the fruits of love in the beautiful valley of Kashmir is the crux of the story. The film is funny and most of it is shot in the picturesque locations of Kashmir. Debutant music director Ajay Singha has done a terrific job with the music and song being loved by the audiences. The songs have been an instant hit with the audiences; with Mohit Chauhan's 'Meharam Mere' already crossing 1 million views on YouTube and Papon's 'Chhu Liya' and other songs closely following it.
Produced by Monjoy Mukerji Productions in association with Deepakk and Neha Gupta of Anikaa Films, the film stars Sahil Anand, Vikram Kochhar, Herry Tangiri, Niyati Joshi, Jayaka Yagnik, Nilesh Lalwani Divya Chouksey and Sareh Far the film is slated to release on 5th August 2016.