Haryana Agriculture minister Shri Jai Parkash Dalal visits CII Agro Tech 2022: On the second day of the 15th edition of CII Agro Tech 2022, Haryana Agriculture minister Shri Jai Parkash Dalal, visited the exhibition. "Haryana is a major stakeholder in the exhibition which is a great platform for the exhibitors to showcase the best quality seeds, pesticides, technologies, produce, machinery & other agriculture related products.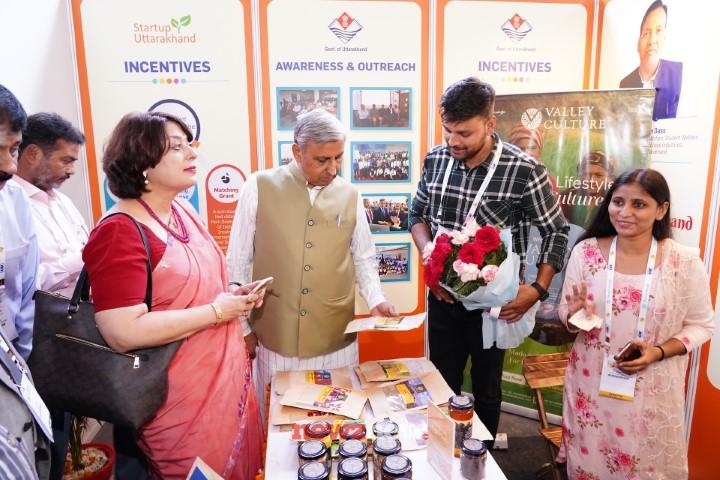 This platform offers instant benefits to farmers as they can see the output of the seeds, discuss use of pesticides with the exhibitors and get their hands on other farm related things without following the process in the farms to yield profits," said the minister while answering a media query.
After interacting with the media persons, Mr. Dalal interacted with the stakeholders at the special session on the role of FPOs in horticulture. While addressing the session, Mr. Dalal emphasized on the importance of corporate farming and need based farming. He told how Haryana and the Centre leadership is supporting the farmers through various Centre and state schemes to increase their profits and try various farming options including fish farming and Freshwater prawn farming.
"Despite the fact that Haryana does not have a waterbody, there are farmers in the state who are making profits worth Lakhs by trying their hands in fish farming. This farming has huge potential and farmers must come forward to take benefits from the government through various schemes and yield better produce and make good profits," concluded the minister.
During the panel discussion on emerging trends in horticulture produce marketing and exports the panelists had a detailed discussion on collective and corporate farming. The panelists emphasized on how the farmers with small pieces of land can double their income by following the specific technique.
One of the panelists, Mr. Ranjan Kedia, Director, Natural Food Chain, while sharing his views about FPOs and their importance in the horticulture produce said, "Profits of the farmers who produce fruits and vegetables get maximum profits only if they deliver A & B grade fresh produce. We help the farmers in getting the best profits for their D & C grade produce as well. We have successfully associated with numerous organizations to help the farmers by processing each D & C grade produce to get the maximum price."
Echoing the same line, Mr. Sachin Sharma, Vice President, Agri Business division, ITC, said, "Horticulture is a challenge where the farm sizes are small. In such areas cluster formation and corporate farming can be really beneficial for the farmers. Farmers must start focusing on demand-led production to make better profits and to get the best yield from their farms with minimal investment."