Haryana to establish Sainik Schools in Public-Private Partnership mode in districts – Chief Minister: Haryana Chief Minister Sh. Manohar Lal said that Sainik Schools in Public-Private-Partnership mode will also be established in other districts of the state.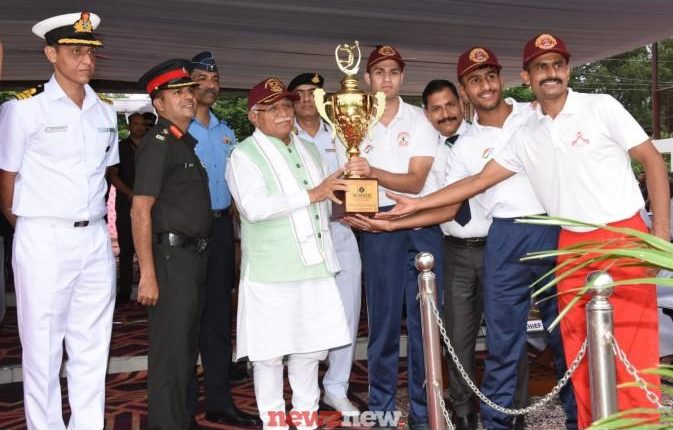 This will not only enhance the state's contribution to the armed forces but also prepare a substantial number of Agniveers.
The Chief Minister was speaking as the chief guest at the closing ceremony of the All India Sainik School National Games-2023, hosted at Sainik School, Kunjpura in Karnal. He also announced a grant of Rs 10 crore for infrastructure development at Sainik School, Kunjpura.
Chief Minister said that it is matter of great pride that All India Sainik School National Sports Games have been organized in Haryana for the first time. He said that this event offers numerous participating athletes an opportunity to earn selection for national and international competitions. Over 650 players from various Sainik Schools across the country participated in diverse competitions conducted during this event.
He also underscored the invaluable lessons taught by sports, such as discipline and determination and added that sports competitions provide players with a platform to showcase their talent, fostering mutual understanding of each other's perspectives, beliefs, lifestyles and more, thus contributing to the strengthening of national unity.
Chief Minister Manohar Lal further said that these competitions marked a significant milestone as girls cadets participated for the first time, signifying a strong commitment to women's empowerment. This inclusive approach aligns with the spirit of "Beti Bachao-Beti Padhao," a slogan introduced by the Prime Minister Sh. Narendra Modi in Haryana back in 2015. Under the inspiration of the Prime Minister, daughters were admitted to Sainik schools three years ago, and today, girls are achieving remarkable success in various fields. He said that the government has actively fostered a sports culture to position Haryana as a sports powerhouse. The state has invested in creating excellent sports infrastructure at all levels. In Haryana, the slogans of "Jai Jawan," "Jai Kisan," and "Jai Pahalwan" carry profound significance, highlighting the strength and valour of soldiers, farmers, and wrestlers, all of whom contribute significantly to the state.
He said that Haryana achieved remarkable success at the recently concluded 19th Asian Games in China, contributing 30 out of 107 total medals. This outstanding achievement has brought great honor to the state of Haryana.
Furthermore, he highlighted the long-standing tradition of Sainik Schools in India, dating back to 1961. These institutions have played a crucial role in preparing cadets for prestigious defense institutes such as NDA, IMA, OTA, IANA, and AFA. In addition, they provide a holistic education, combining quality academics with military training, ensuring the comprehensive development of their students. Graduates from these schools have excelled in various fields, including Indian Administrative Services, the Judiciary, Medicine, Engineering, and Politics.
He said that Haryana has earned the reputation of being a rich source of soldiers, with every 10th soldier recruited in the Indian army hailing from the state. In 2008, the state opened its second Sainik School in Rewari district, and another Sainik School is in the process of being established in Matanhel, Jhajjar, with 61 acres of land allocated for this purpose in 2021. The Chief Minister encouraged the players, assuring them that they will carry away invaluable experiences from the soil of Haryana, experiences that will undoubtedly propel them to great heights in the future. He also honored the winning teams on this occasion.
Gharaunda MLA Harvinder Kalyan, Mayor Renu Bala Gupta, Chief Minister Media Coordinator Jagmohan Anand, Principal of Sainik School Kunjpura Vijay Rana and others were present on this occasion.