Paperless, overdraft facility against shares in under 3 minutes
To benefit first-time borrowers with no credit history
newznew (Chandigarh) : In a first in the country, HDFC Bank Ltd., today launched an instant Digital Loan against Securities (LAS). Customers can now avail of a loan against shares in just 3 easy steps on Net Banking.
The steps are:1. Select shares to be pledged on Netbanking 2. Accept agreement through one-time password (OTP) 3.Pledge shares with National Securities Depository Limited (NSDL) online through OTP
HDFC Bank is the first Bank in India to completely automate the entire process of creating an overdraft facility in a separate current account for loan against shares.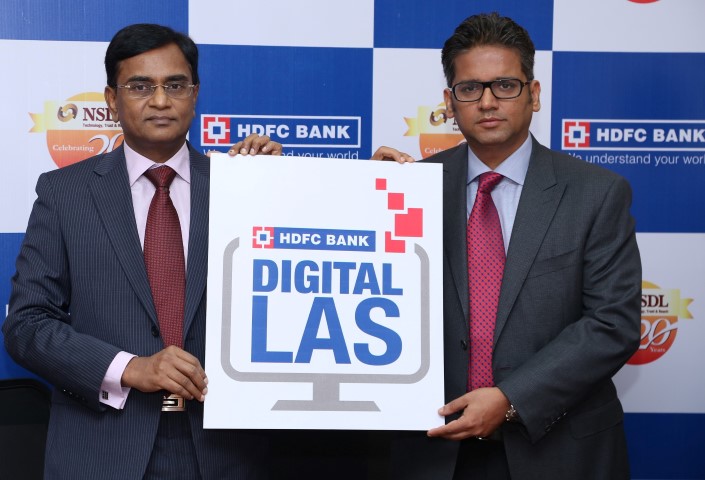 The Bank has collaborated with NSDL to create a seamless customer experience. HDFC Bank DematCustomers can calculate their eligibility for overdraft limit against shares, and open a current account instantly. The entire process can now be completed in under 3 minutes, instead of days. Currently available for demat shares only, this facility will soon be extended to other securities such as mutual funds, bonds, and insurance policies.
Click here to watch the demo video.
Digital LAS empowers the customers to design their own loan against shares at their convenience and avail of the facility within minutes. Customers with shares in their portfolio can leverage it when there is an urgent need for money, for example a medical emergency.
The benefits are:
Instant current account opening within minutes
First time borrowers who don't have a credit history can easily avail LAS
Interest applied only on amount utilised
Auto-renewal of loan facility
Withdrawals and Enhancements done online
"This ispath-breaking. Digital LAS is part of the Bank's strategic focus on customer convenience, access and delight, using technology as an enabler,"said  ArvindKapil, Country Head – Unsecured Loans, Home, and Mortgage Loans, HDFC Bank at the event in Mumbai."The offering empowers the customers to design their own loan against shares.A large part of our motivation is inclusion of Tier 2 & Tier 3 customers in this digital revolution. We see customers not only from metros but towns like Katni, Baramulla, Rangpo going online to experience this first hand. I am confident that the latest digital platform will offer a differentiated experience to not just our customers, but even prospective customers. We will use Digital LAS to offer further enhancements in the time to come."
"NSDL has seen increase in number of instructions executed in the NSDL depository system in electronic form. Approximately, 93% of total transfer instructions are processed electronically at NSDL. This shows the inclination of investors towards doing digital transfers. Integration of NSDL SPEED-e facility and HDFC Bank LAS facility will reduce the TAT for getting the loan from the bank. NSDL also expect percentage of electronic instructions processed at NSDL to increase further due to this integration," said  G.V. Nageswara Rao, Managing Director & CEO, National Securities Depository Ltd.