DIRECTIONS ISSUED AFTER SWINE FLU DEATH IN AMRITSAR
JAYANI DIRECTS HEALTH DEPARTMENT TO SET UP SCREENING AND ISOLATION CENTRES IN ALL GOVERNMENT HOSPITALS
ASKS TO ENSURE ADVANCED LIFE SUPPORT AMBULANCES
GUIDELINES ISSUED FOR EDUCATIONAL INSTITUTIONS ON H1N1
NewZNew (Chandigarh) : The Punjab government has geared up health machinery to prevent its further spread of Swine Flue by taking precautionary measures following detection of one swine flu case in Amritsar where a 55 year old woman died the other day.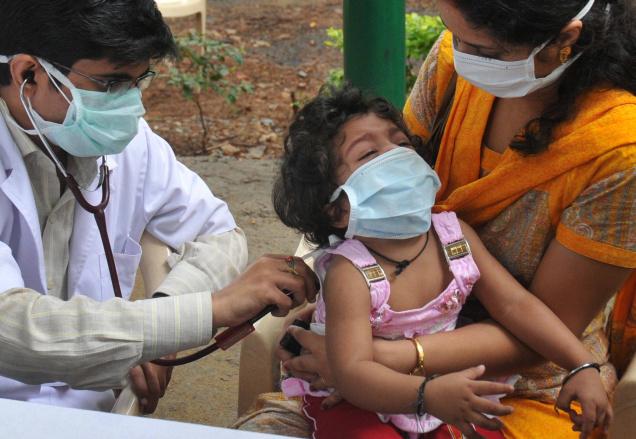 Health and Family Welfare Minister Punjab Mr. Surjeet Kumar Jayani in an emergent meeting of the health officers here today said that all the government hospitals have been directed to set up separate screening area to screen outdoor patients andalso set up well equipped isolation wards to admit those requiring indoor treatment. The state government had already sent guidelines to medical colleges and hospitals and district medical officers regarding the swine flu and instructed to remain prepared. Accordingly all the health care institutions in the state are prepared to handle any such incident and they have been provided with ample swine flu medicines and masks, said the minister. Mr. Jayani also said that although there was one positive case of H1N1 influenza that died due to swine flu,   there were 11 suspected cases of swine flu in Punjab who were being investigated further. The mock exercises generating awareness amongst public have also been conducted in the state, he said.
The Minister further said that all identified hospitalshave been directed to be ready with advanced life support ambulance. The ambulance staff should follow standard precautions while handling the patient and airborne precautions if aerosol generating procedures are done.Triple layer surgical masks should be available and wornduring transport As far as possible the movements should be restricted. He has also asked the authorities to disinfect the ambulance after shifting patient.
The Minister said that detailed guidelines have also been sent to all the educational institutions in Punjab under which the heads of the institutions have been asked to monitor the health status of such students/staff that might have come in contact with a suspected case of Influenza H1N1 to see whether they develop flu like symptoms.  In case they do so, they should be allowed to stay home, says the guidelines. The hostel mess contractors have also been directed to ensure that the care providers wear face mask and wash hands regularly. It might not be advisable to send the boarders back to home, as it would spread infection further, as per the latest guidelines. According to a medical specialist, Swine flu is an air-borne infection which usually shows up in the winter season, but may afflict people at other times too. Travelers should be cautious. If a patient has the infection for a week, then his lungs become very stiff and it may even lead to multi-organ failure, said a medical practitioner.