"If measures are taken early, no one would suffer a heart attack. Ignorance about this devastating illness is perhaps the most lethal risk factor for this deadly disease. It is important to realise that timely action is much easier and economically cheaper than treating disease once it has already occurred.", said, Dr Arun Kochar, Senior Interventional Cardiologist, Fortis Hospital, Mohali.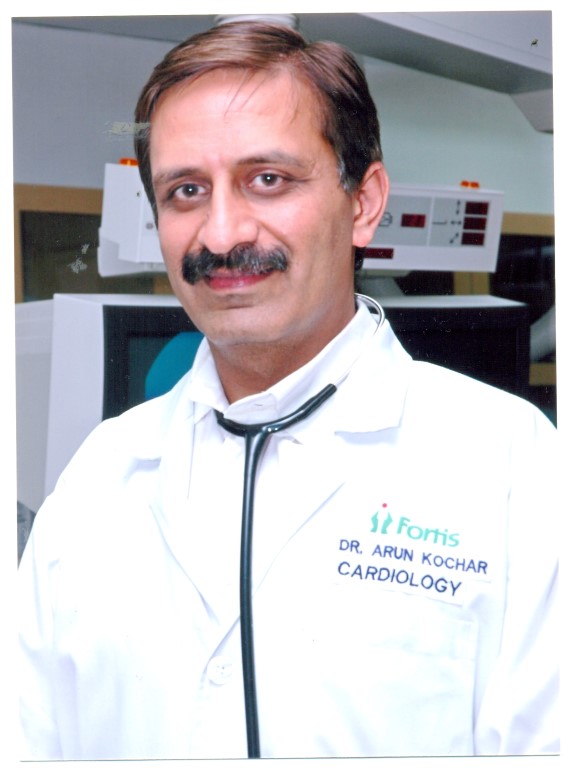 "Our aim should be to not let the disease happen rather than treating the illness once it has already occurred. Heart attack when occurs is a dangerous situation. Almost 50% of heart attack patients do not reach hospital alive and succumb to the illness on the way to hospital."
What is treatment of heart attack?
The treatment of heart attack is expensive and may involve medical therapy, angioplasty or bypass surgery. Many newer drugs are increasingly becoming available at regular intervals. Similarly angioplasty treatment is constantly evolving with newer methods and techniques. One single type of treatment cannot be given to all patients as an umbrella therapy. For each treatment there are different patients and sometimes combination of two methods may also be used.
How important is the time to treatment in cases of heart attack?
Time is as important as gold. Usually it is said that "Time is muscle" the earlier a patient of heart attack reaches hospital, better are the chances of survival. The first hour is golden hour where drug treatment and interventional therapy are efficacious in equal terms.
How will my life be after I have been successfully treated for heart attack?
The fact that you have been treated successfully for heart attack implies you have been bestowed with a second lease to life. You should rejoice and thank almighty, but at the same time the moment has come for hard introspection. Life style needs to be changed. It should not be a lifestyle of deprivation, but that of simplicity and discipline. It is important to be compliant with drugs and be on regular follow up with your doctor.
How not to have heart attack in the first place?
Heart attack can be prevented if we take a pledge to save our heart. It is important to have a simple life based on home cooked food with less of fat, abstain from smoking and alcohol, spending time with family and stress management is important.  People who always are cheerful and feel blessed are less likely to suffer from, heart attack. Managing your cholesterol, high blood pressure and diabetes are of utmost importance as per the directions of your doctor. It is important to watch your girth. Body weight needs to be controlled by regular exercise and avoiding high calorific snacks.
Why time is important even after reaching a well equipped hospital?
Time is always essential in management of heart attack. Even after reaching a hospital where angioplasty facilities are present, it is important that patient is immediately transferred to catheterization laboratory where the culprit vessel is treated by balloon dilatation.  Time taken when the patient enters door of emergency room and balloon dilatation is done in catheterization laboratory is known as door to balloon and ideally should not be more than 90 minutes.  This time is actually an index of efficiency of the concerned Hospital . The lower the door to balloon time, the better is.
This article has been written with the inputs from Dr Arun Kochar, Senior interventional cardiologist, Fortis hospital, Mohali.
For further details contact: 0172-469222.