Herbalife Nutrition flags off the 'Azaadi ka Amrit Mahotsav' walkathon with the Food Safety Administration & Health Department, U.T. Chandigarh: Herbalife Nutrition, a premier global nutrition company jointly flagged off a walkathon in Chandigarh today to celebrate "Azaadi ka Amrit Mahotsav" alongside the Food Safety and Standards Authority of India (FSSAI) in collaboration with the Food Safety Administration, Health Department, Union Secretariat, Chandigarh.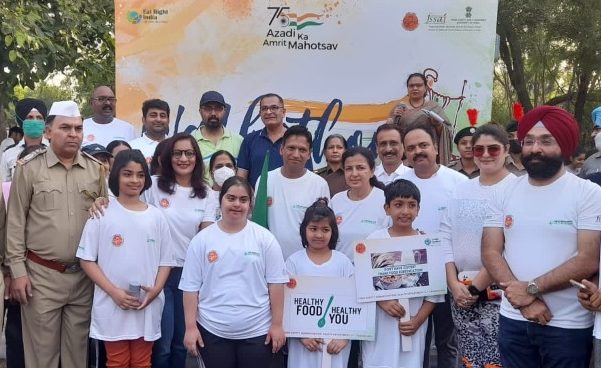 The event was organised by the FSSAI as part of the ongoing Eat Right campaign. The walk began at 7 am from Rock Garden and was concluded at Sukhna Lake Club in Chandigarh. The event was followed by the 'Eat Right Mela' to bring awareness and understanding of the importance of safe foods and healthy diets.
The event was graced by Shri Dharam Pal, Adviser to Administrator; Shri Yashpal Garg, IAS, Secretary of Health; Shri Vinay Pratap Singh, IAS, Deputy Commissioner; Dr Suman Singh, Director, Health & Family Welfare; Ms Nitika Panwar, IAS, Secretary, Social Welfare, UT Chandigarh; and Ms Aashi Sanghvi, Senior Director and Head of Sales and Marketing, Herbalife Nutrition India.
Commenting on winder's initiative of building awareness around healthy eating habits, Ajay Khanna, Senior Vice President & Country Head, Herbalife Nutrition India said, "Raising awareness and educating people about the right food choices is one of the global agendas of our company. As part of the Eat Right India movement, of which we are a proud partner, we have supported the certification of canteens in government multi-specialty hospitals, the state guest house and the secretariat here in UT Chandigarh."
Commenting on the walkathon, Aashi Sanghvi, Senior Director and Head of Sales and Marketing, Herbalife Nutrition India said, "As a global nutrition company, we aim to pave the way for a healthy and active life for citizens and are happy to support the FSSAI in driving the Eat Right initiative across India. We are proud to be associated with this event as part of that along with the Chandigarh administration and FSSAI.  I thank the Chandigarh administration for their encouragement and support for such a successful event here today".
Sharing his thought on the event, Shri Yashpal Garg, IAS, Secretary Health, Union Territory – Chandigarh, said, "We have organised this walkathon and Eat Right Mela as part of Azadi Ka Amrit Mahotsav, an initiative of the Government of India to celebrate and commemorate 75 years of independence and the glorious history of India. Through this initiative, we want to spread the message about the importance of safe and healthy food habits and the importance of physical fitness amongst citizens".
The walkathon was enjoyed by more than 1800 people from many different backgrounds – Anganwadi workers, doctors, healthcare professionals, school and college students, and hospitality sector employees. More than 5000 people from Chandigarh attended the Eat Right Mela hosted thereafter.
In collaboration with the FSSAI, the Eat Right India movement aims to promote and provide safe, healthy and nutritious diet choices by upgrading the infrastructure of food outlets and enhancing the awareness and skills of food handlers and customers. While supporting this initiative, Herbalife Nutrition has helped certify 40 mass campuses across 10 states in India.