How Personal Loans For Self-Employed Work?: A loan is an amount of money a person borrows from a bank or any other financial institution to manage his/ her planned or unplanned events.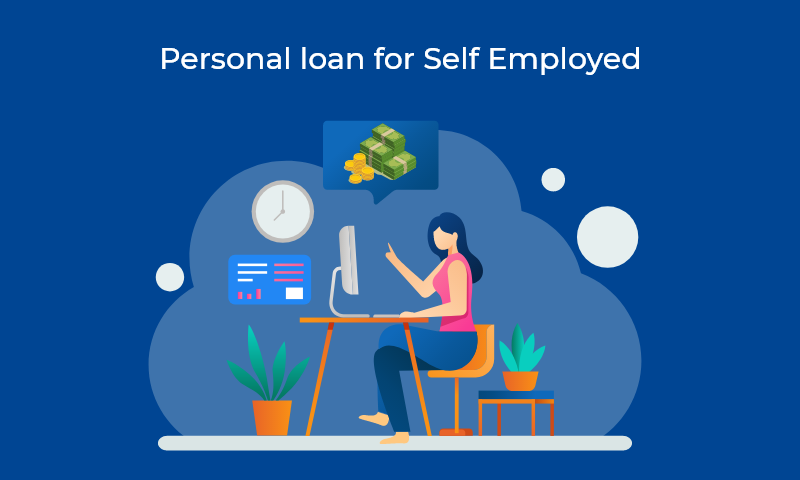 The amount attracts a certain percentage of the interest amount, which needs to be paid along with the borrowed amount within a certain period. Both the lender and borrower need to agree on certain terms before the money is given out. In many cases, the borrower is asked to offer an asset, known as collateral, which is mentioned clearly in the document.
Anyone and everyone who owns a business or own a shop/ store or is a proprietor, or works as a freelancer, can get personal loans for self-employed and for whatever reason they have. If you are wanting to know how to get a personal loan, read on.
What is a Personal Loan for Self-Employed?
When loans are taken to meet personal expenses like home renovation, dream vacation, wedding expenses, etc., they are called personal loans.
Personal loans for self-employed could help you cover any small or big business expense. You will not require a guarantor for accessing the loan, and they have longer repayment options along with lower interest rates.
What are the different kinds of self-employed personal loans?
There are usually three different kinds of personal loans available for the self-employed. They are-
Co-signed Self-employed Business Loan
A co-signed self-employed business loan means that you will require a cosigner to add their credentials in the loan documents to help you access the loan and assure the bank that if by any means, you fail to repay the amount, your cosigner will. The cosigner won't be able to access your loan amount, however, they can help you in building your credit while getting a loan.
Credit Cards
Credit cards are a good option if you wish to borrow a small amount of money and maintain a good credit score. You can borrow a small amount of money up to a certain limit, and you can pay it back at the end of each month to avoid getting charged for interest.
Business Credit Cards
Small amount loans are easily accessible with business credit cards. Additionally, you can also apply for a business credit score to go for a higher amount of business loans. Moreover, business credit cards help you in tracking your business record. The business details required to avail it are-approximate monthly expenses, the legal structure and the employer ID number.
Benefits of  Taking a Self-employed Personal Loan
Given below are some of the key benefits that taking a personal loan helps with-
Repaying another debt
One of the reasons for taking personal loans is debt consolidation. It helps in consolidating all the loans with a higher interest rate with loans of lower interest rates.
Moving Cost
If you are self-employed and have plans to move from one place to another, personal loans can be very useful.
Machine purchase
If you are self-employed and want to purchase a piece of equipment for your business, a loan can help in covering that.
Easy Procedures
Getting a personal loan is a simple and hassle-free procedure. To get an estimate of the loan, you can make use of a personal loan eligibility calculator.
Eligibility Criteria for taking the self-employed personal loans
In order to understand how to get a personal loan, it is important that you look up the eligibility criteria. You can also make use of an online personal loan eligibility calculator to check you would be eligible for such a loan.
Credit score
Your bank gives you a loan based on the credit score which is determined by the repayment behaviour of your loan and regularity of income.
Monthly income
To be eligible, you need to have a minimum monthly income as per the terms and conditions laid down by the lender.
Age
You must be 21 years old or above. The age criteria may vary from bank to bank.
Business stability
It is a crucial factor that is considered while approving a loan. The business needs to have a constant basic income graph for the bank to show trust.
Summing Up
A personal loan can be a serious commitment since you will have to pay a fixed amount of interest every month, failing which will affect your credit score.  The interest rate that comes with a personal loan may be on the higher side. First, chalk out financial requirements and be sure why you need the loan. Once you do that, try to understand how to get a personal loan.