Hero Dirt Biking challenge held at Oxford Street's Courtyard: Over 400 bike enthusiasts took part in the Hero Dirt Biking Challenge (HDBC) organised by Hero MotoCorp held over two days at the Courtyard of Oxford Street amid a cheering audience.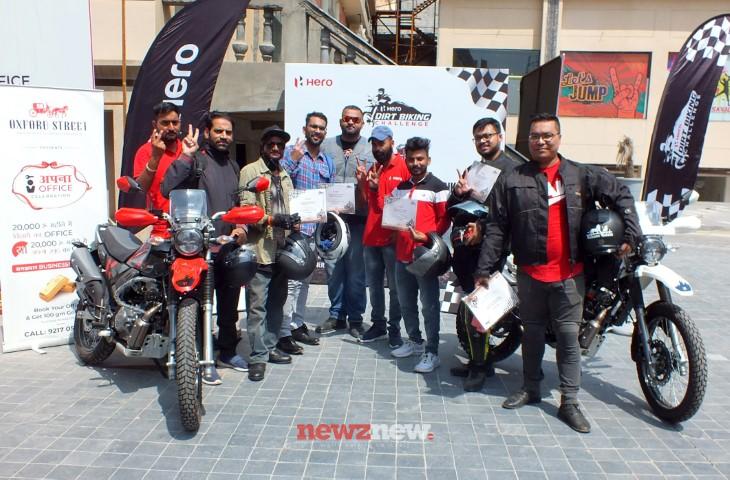 It is to be noted that Royale Estate Group (REG) has developed Oxford Street which is located on the Chandigarh -Ambala Highway at Zirakpur and is the region's only highway facing low rise high street market built in British Style Architecture.
As a part of the national competition being held simultaneously in 41 cities across India, HDBC held at Courtyard of Oxford Street witnessed a breathtaking performance by motor-bikers on a 10-meter track, specially created for them.
Piyush Kansal, Director, Royale Estate Group said, "We are glad that the venue of the first edition of the HDBC competition was chosen as Oxford Street's Courtyard after a thorough recce carried out by the team of Hero MotoCorp across tricity. The courtyard at Oxford Street is a one-of-a-kind facility in the entire tricity which offers a massive area spread over 45000 square feet."
The winners from the event held at Oxford Street will take part in the next phase, which is a regional competition where further skills of bikers will be tested. The finale will take place in Jaipur in the first week of October.
Neeraj Kansal, Managing Director REG said, "Oxford Street's Courtyard is the biggest open courtyard in any high street market of tricity, and has a capacity to host huge gatherings. It is quite suitable for organizing events like exhibitions, film promotions, musical programs, concerts, and stand-up comedy shows etc. What's more, we have 500 + free open and basement parking."
Ashish Mittal, another Director with REG said, "We want to make Oxford Street's Courtyard a landmark of tricity that offers premium space for any kind of event in an expansive and open-air setting. We work with the spirit of 'Hum Banaate Hi Nahi, Basaate Bhi Hain'. The success of Oxford Street is a case in point."
It is noteworthy that the key brands which have already set up shop at Oxford Street include Zudio, Khadim, Reliance Smart, Skyjumper, The Tress Lounge, and Numero Uno among others. The upcoming brands include Burger King, Brew Estate, Jockey and many more.
The courtyard area of Oxford Street too is abuzz with many food brands and these include Chawla's, Steaming Mugs, Ni Hao, Deluxe Dhaba, Peggy Ice Cream and more. What's more, the courtyard will soon see the setting up of outlets of Barista, Roll Express, Sizzles Cafe, and Tikka Freak and many more.