OFFERS INNOVATIVE &TREND-SETTING MBA PROGRAMMES MENTORED BY IMPERIAL COLLEGE LONDON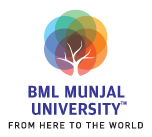 NewZNew (Chandigarh) : BML Munjal University (BMU), founded by The Hero Group, held an interactive MBA Open House at CII Office, Sector 31-A, Chandigarh as part of their outreach programme to familiarize students and parents with their innovative, application-oriented MBA programmes. Key speaker at the event was Mr. Sofi Zahoor, Sr. Director India: HR & Operations, Quark XPress India, who shared his views on the changing economic landscape in India.


Co-designed by Imperial College London, ranked second among the worlds' top universities, the 2-year full time MBA programmes at BMU are designed to give students broad-based, hands-on training in order to create ethical leaders who are skilled, knowledgeable, and have the life skills required for leading their organizations to success. School of Management, BMU offers three innovative MBA programmes – MBA, MBA in Accounting and Finance with a focus on forensic accounting and corporate fraud, and MBA in Business Analytics (in association with IBM).
Dr. Tapan Panda (Dean, School of Management) met prospective students and answered questions ranging from the curriculum structure, internships and innovative pedagogy to campus life, faculty, scholarships tuition fee and placements.
During the event, Dr. Tapan Panda explained, "The focus of the MBA programme would be to harness the innovative and entrepreneurial spirit of students. BMU's unique learning environment will nurture the spirit of enquiry, creativity, and problem solving. The multi-disciplinary, industry-oriented curriculum and inventive pedagogy will make the BMU programme an empowering and enjoyable experience." Additionally, Dr. Tapan Panda said, "This is a great opportunity to have one-to-one interactions with prospective students. We will be organizing similar events across cities to guide parents and students about the right career choices and the unique learning experiences that BMU will offer".
Keeping the international grading and point systems in mind, BMU follows a multi-dimensional evaluation process to assess an applicant's suitability for the courses offered by the university. These include entrance exams scores, graduation scores, performance in extracurricular activities, essays, and performances in group discussions and personal interviews.
The Hero Group ranks amongst the top 10 Indian business houses in India with an estimated turnover of US $5 billion. Some of the educational institutions established by the Munjal family include BCM School, Raman Munjal Vidya Mandir, BML Munjal Vidya Mandir, Dayanand Medical College & Hospital, and BCM College of Education. Through its various initiatives, the Munjal family has educated and empowered over 200,000 Indians. The Munjal family is also the founder promoters of Indian School of Business (ISB), Mohali. The Hero Group's other ventures include two-wheelers, cycles, steel, energy, realty, corporate training, financial and consumer services.