Governor of Haryana Prof Kaptan Singh Solanki and PU-VC Prof Arun Kumar Grover released the book at Govt Museum & Art Gallery Auditorium
The book having 764 pages, 5 kg weight and Rs 5,000 price; describes the journey of Art Education, History & Heritage spanning 140 years
A prestigious Coffee Table Book, authored by Prof. D S Kapoor, that captures the exciting journey of Art Education, History & Heritage through 140 years of discovery and delight of the Govt College of Art (GCA) Chandigarh, was released at the Govt Museum & Art Gallery here by Prof. Kaptan Singh Solanki, Governor of Haryana. The programme was presided over by Prof. Arun Kumar Grover, Vice-Chancellor, Panjab University, Chandigarh. Triennale India Award winner eminent artist, Prof. Prem Singh, former Principal, GCA, was the guest of honour.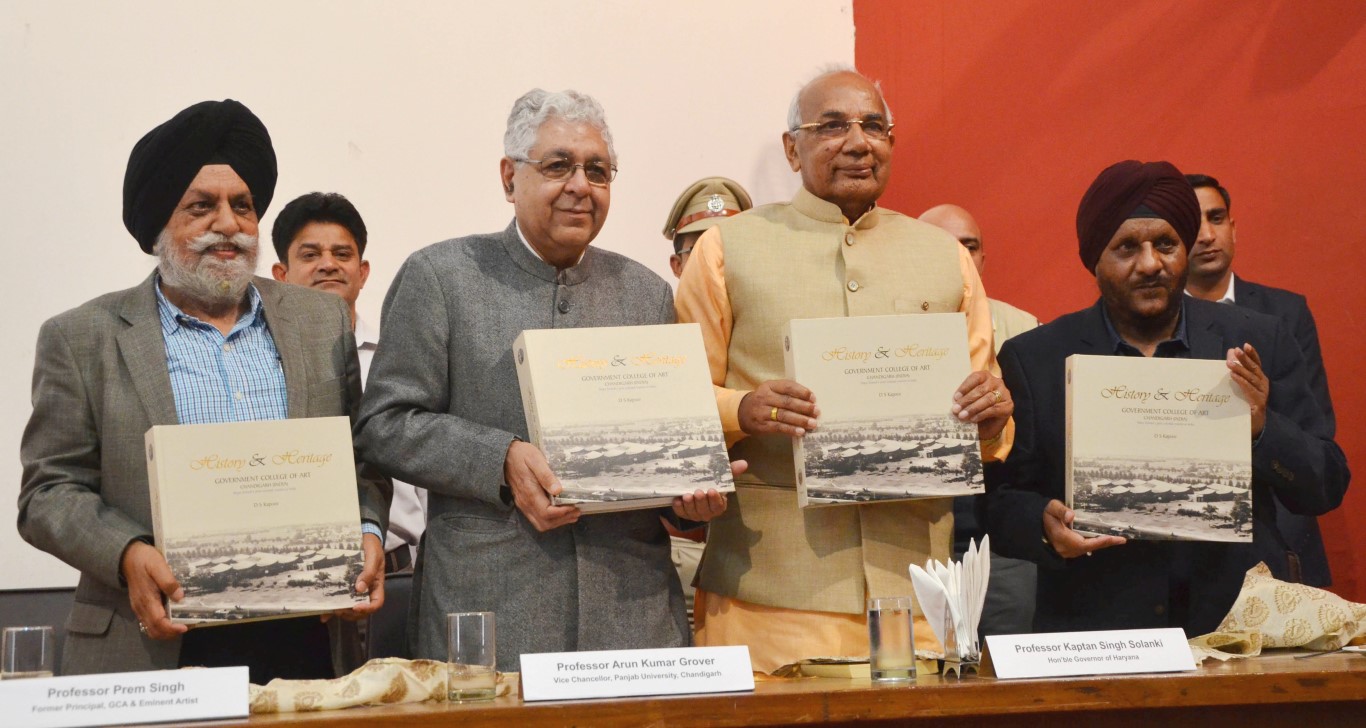 Prof D S Kapoor, Founder & Head, National Institute of Design (NID), Kurukshetra said, "I started working on this book in 2009, when I took over as the Principal of this institution. I visualize GCA like a 'majestic tree' which has a glorious past, an eventful present and a promising future." Kapoor has been a link between the two off-shoots – Mayo School of Art (National College of Art, Lahore) and GCA. A third-generation teacher who was a student, faculty and Principal of GCA, Kapoor has proudly carried forward the family legacy of art and aesthetics started by his grandfather Master Sunder Singh, and father Master Sujan Singh. In 2009, Prof Kapoor was nominated as the principal for this college. He promoted the institution at national and international level.
Speaking as the chief guest, Governor Prof Solanki said, "I am pleased to release this book, which is indeed an effort to bring an ocean into a bottle. GCA continues to uphold the vision propounded by John Lockwood Kipling. The coffee table book is a treasure of information about the glory of GCA, which was established in Lahore, shifted to Shimla after the partition and ultimately came to Chandigarh."
Kapoor, former Dean of State University of Visual & Performing arts, Rohtak, was the brain behind Chandigarh Carnival and the 60-ft high steel replica of Eiffel Tower, installed in Leisure Valley. He was honoured with State Awards for three times by the Governor of Punjab. He was also honoured with the First Friday Forum Award for Creative Excellence (2006) and Tata Steel Selenium Award for Innovative Design. He launched a campaign 'Jai Kalakar' in continuation of 'Jai Jawan, Jai Kissan'.