Air pollution, urbanisation increasing asthma in Haryana; Study
newznew (Rohtak) : A research report by Holy Heart Hospital here has revealed that the rise in air pollution is causing worsening of asthma in people as well as triggering new cases of adult onset asthma in Haryana. This is thus leading to surge in asthma attack in all category of population, the report suggested.
Addressing a press conference at Holy Heart Hospital today, Dr. Ankit Khurana , pulmonologist informed that the study further revealed that the urbanisation is leading to unhealthy lifestyle such as low exercise, excess body weight, smoking and stress. All these factors are further fuelling asthma rise among people.
"Globally, WHO estimates that 235 million people suffer from asthma. It also indicates that asthma is not just a public health problem for high income population, but it occurs in all population groups regardless of the level of development. The study further shows that over 80 per cent of asthma deaths occur in low and lower-middle in come population."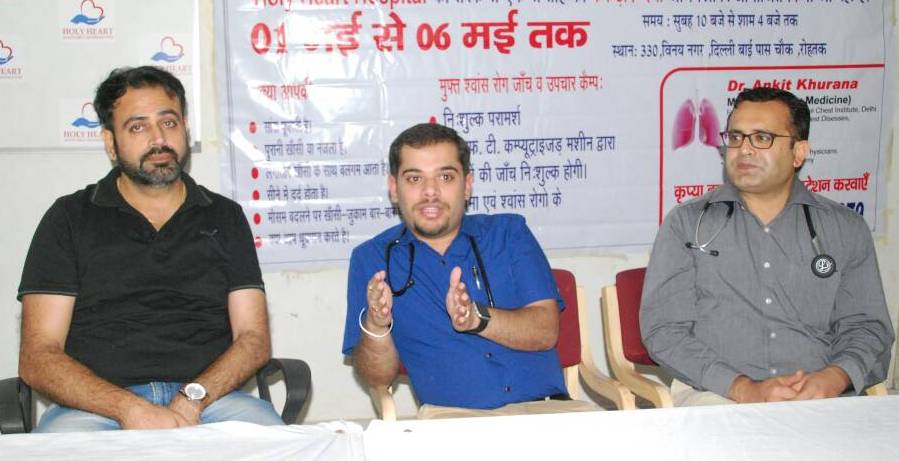 Dr Khurana further said that with time the rate of asthma cases can be unpredictable, or even higher in the future if awareness on its treatment and diagnosis isn't put into effect. In most cases, asthma tends to continue from childhood to adulthood, that's if the patient doesn't get proper treatment and management. However, this can be easily prevented if its cause is treated at a young stage.
Dr. Aditya Batra, senior interventional cardiologist informed that in people who are diagnosed with asthma after the age of 30 there is significant additional risk of heaving heart attack, stroke. A research done with 1369 patients has revealed that incidences of cardio vascular events were 57% more in adults with late onset asthma as compared to people with no asthma.
Meanwhile to commemorate World Asthma Day on May 2, Holy Heart Hospital will launched a 6-day long asthma detection drive wherein lung function testing as well as doctor consultation will be provided free of cost to all.