Homestyle Pure Cow Ghee from GITS : A dollop of pure ghee over Dal Chawal is rooted in our Indian culture.  Ghee today is counted as one of the Super Foods owing to the innumerable health benefits it offers.  Traditionally, Ghee is made by collecting milk cream over days to obtain butter and then ghee.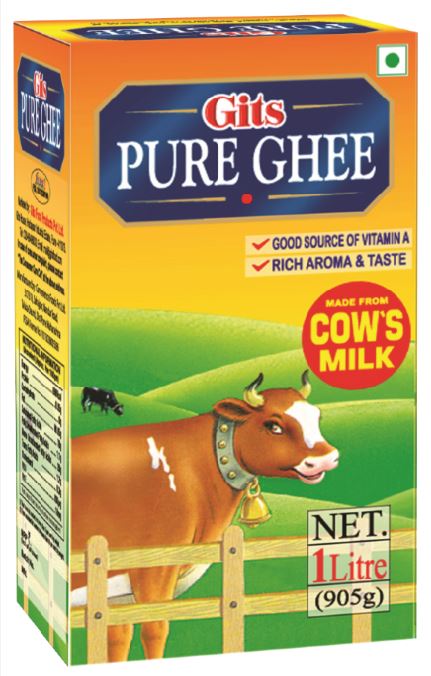 This traditional process of curdling milk and simmering butter to obtain ghee is the secret behind the distinctive taste and aroma of homemade ghee. And now we can get this same homemade taste and aroma locked in a jar without going through the process of collecting and churning cream to make ghee.
Gits has developed a methodology to achieve this with modern technology in its state of the art dairy plant. Made from 100 % Cow's Milk, with no added preservatives, artificial flavours and colours, Gits Pure Cow Ghee is packed with all natural goodness.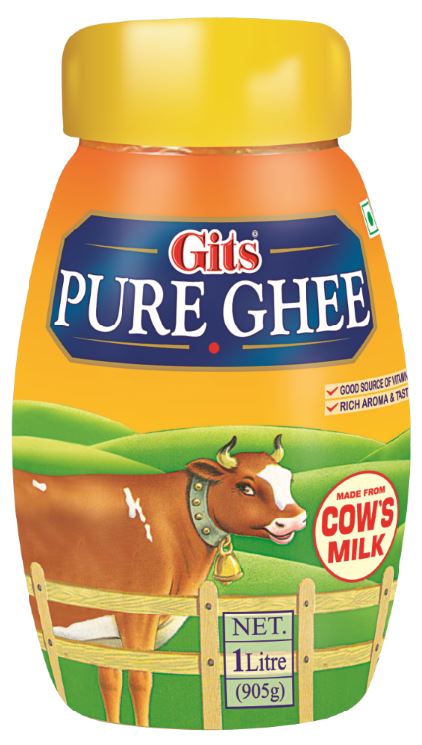 Gits Pure Cow Ghee is easily digestible, has low saturated fat content and low cholesterol. Rich in natural vitamins available in milk fat, it aids weight loss and supports heart health. It contains vitamin K2 which plays a crucial role in facial and dental development of fetus, thus making it an absolute must for pregnant women.  It is also rich in antioxidants. It contains carotenoids, vitamins A and E that fight free radicals in the body and promotes skin cell growth, good vision and a robust immune system. With a high smoking point, this golden liquid is an essential cooking medium as it will not break down into free radicals like many other oils.
So this winter, ensure you take excellent care of yourself and your loved ones with Gits Pure Ghee.
Gits Pure Ghee is available in 200ml, 500ml and 1000ml packs, and is sold across leading retail outlets, departmental stores and ecommerce platforms. You can also order online on www.pureghee.in.