Aims to address Road Traffic Safety and improvise traffic situation
25 Traffic Assistance booths to be constructed on NH-2 and NH-8
Fully equipped Honda motorcycles to be provided to Haryana Police
newznew (Panchkula) : With the objective to address Road Traffic safety and improvise traffic situation, Honda Motorcycle & Scooter India Pvt. Ltd. (HMSI) today signed a MoU with Haryana Police under its Honda Road Safety initiative.
As per the MoU, Honda 2Wheelers, in association with Haryana Police, will construct, 25 new Traffic Assistance booths at NH-2(Gurgaon to Palwal) and NH-8 (Gurgaon to Rajasthan border towards Jaipur). Honda 2Wheelers shall also provide 25 units of Honda motorcycles equipped with public announcement system, sirens, flash lights, high quality Honda safety helmets, first aid boxes, cones at these booths, and specially reflective Jackets for Traffic Police post guards.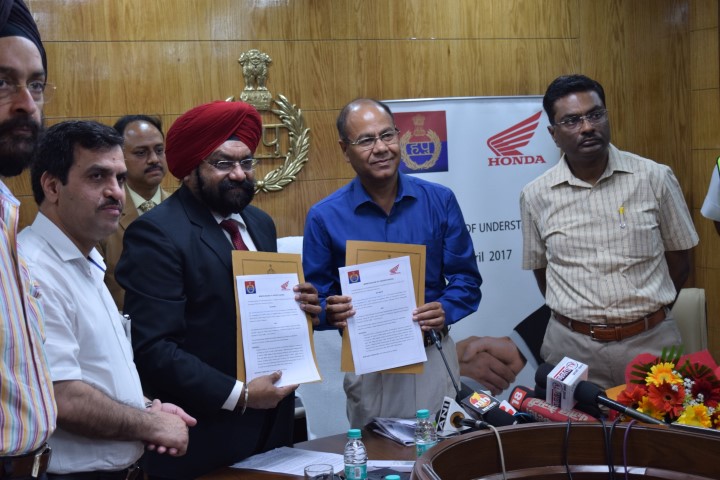 The ceremony was conducted in the august presence of Director General of Police, Haryana-Dr. K. P. Singh, Mr. Sibash Kabiraj – IGP Traffic, Mr Harbhajan Singh, Director – General & Corporate Affairs, Honda Motorcycle & Scooter India Pvt. Ltd. and other senior dignitaries from the state government and Haryana Police including ADG, HQ, Sh. PK Agrawal, ADG Law & Order, Sh Mohd Akil and IG Law & Order, Sh A.S Chawla.
Speaking on this occasion, Mr Harbhajan Singh, Director – General & Corporate Affairs, Honda Motorcycle & Scooter India Pvt. Ltd said, "We are proud to contribute towards a national cause like road safety. Road Safety has been a priority for Honda globally. Road fatalities inflict severe emotional trauma on lakhs of families each year. An alarming number of families fall into poverty after losing their primary breadwinners to such accidents. We are committed to address the issue and make meaningful contributions to the cause of road safety."
Adding further, Dr. K.P. Singh, Director General of Police, Haryana said, "Road Safety is a crucial issue that need to be addressed urgently. Police Assistance booth has been a great platform for addressing this issue and reduce road fatality to zero. We hope to take it forward and take stern steps to reduce road traffic accidents in Haryana as soon as possible."
Education, evacuation and emergency response will be the key drivers through these Traffic Assistance Booth's to save human lives. Honda 2Wheelers had earlier signed a MoU with Haryana Police in 2016 under which the company constructed 20 Traffic Police Assistance booths which are spread over a stretch of 200 kms on National Highway-1. Honda also provided Haryana Police with 20 units of specially equipped CB Unicorn 160 motorcycles. All members of the specially deputed police force have been provided special protection jackets and other safety gear. These police personnel act as post guards and have been professionally trained to handle panic and emergency situations caused during accidents. The initiative has proven to be very successful. Post the execution, the overall no of lives lost due to accidents has reduced by 40 lives in 4 months and gave first life support over 2000 nos. Looking at the success of this activity, Haryana Police has proposed Honda to extend the similar development at NH 2 & NH 8.