How Choosing a Right Bike Insurance Plan Can Help You to Reduce Your Premium: Let us address the elephant in the room. You should and must have a bike insurance policy for your bike. There are no second thoughts about it.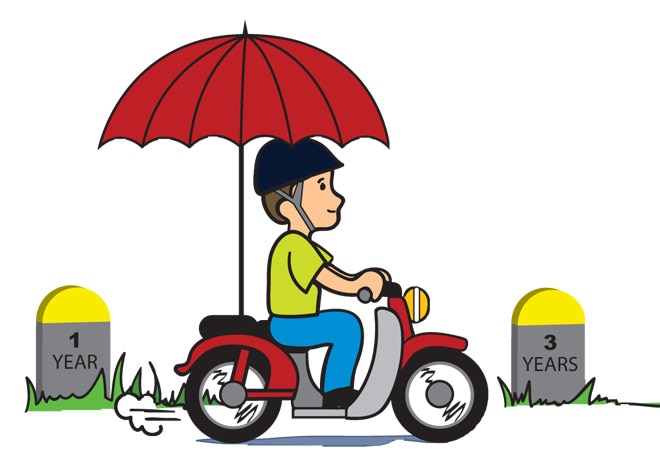 Why do you ask? Well, for starters the laws mandate that all bike owners have valid insurance if they wish to ride their bikes on public roads.
Apart from the obvious legal clearance, it offers a lot of financial aid at the time of need. For example, if you meet with an accident or need extensive repairs on your bike, your bike insurance policy can save the day for you.
While buying bike insurance, a lot of us do not wish to pay the hefty insurance premiums and that is understandable to a certain extent. What if we tell you, there are a few tips and tricks that you can employ to help you reduce the bike insurance premium?
Here is a list of activities that you can carry out to reduce the premium of your two wheeler insurance policy.
Right Vehicle: The premium of a policy directly depends on the bike and the model that you opt for. An ideal example would be, a standard or common model or an older bike model would fetch you competitive rates as compared to a new bike. The rationale being the repair cost of such bikes are lower and there is easy availability of spares. Similarly, a bike with a larger capacity engine would cost you a higher premium. Thus, some time spent on choosing the right bike carefully will help you save premium.
Right Coverage: In India, you can either opt for a third-party liability policy or a comprehensive cover. While the third-party policy does a great job at offering regulatory clearance, it might not be enough. Its lower coverage helps it keep the premiums down. Whereas a comprehensive plan offers much better coverage for the price that you pay. Depending on your needs, you can choose either of the policies. Buying two wheeler insurance online is feasible.
Join an Association: There are several associations that you can be a part of. There are a few touring associations, automobile associations and riding associations. Being a part of them may help you get a small discount on your bike insurance premium.
Annual Payment: Insurers these days offer a lot of flexibility when it comes to paying your bike policy premiums. However, it is recommended that you make the payment annually.
Avoid Small Claims: Though your two wheeler insurance policy is there to protect you financially, it is advised to skip small claims. If the claim amount is really small and you can afford to pay from the pockets, do not hesitate to do the same. This way, you can retain your NCB or no claims bonus. This discount will help you cut down the policy premium for your bike.
Better Security: There are quite a few security enhancement devices available in the market. Deploying them to your bike will instantly increase the security. This, in turn, gives the insurer additional confidence that your bike is difficult to be stolen. All this results in a reduction in the insurance premiums. The only caveat being that the devices must be approved by the ARAI.
Bundle Policies: It is no secret that insurers wish that you buy more policies from them. In the event that you already have a policy from an insurer, you can bargain for some discounts stating that you will be buying a two-wheeler policy from them.
Add-ons: Riders or add-ons are enhancements to your bike insurance policy, but they do come at a cost. There are no such mandates to buy one in the first place. Thus, you can be judicious while selecting an add-on for your bike insurance policy. And if there are no compelling reasons, you can skip them as well.
At present, most of the leading two wheeler insurance online policies are available. This means, that you can buy a bike insurance policy within a few minutes and without any hassles. And if you follow the above steps, you will not only be able to choose the right bike insurance but also reduce the premiums by a considerable margin.