How to Choose the Perfect Gold Ring for Your Personality and Style: Fashion can help you express yourself without ever having to say a word. Whether it is your clothes or your jewellery, everything makes a statement about your personality, making it extremely important to pick out just the right pieces.
While your clothes may change with the latest fashion trends, jewellery, especially gold rings, are a lifetime investment. Hence, these pieces should not just be trendy, but also timeless. Additionally, the styles and designs that you pick out should be in line with your personality.
Gold Rings That Match Your Style
Yes, we know that there are certain gold ring styles that are just too tempting to put down but trust us when we say, it's best to analyse your personal style before you make an investment. We also understand that with the sheer variety of gold rings available in the market, picking out something for yourself can be quite a task. So, to make things easier for you, we decided to go ahead and pick out a few pieces that are sure to capture your eye.
Sticking to the Classics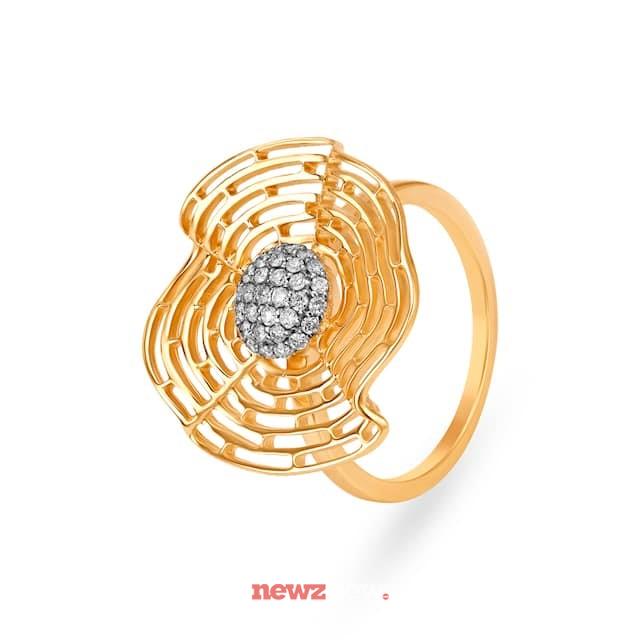 If your personal style is more about timeless pieces that never go out of style, you might want to go for gold rings that are simple and elegant, with just the right hint of drama. This 18-karat whimsical beauty is just that! The elaborate yet simple design of such gold rings is a total show stealer, guaranteed to catch the eye without coming off as too over the top.
Go Boho Chic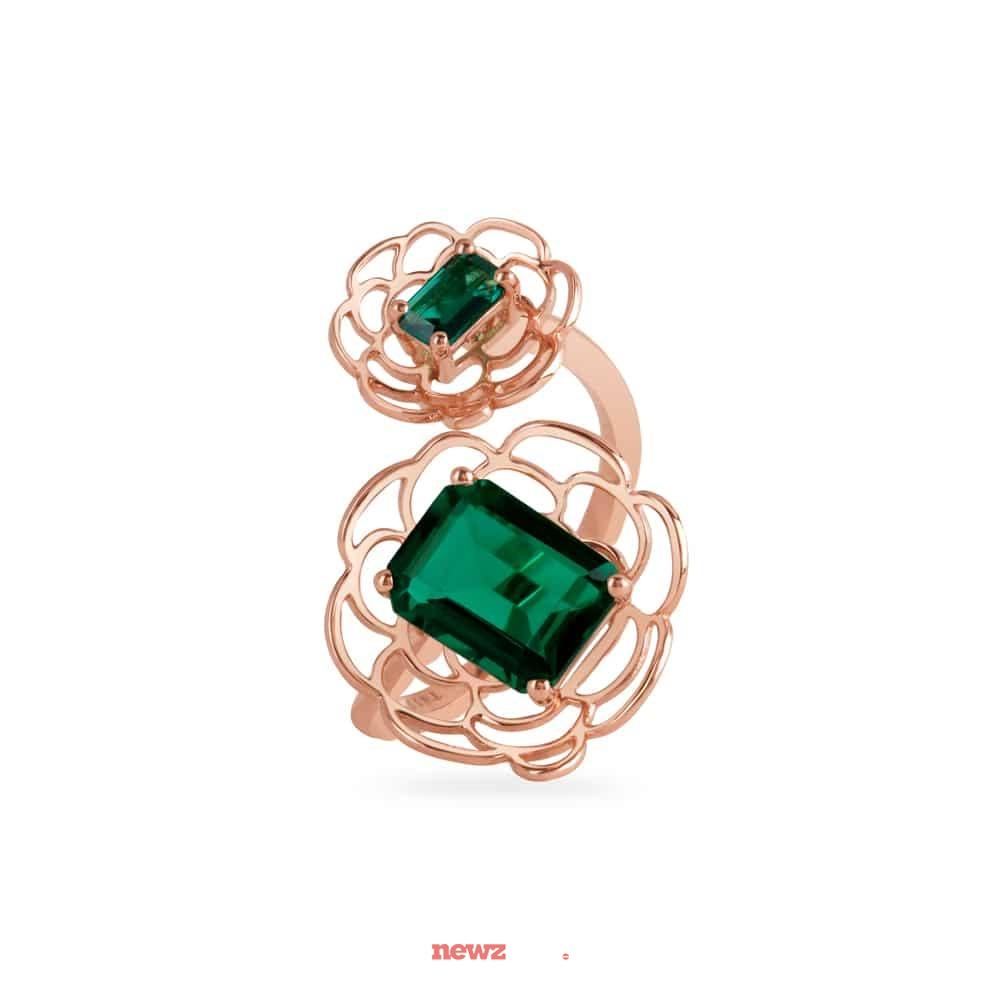 If your personal style is all about fun colours, with a hint of retro chic, rose gold rings such as this cocktail-inspired design would make an excellent addition to your collection. The burnished rose gold band with bold floral motifs features two prong-set emeralds that exude luxury. The shape and placement of the stones give the ring a retro and art-deco look that is sure to catch the eye.
Vintage Classics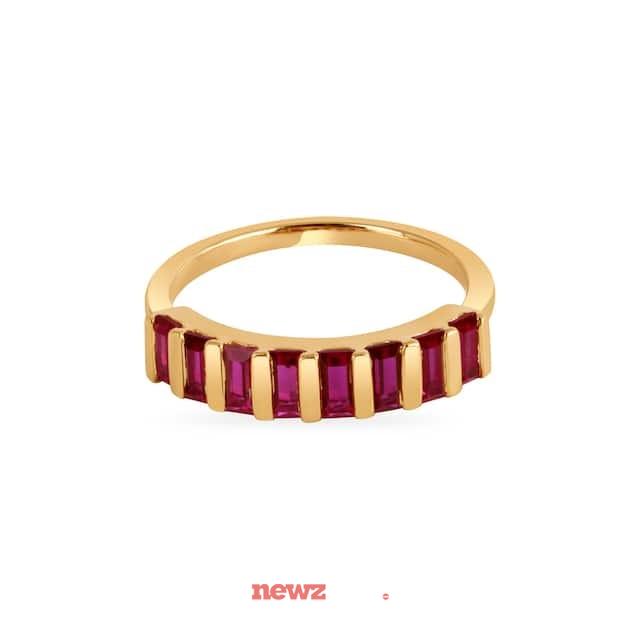 If you are looking for gold rings that are a total blast from the past, we suggest this unique and equally dramatic Irish coffee band-style ring from Mia by Tanishq. The gleaming band is set with dark red stones in a stripe-like pattern. Such classic styles were popular in the first half of the 1900s and were often a display of the art deco styles from those years. These gold rings are eye-catching without being too flashy.
For the Glitz and the Glam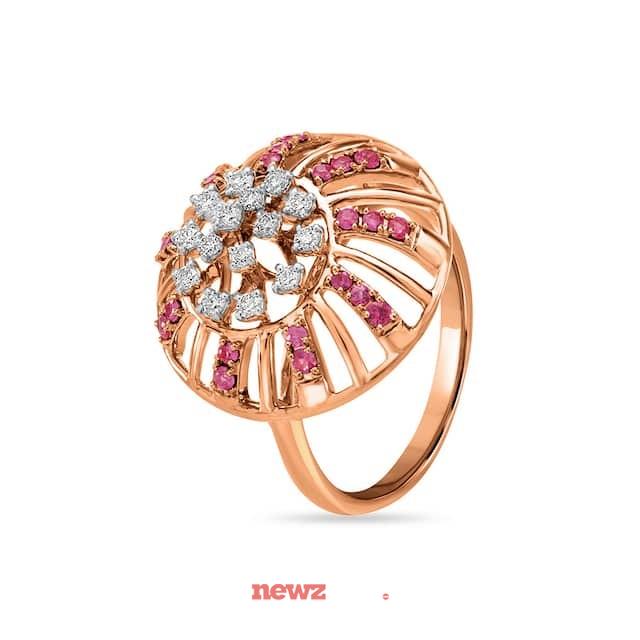 For the women who love to keep it glamourous, cocktail-style gold rings like this one are an excellent choice. This 14-karat rose gold ring set with diamonds and rubies radiates class and opulence. The ring will help you make a style statement effortlessly. Perfect for special occasions, this ring is guaranteed to make heads turn.
For the Love of Romance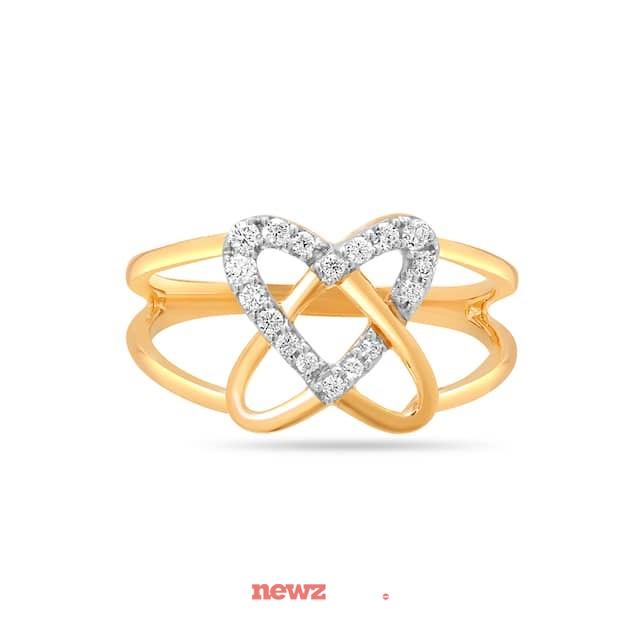 For the women who are hopeless romantics, this infinity-style heart ring will be an excellent choice. The two intertwined hearts are a symbol of the mingling of two lovers' hearts. So, if you want to woo your woman, this ring will make an excellent 'just because' gift. After all, love is all about those small, heartfelt gestures.
As we said earlier, fashion is an excellent way to express yourself. Your clothes and accessories should hence be worn for your own happiness. No matter what style of gold rings you decide to pick, they should make you feel confident and pretty. And if you are ready to explore the world of gold rings that match your style, head on to Mia by Tanishq. They are known for their chic designs that are perfect for all occasions.