How to Create a WhatsApp Channel on Android, iPhone & Web: WhatsApp has introduced a unique feature called Channel, which is a simple, reliable, and private way to receive important updates from people and organizations.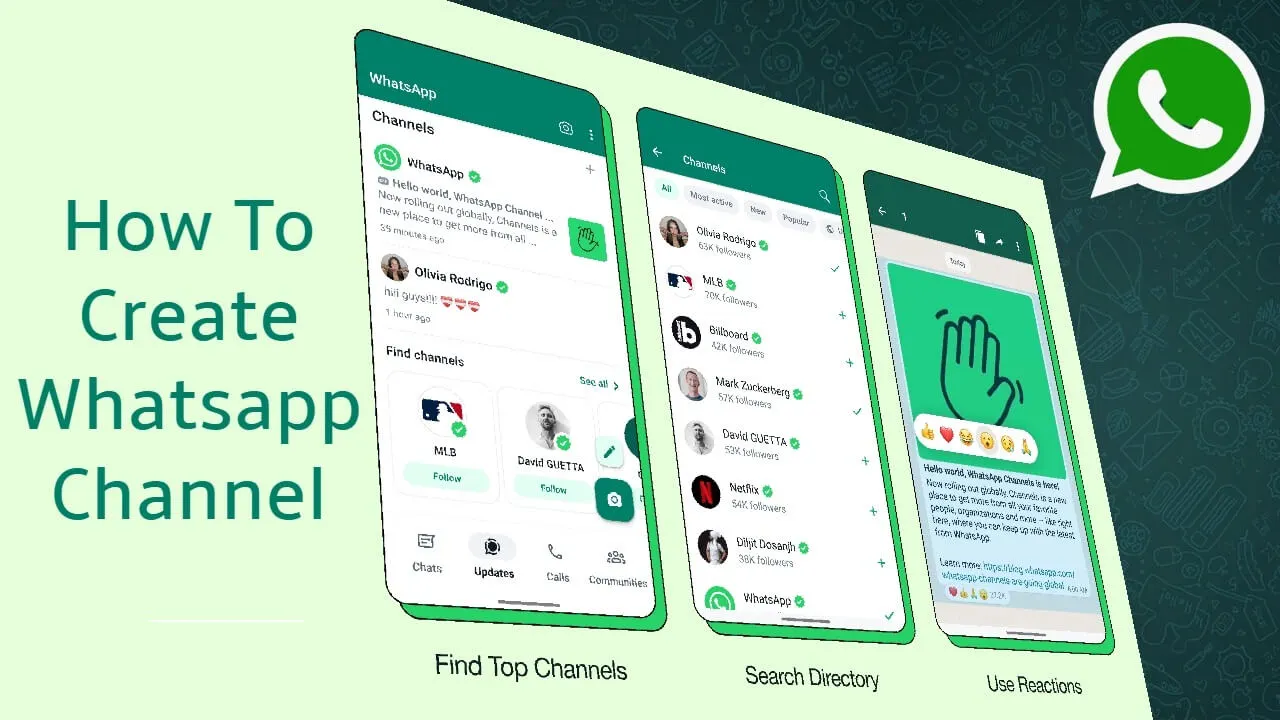 As channels operate independently from the regular chats, you can find it under a new tab, Updates. It replaces the Status tab on the app. Since it is a new feature, we have explained the necessary steps to create a new WhatsApp Channel.
Note – Currently, the channel creation is not available for all the users. It is available for selected individuals and organizations. We can expect the create creation feature to be released for all users very soon.
What are WhatsApp Channels?
It acts as a one-way broadcasting tool where admins can send texts, images, videos, stickers, links, and polls. Followers cannot reply or directly send messages to the admins. However, they can show their interest by reacting with emojis or by voting on a poll. In addition, the identities of those who choose to follow a channel remain confidential to the admin or other followers.
Update WhatsApp for Channels
Before jumping into the steps, ensure to update the WhatsApp on your Android & iPhone. So open the respective store (Play Store & App Store)and make sure that the application is updated and running on the latest version.
How to Create Channels On WhatsApp
You can create WhatsApp channels on both smartphones and the Web with your existing WhatsApp Account, or you can create a new one.
Using Android & iPhone
1. Open WhatsApp on your phone and navigate to the Updates tab in Android. On iPhone, go to the Updates tab located at the bottom right of the screen.
2. Tap the plus icon (+) and select Create Channel.
3. Here, tap Get Started and add a channel name to finish creating your channel.
Note – You can change the channel name anytime in the future.
4. Personalize your channel by adding a description and profile icon by choosing an image to stand out.
5. Tap Create Channel, and you are good to go.
Using Browser
1. Open WhatsApp Web and log in to your account. Click the Channel icon.
2. Click the (+) icon and select Create Channel.
3. Now, click Continue and accept the terms of service and privacy policy to proceed.
4. Customize by adding a description and profile icon to your channel.
5. Now, click Create Channel.
How to Share Updates on WhatsApp Channel
After creating a channel, you can share updates with your followers just like how you send messages on WhatsApp. As Channel updates are unidirectional, only admins can create content.
Share Text Note
1. Open the Updates tab and go to your channel page.
2. Type your text update.
3. Tap the send icon to share your update with followers.
4. You can also change font style on the WhatsApp channel with formatting options like bold, underline, or strikethrough. In addition, you can share an article link, which appears with the content preview.
Share Media Files [Video, Image, Audio & Doc]
1. You can add multi-media files like photos and videos as an update to your followers.
2. Tap on the attach button and choose images or videos from your gallery. Tap and hold to select the multiple images you want.
3. Click the camera icon if you want to take pictures or videos to share as an update.
4. Tap the send icon.
5. You can also share emojis and stickers on your channel.
Frequently Asked Questions
Can I create a poll on the WhatsApp channel?
Yes. You can create a poll on the WhatsApp channel just like a normal group.
Why can't I find channels on WhatsApp?
As WhatsApp is rolling out this feature gradually, you can expect this feature on your device very soon.
Can the admin edit the content on the WhatsApp channel?
Yes. Admins can edit their channel updates up to 30 days from the date they posted.