Hr Speaker inaugurates kidney care centre in Pkl: "Covid pandemic has taught us many harsh lessons and one of the important among them is that in the present time our health is in our own hands. We cannot be lenient towards our health.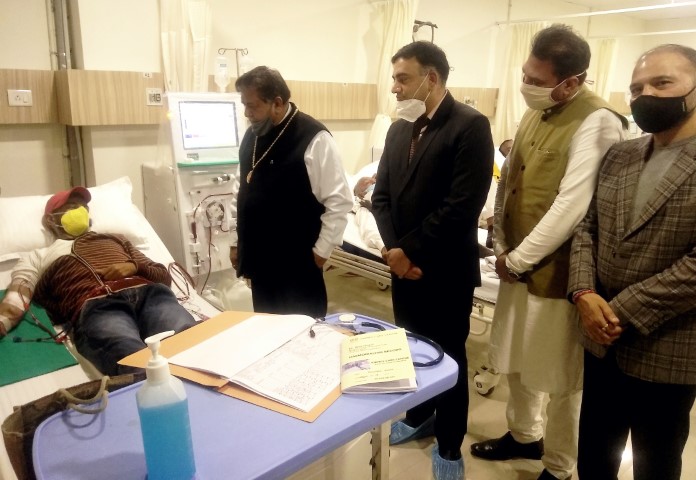 Gone are the days when kidney ailments were related to aged people. But nowadays the sedentary lifestyle is causing immense loss to our health with more and more young people falling prey to the diseases related to heart, kidney and liver."
Haryana Vidhan Sabha Speaker, Gian Chand Gupta stated this during the inauguration of a state-of-art kidney care center at sector 14 here on Saturday.
He said that the centre will be a boon for kidney patients in Panchkula region. It will offer treatment for kidney failure and all other kidney related diseases besides dialysis.
Dr. Ajay Goyal founder director of the center said that this is the first of its kind dedicated advance centre of the region.
He said further that the quality of life of kidney failure patients depends a lot on the quality of dialysis he or she  receives. Therefore the focus in center would be to offer quality dialysis.
Meanwhile in centre all the standard protocols of infection control measures are being followed to keep a check on spread of infections. Meanwhile the centre will also offer counseling to kidney failure patients requiring kidney transplant and also provides regular treatment facilities to patients who have undergone kidney transplant in the past.
Among others , Balkrishan, president of Aggarsain Charitable Trust , Dr. JK Kakkar from Rotary Club, Panchkula, Ravinder Sharma president of Haryana Retired Officers Welfare Association, Subash  Gupta from Senior citizen Association, Panchkula were also presented.