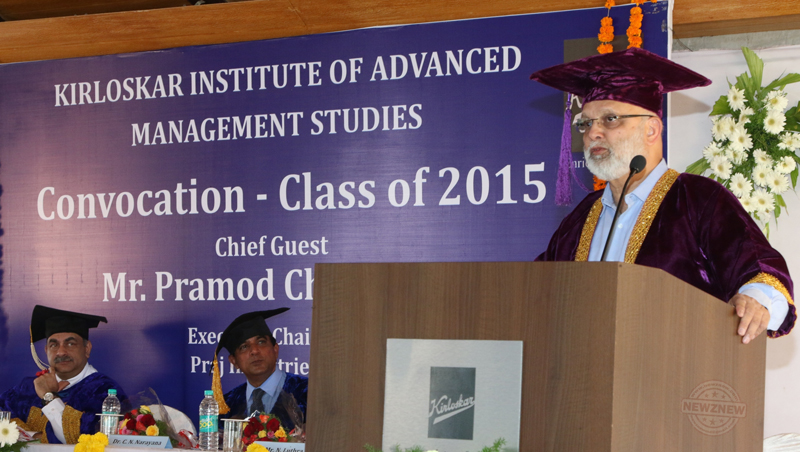 NewZNew (Pune) : The emergence of more investors in corporate world provides huge opportunities for the young executives to turn entrepreneurs, Pramod Chaudhari, Executive Chairman, Praj Industries said here.
"Unlike in the past, with so many private equities, angel investors, venture capitalists and others willing to provide funds for start-ups now, it is ideal time for today's young talent to become entrepreneurs," Mr Chaudhari said.
He made this remark while delivering key note address at a convocation ceremony for the Post Graduate Diploma in Management (PGDM) of Class 2015 of Kirloskar Institute of Advanced Management Studies, popularly known as KIAMS in the B-school world. The event was held in Pune.
Ms. Vaanya Bhatia was awarded the gold medal while Ms. Pranasha Sahu bagged the silver. Class of 2015 is the fourth integrated batch of KIAMS to pass out. Mr. Pramod Chaudhari conferred the diplomas on all the graduating students of Class of 2015 from KIAMS Pune and Harihar in Karnataka.
Mr. Rahul Kirloskar, Executive Chairman, Kirloskar Pneumatic Company Ltd. (KPCL) who presided over the ceremony highlighted that at KIAMS the thrust is to ensure that the graduating students become industry relevant and ready to face competitive environment.
"With academic rigour, branding and strengthening research and other capabilities, KIAMS is set to occupy a position of eminence amongst top B-schools in the country," he said.
Dr. C. N. Narayana, Director, KIAMS reviewed academics and ranking received by KIAMS as well as initiatives being taken to occupy the place among top B-schools and the efforts of faculty-students in the area of research and publication that resulted in publication of papers and cases in national and international journals.