Introduces convenience banking:Simplified & fully loaded mobile banking app, even for customers who have loans but no savings accounts with the Bank
Simple and hassle-free banking: Free unlimited ATM transactions, no fees or penalties on savings accounts if balance falls below the prescribed limit
Superior customer experience: Aadhaar-enabled Savings Account opening in 4-minutes, Signature Visa debit card with Rs. 25 lakh life insurance cover, up to 7-day window to report loss or misuse of debit card with a limited sum insured
24×7 Banker-on-Call: No IVR, accessible on all public holidays and Sundays
Fixed Deposits: Offering interest rate of 7.5%
Points-of-Presence outside the bank branch: Accessible in the most remote locations through interoperable MicroATMsoffering banking to customers and non-customers; IDFC Aadhaar Pay merchant points for payments
IDFC Bank today launched services in Punjab,opening its branchesin Chandigarh, Ludhiana, Amritsar and Jalandhar. While online banking has been available earlier, with the start of branches in Chandigarh, Ludhiana, Amritsar and Jalandhar,customers can now experience the opening of a fully-operational savings account in just 4 minutes, using Aadhaar-based biometric authentication. The Bank will roll out its full suite of products, ranging from savings and current accounts to retail loans and wealth management services.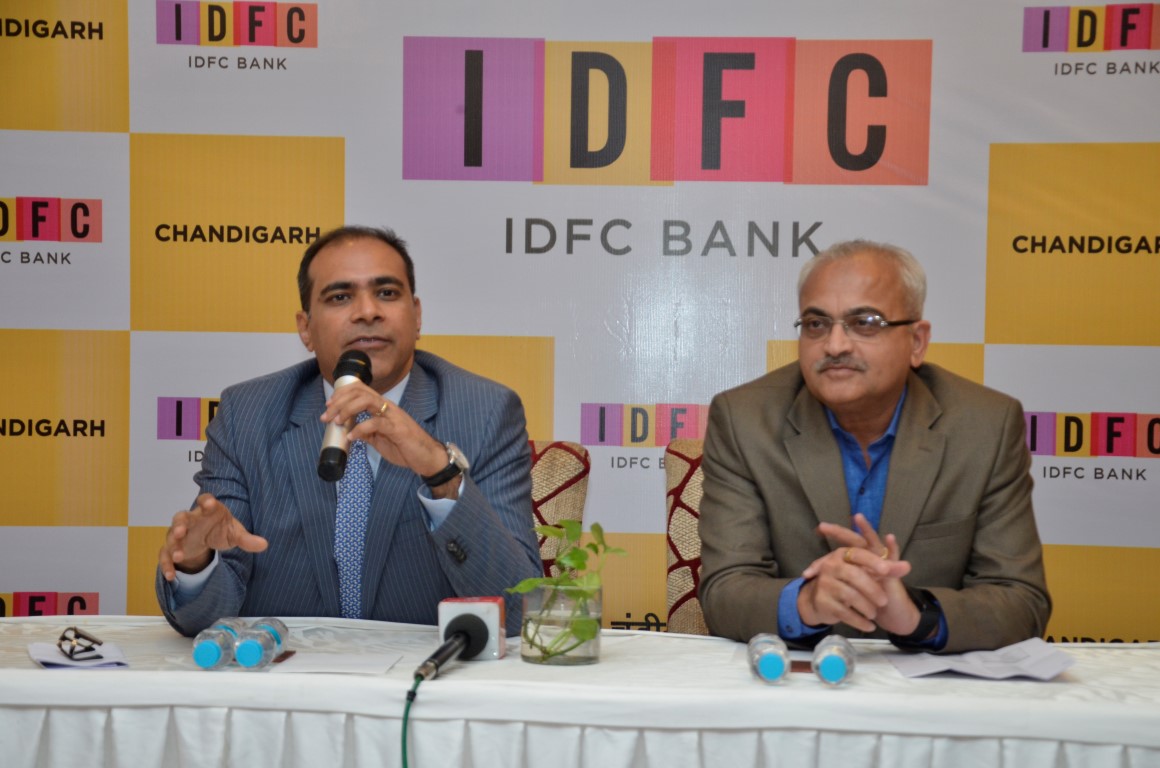 Over the past two years, IDFC Bank has successfully set up 132interoperable Aadhaar-enabled MicroATMs and 27Aadhaar Pay merchant points across Punjab, offering 'assisted digital banking' services to residents of villages.
Speaking at the launch, Avtar Monga, Executive Director, IDFC Bank, said, "The launch of services in Punjab and expansion across the country is part of the Bank's stated intent to build a retail franchise for the masses, with a specific focus on the financially excluded and underserved segments. Our retail offering emphasises simplicity, convenience and service."
"Over the past two years, our digital framework has nurtured innovations in product, channel and most importantly, service. These elements come together to create a customer engagement and experience that is unique to IDFC Bank. We now bring this experience to the residents of Punjab."
Amit Kumar, Head – Personal Banking, IDFC Bank, said,"Our objective is to offer top-of-the line banking services to all customer segments – ranging from salaried individuals to merchants and small businesses, as well as the populace in rural locations. We have used technology to make banking easy, create wider reach and anytime access. Our digital offering is embedded with a human element to ensure service at its best. We are delighted to be part of the neigh  bour hood in Chandigarh and look forward to engaging more deeply with the community in the outskirts through our interoperable Micro ATMs,"Kumar added.
IDFC Bank's retail offering emphasises simplicity, convenience and service. Its suite of digital solutions include paperless opening of savings accounts in 4-minutes, tab  opening of current accounts, a fully loaded and simplified mobile app, omni -channel experience, instant loans made possible by an integrated technology architecture, a combined savings and current account and a 24×7 Banker-on-Call service.
A savings account with IDFC Bank comes with a Visa signature debit card, unlimited free cash withdrawals from any ATM, unlimited free fund transfers and no fees or charges on non-maintenance of average monthly balances in savings accounts. The Bank is also one of the few to enable all loan service requirements on mobile.
The debit card offers apersonal accident insurance cover of Rs.25 lakh, has a 7-day window to report loss of card, and a limited insurance cover for disputed transactions.
IDFC Bank's active customer base is now close to 24 lacs, and serviced through over 17,000 Points-of-Presence (PoPs), including 142 branches, 61 ATMs, 356 business correspondent branches, 13,070 Micro ATMs, and 3,423 Aadhaar Pay merchant points.
Senior officials of IDFC Bank present at the launch included Avtar Monga, Executive Director, IDFC Bank, Amit Kumar, Head – Personal Banking, IDFC Bank and Shri Biju Pillai, Head – Personal Lending, IDFC Bank.
IDFC Bank's branchin Chandigarh is located at SCO 169 17, Madhya Marg, Sector 8C.