IGP inaugurates the 1000th mini forest planted by RoundGlass Foundation on World Environment Day for the wellbeing of Punjab Police #KhakiGoesGree: On World Environment Day today, RoundGlass Foundation planted a mini forest in Police Line, Mohali, in collaboration with SAS Nagar Police. This is the 1000th mini forest planted by RoundGlass Foundation in Punjab.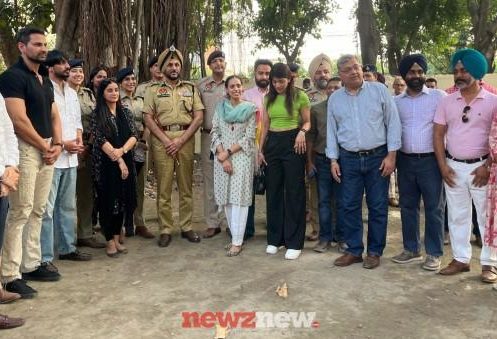 The occasion was graced by senior police officers, Gurpreet Singh Bhullar, Inspector General Police, Dr Sandeep Garg, Senior Superintendent Police, Mohali and Dr Darpan Ahluwalia, Assistant Superintendent Police, Dera Bassi. More than 500 saplings of native trees were planted in the Police Line complex, as part of a larger drive to plant 50,000 trees across Punjab on World Environment Day.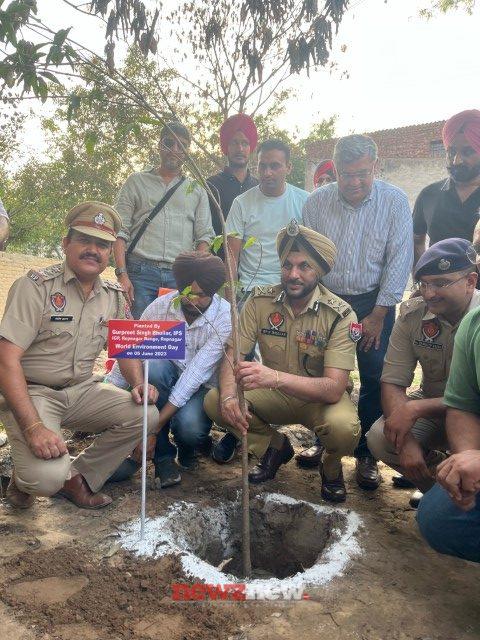 Speaking on the occasion, Shri Bhullar said, "The police force works 24×7 in the service of the people and this can sometimes take a toll on our wellbeing. A natural green space, such as this mini forest, can help our men and women in khaki to take a pause and rest and rejuvenate. Being in nature has been shown to be good for our mental and social wellbeing. We'd like to thank RoundGlass Foundation for helping us plant this mini forest in Police Line and contributing to the overall wellbeing of the police force in Mohali."
Shri Vishal Chowla, Leader RoundGlass Foundation, thanked all the dignitaries and the police staff for contributing to the plantation activity and said, "RoundGlass Foundation is working to build a better Punjab by enabling the wellbeing of all its individuals and communities and this includes our police. We are delighted and humbled to partner with Mohali Police in planting this mini forest, which will provide an enabling space for our policemen and women to rest, connect and rejuvenate. It is an expression of our gratitude towards police and the self-less service they do for us."
Studies have found mental health issues such as stress, anxiety and burnout to be rampant in the police force but they are often downplayed. Police operate in difficult and dangerous situations, putting in long hours at work including on important festivals. As a result, they often lose out on self-care, family time and social connections leading to poor mental health. "There's an urgent need to address these challenges within the force and creating access to green spaces and to wellbeing practices such as meditation and yoga can be a starting point to enable the mental health and wellbeing of our men and women in khaki," Shri Chowla added.
The plantation activity was preceded by an invigorating yoga and meditation session for the police conducted by an expert. RoundGlass Foundation also launched #KhakiGoesGreen campaign on its social media to create awareness about wellbeing challenges faced by police and how greening the environment can help in addressing them.
RoundGlass Foundation through its Plant for Punjab programme is committed to planting 1 billion trees in the state. Since 2019, 1,448,208 native trees have been planted across 1,116 villages under this programme, which promotes responsible environmental practices and care for biodiversity, creates germ-plasm conservation banks, and reduces carbon output, protecting against future ecological degradation.
RoundGlass Foundation has been working towards building a better Punjab for the past five years and has impacted more than 17 lakh lives in 1700 villages by planting more than 14 lakh native trees, setting up 150 waste management units, empowering children through sports and education and providing opportunities to rural women.