NewZNew (Chandigarh) : Indo Global Group of Colleges collaborated Indian Institute of Technology Madras for Quality Enhancement in Engineering Education Programme through Ministry of Human Resources Development, New Delhi. More than 100 Faculty & students of Indo Global   participated & interacted live by IIT faculty through ICT.
This programme include 15 live courses, 8 tutorials, 4 virtual labs, 2 bridge programs in Spoken English, Programming and web development, Industry-bridge sessions by CII, Microsoft Research Labs etc. All students of Indo Global students of all streams will be eligible for this programme. Students will be certified by IIT Madras during the semester for the relevant courses.
Interactive E-books, electronic presentation of text in a readable format published digitally as a volume will be another advantage for the students. These E-books have been specially designed for specific courses by highly rated teachers. Graphically rich learning techniques including text, images, graphics, animations, videos, audios, reference links, illustrations, presentations etc.  can also be accessed to enable a wider access to resources and materials.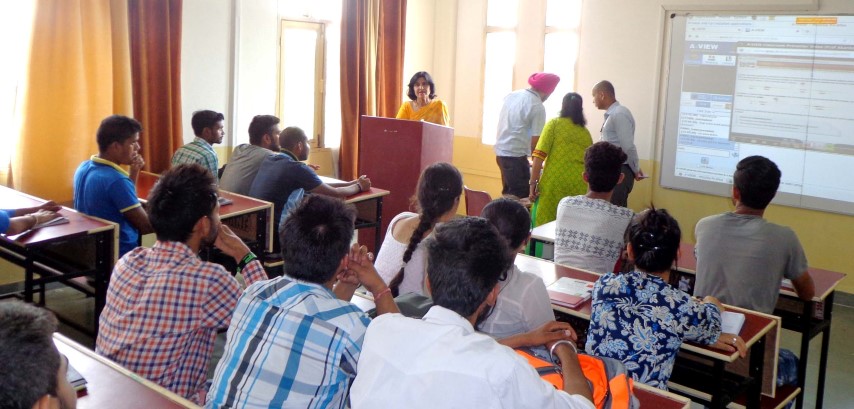 Speaking on the occasion, Manav Singla CEO Indo Global Colleges  said that with the introduction of D2S, the students will now be able to achieve the highest standards in Indian Technical Education, that of IITs. They will therefore have the winning edge when competing with other students at the Industry level. According to him QEEE program will on Live Lectures, Tutorials, Interactive E-books, Virtual Labs etc. Live Lectures would be delivered live from the IIT classroom using the tool via communications hardware being set up. The schedule of lectures will be predetermined and made available in advance to all participating colleges. At the scheduled time, the lecture will be brought live to the classroom, with the local lecturer playing the role of moderator. The session will mimic a live session as much as possible, with opportunities for sharing and interaction between students and instructor.