Independence Day Sale with over 100 brands offering FLAT 50% OFF at Elante : The favourite and safest shopping destination of the tri city is gearing up to host its annual Independence Day Sale.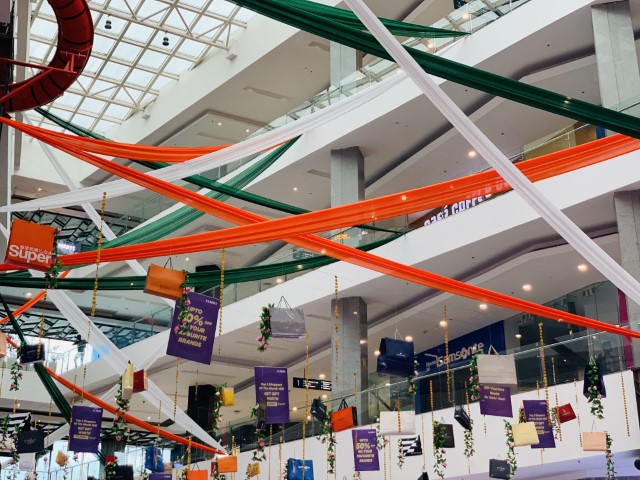 Over 100 brands at Elante Mall are now offering a FLAT 50% OFF and several other brands which are now offering attractive discounts until August 16. The most sought-after brands like Zara, Lifestyle, Shoppers Stop, Marks & Spencer, Tommy Hilfiger, Calvin Klein, Steve Madden, and more will all be a part of The Independence Day Sale'.
Elante now has over 200 brands which are operational. All patrons who shop above INR 10,000/- until August 31 stand a chance to win assured Gift Vouchers worth INR 1,000/-. Apart from assured vouchers, the top 5 'Shoppers of the Month' will be eligible to win gifts worth INR 20,000/- each.
Since reopening, the much-awaited dining options at Elante are also over 95% operational and are already reporting good numbers even with the social distancing norms in place. Chandigarh's favorite restaurants like Swagath, Backpackers Café, Brooklyn Central, Kala Ghoda, Pirate of Grills, Chili's, Nando's and several others are now operational.
Elante was recently declared 'Safe and Secure' by Bureau Veritas, one of the most prestigious certification organizations in the world which ensures optimum standards of health and safety recommendations of the WHO / local authorities are implemented without any deviations.
In India, Elante becomes the first to ensure a third-party reassurance from Global testing, inspection, and certification body with over 190 years of experience.
Speaking on the occasion, Anil Malhotra, Executive Director-Corporate Affairs, Nexus Malls, said, "The Independence Day always gives an impetus to go forward beyond the call of duty towards the nation and people and in these unprecedented times we would like to be the torch bearers of festivity, bonhomie and hope. We at nexus malls imbibe those patriotic values and extend our warm wishes to our patrons with the announcement of our annual 'The Independence Day Sale'  we walk hand in hand with our retail partners who  have also come forth to host this annual event with us. We would like to assure our patrons that we are strictly adhering to the SOPs circulated by the Ministry of Home Affairs and Shopping Centre Association of India (SCAI). All our staff members, retailers and customers are being continuously monitored to ensure they adhere to the hygiene norms heightened at every touchpoint inside the mall premises. These rules form the essence of the new normal and being a responsible shopping space, we are completely dedicated to providing a healthy shopping experience to our patrons. Do come and participate in this harbinger of hope for better times which begin now''
The experience of going to malls and shopping has been transformed completely. With Social Distancing becoming a way of life, the new normal now includes wearing a mask, maintaining 6 feet distance, proper hand sanitization amongst others. All the common areas, customer walk in's, the car parking facilities are now constantly monitored leaving no scope for compromising with the health of visitors. At food courts, we are taking measures to ensure contactless food ordering as well.