India needs a sporting culture to excel in the world arena: Abhinav Bindra: The two-days medical conference named EPIC (Empower Physicians with International Practices in advanced Diabetes Care), concluded here with a motivational keynote by the Padma Bhushan Olympian Abhinav Bindra.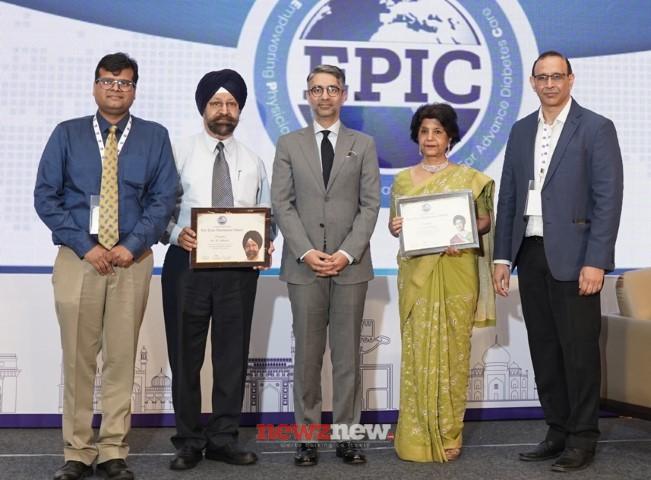 Abhinav shared his life's journey and how the sports changed his outlook towards life with various facets of life and character that helped him develop better self-respect, self-discipline, and self-confidence, and more importantly overcome the fear of failure.
One learns to listen to one's coach and other experts and self-analyse one's strengths and weaknesses, and hone the ability to stay in the moment, focussed and determined, through regular practice, he said, which everyone should try to be the best and get better than yesterday.
Abhinav responded to the doctors' queries on stress, and anxiousness, he said that all conflicts emerge within and it is only through the practice of staying focussed on the moment to accomplish what one wants to do can make a difference.
When asked about the absence of more sportspeople winning medals for the country, Abhinav said that we need to develop a culture of sports with everyone happily participating in games joyfully, and celebrating it, which would encourage more youth to excel for better performance.
Abhinav Bindra along with EPIC's organizing chairman Dr. Sanjay Kalra and secretary Dr. Sachin Mittal conferred Lifetime Achievement Award on two stalwarts in the field of endocrinology,   Dr. B. S. Bhatia, Prof. Sarita Bajaj, for their contribution in the field.
Earlier the medical sessions covered various aspects of diabetic patients, wherein the cardiologists Dr. HK Bali, Dr Puneet Verma, Dr Rajneesh Mittal, Dr. Soumik Goswami, Dr. Anil Dhall, Dr. Neeraj Bhalla and Dr. Dilip Bhalla, underlined the need for early detection, prevention and treatment of cardio-renal damage to
Dr. Akshata Desai, Dr. Gurpreet Singh, Dr Mani Kant Singla, Dr Savita Kapila, Dr JK Mokta, Do Soham Mukherjee looked at the practical challenges and solutions in the use of insulin for diabetic patients.
The conference concluded with a session on Work-Life balance by ex-IAS, author, and TEDx speaker Vivek Atray, who touched upon physical and mental fitness by advising patients to follow creative pursuits and manage their anger and stress through regular meditation, essential to managing the lifestyle disease like diabetes and obesity.
Dr. Sachin Mittal, organising secretary, said that sensitization of general practitioners towards newer developments in endocrinology was essential and also how different organs affected by diabetes need to be taken care of at an early stage.