India, Sri Lanka need to keep mutual interests, sensitivities in mind: PM: After holding delegation-level talks with visiting Sri Lankan President Ranil Wickremesinghe, Prime Minister Narendra Modi said it is important that the two neighbouring nations work together while keeping in mind mutual security interests and sensitivities.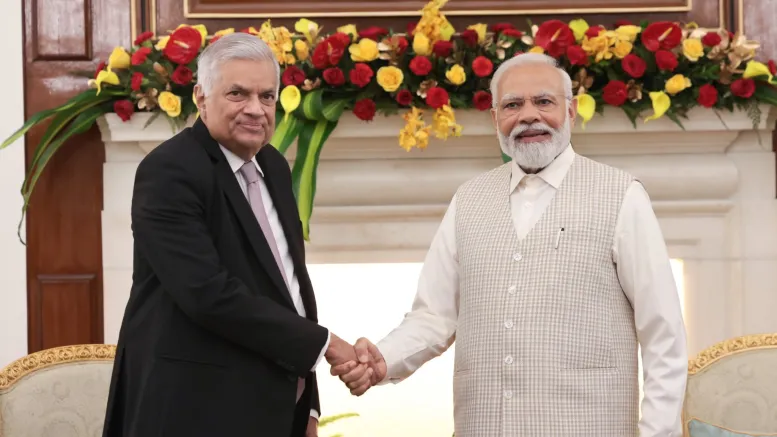 Earlier in the day, the President received a warm welcome by Prime Minister Modi at the Hyderabad House after which the two leaders held the talks.
In a joint press statement, Modi said: "It is necessary that we work together keeping in mind each other's security interests, sensitivities.
"We have decided to begin talks on economic and technological cooperation. We have also agreed to increase air connectivity between two countries."
The Prime Minister also expressed hope that the island nation's government will fulfill the aspirations of the Sri Lankan Tamils and take forward the process of equality, justice and peace.
While referring to Sri Lanka's worst-ever economic crisis, Modi noted that the last one year has been full of challenges for the people, but "being a close friend, as always, we stand shoulder-to-shoulder with people of Sri Lanka even during crisis".
The Prime Minister even congratulated Wickremesinghe on completing one year of his tenure as President.
Modi further informed that in India's Neighbourhood First and SAGAR policies, Sri Lanka has an important place.
"During talks with the President, we discussed issues of bilateral and regional cooperation as well as international issues. It is our belief that India and Sri Lanka are connected with each other through security and developmental interests.
"Today we finalised a vision, which is about strengthening maritime, air, energy and people to people connectivity. This vision is about India's long term commitment towards Sri Lanka," he said in the joint statement.
On his part, Wickremesinghe said: "We believe that India's growth will be beneficial to the neighbouring countries and the Indian Ocean region."
Wickremesinghe arrived in the national capital on Thursday. This is first trip to India after becoming President last year after a turbulent political change.
On Thursday evening, he met External Affairs Minister S. Jaishankar.