NewZNew (Chandigarh) : To increase the volume of bi-lateral trade from 104 billion dollars now to 500 billion dollars, a goal set by US President Barak Obama, both India and the US need to work overtime, said Deputy Chief of Mission of the US Embassy, Micheal Pelletier. He was addressing the inaugural session on 'Investing, Trading, and Travelling to the Unites States', organised by the Confederation of Indian Industry in collaboration with the US Embassy at CII headquarters here today.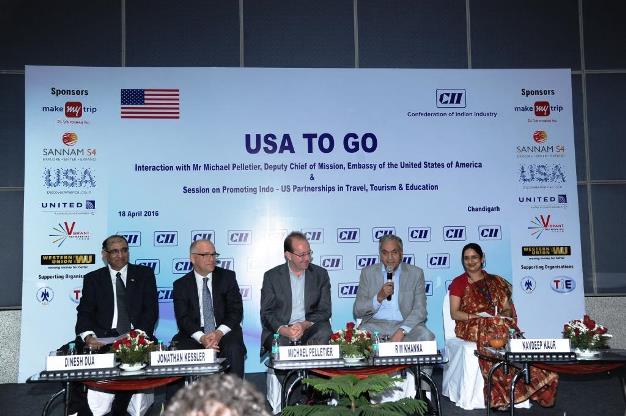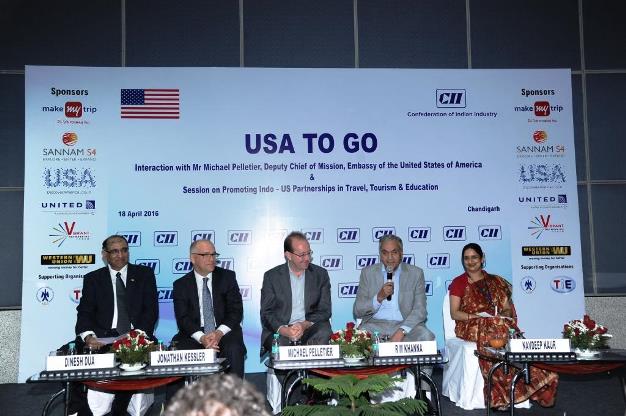 To accomplish full-time rapid growth investment by both countries is very important, he said. Indian- owned companies in the US employ 44,000 people and contribute 2 billion dollars to US exports, he highlighted. He emphasized the importance of joint ventures by the two countries in creating joint profit and employment.
He said the fact that the second largest delegation at the SelectUS summit was from India last year was a very encouraging sign and the number will increase when the summit is held this year in June.
He said 69% of H1B and 29% of H1N1 visas were given to Indians and the US Government is working towards enhancing facilities to grant early visas for Indians. Last year, 1 million visa applications of Indian applicants were processed for US, he said.
CII Chandigarh Council Chairman, Dr Dinesh Dua, said "As per a survey-based report of CII 'Indian Roots American Soil' on Capitol Hill which showed that 100 Indian companies have made cumulative tangible investments of $15.3 billion in the US with an average of $433 million per state. Almost 20 US States Texas, Pennsylvania, Minnesota, New York and New Jersey received more than $100 million in investments from Indian companies. However, there are several sectors where US companies can invest in India. The Infrastructure sector presents a trillion dollar opportunity for US companies in critical areas such as development of highways, airports and ports etc. The two countries can cooperate is in the area of infrastructure, financing, the Railways sector, Renewable Energy sector, the Urban development/Smart Cities sectors, Indian defense market, For Digital India, the Bharatnet mission, etc."
"CII lauds the fact that some states are recognizing the barriers to business this poses, which is evident through the withdrawal of the Buy America bill in Maryland in 2013. Indian Industry believes that the US-India strategic partnership goes beyond the merely transactional and must strive to achieve a balance between a sustainable and long term strategic partnership and the comparatively short term goals," he added.
Addressing a breakout session on 'Promoting India-US Partnership in Business & Industry, Paul Frost, Commercial Officer, US Embassy, said, "Commercial services offered by the US Embassy include match-making services for US and Indian businessmen on the lines of increasing bilateral cooperation as well as working towards better trade relationships.
At the session on Travel Tourism and Promoting Education, the representatives from US Embassy, India Educational Foundation and Brand USA India highlighted a hassle-free process to avail the opportunities in the areas of education, tourism and visa application process.
The US Embassy developed the USA to Go outreach programme owing to significant growth of commercial and personal ties between the two nations. Non-immigrant visa applications to the US continue to increase every year, from 8,60,000  in 2013, to more than 1,100,000 in 2015. India is behind only to China in sending the most students in the United States, at nearly 1,33,000. Nearly 1 million Indian tourists visited the United States in 2015 and spent over $9 billion. India is among the fastest growing sources of foreign direct investment into the United States, with roughly $11 billion.
The US Government has specific programs to promote and facilitate each of these activities: Select USA and the International Buyer Program promote investment and trade; Education USA facilitates education; and Brand USA is a public-private partnership to promote travel and tourism to the United States. Through USA to Go, the US Embassy aims to create awareness among leaders throughout North India about opportunities for engagement in the US.
CII and the US Embassy are grateful for the support of Western Union, United Airlines, Brand USA, Make My Trip, Sannam S4 and Vibrant Networking Forum to make this event possible.