Indian Medical Association (IMA) gears up for battle against TB in Chandigarh Haryana and Punjab : In a major initiative to end the tuberculosis menace in Chandigarh, Haryana and Punjab, the Indian Medical Association (IMA), a national voluntary organization of Doctors of the modern scientific system of medicine, today highlighted various efforts they have undertaken to achieve the Government of India's vision to 'End TB'.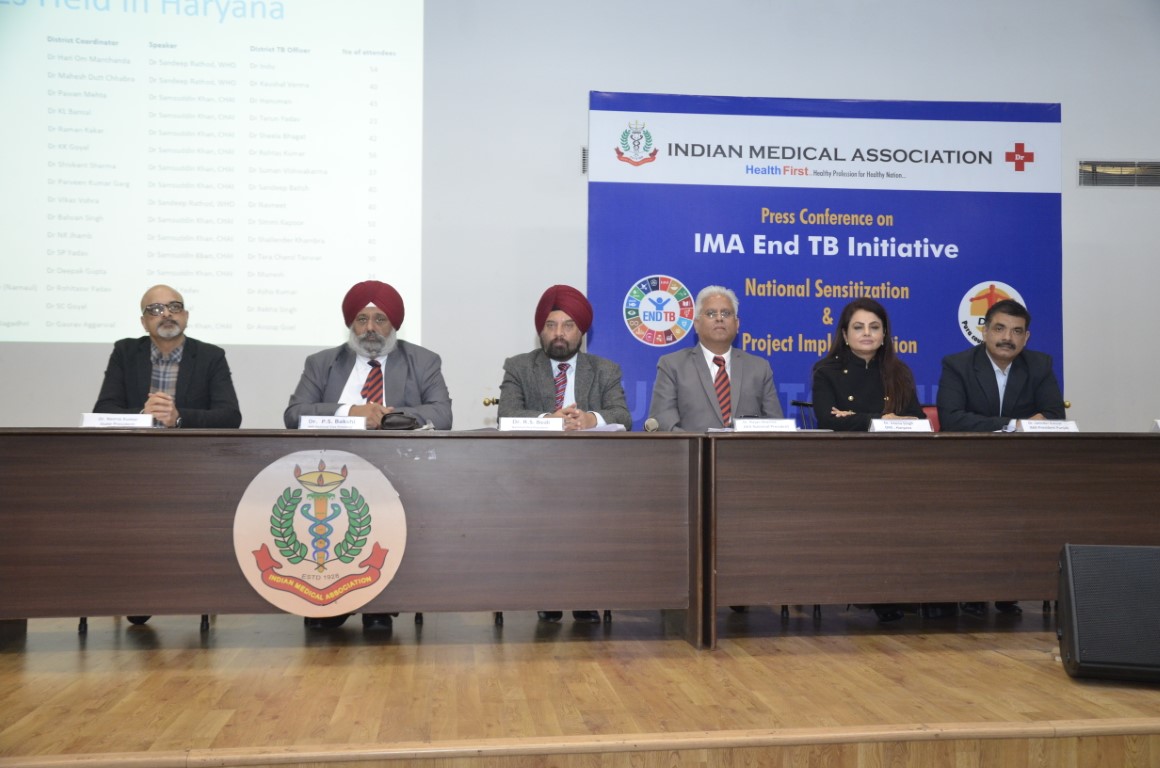 The IMA's initiatives are part of a joint collaboration with the Government to reach out to every private doctor and through them, every TB patient in Chandigarh, Haryana and Punjab.
Dr Rajan Sharma, National President Elect 2019-20 said, "that as of September 2018, 4723 patients were notified in Chandigarh, out of which 286 cases were notified by private sector. The number of TB patients notified in Haryana during 2017 were 40,751 and in Punjab were 45,313. As of December 14, 2018,60,478 patients have been notified in Haryana and 50,707 in Punjab respectively, out of which the private sector has notified 13,701 patients in Haryana and 9,550 patients in Punjab.
Dr.Paramjit Singh Bakshi, National Vice President IMA said, "that the IMA with the Central TB Division (CTD), GOI has been making joint efforts to expand notification of TB cases by doctors in the private sector, as notification is an important tool to achieve universal coverage and succeed in the fight against the dreaded disease."
To expand notification further, Government of India has begun a public private partnership against TB called JEET Project (Joint Effort for Elimination of Tuberculosis). Through the engagement of large scale private providers through an interface agency, quality TB care will be seamlessly extended to patients. In Haryana, interface agency support has been provided in Gurugram and another 15 districts are covered in lite model. In Punjab, interface agency support has been provided in Jalandhar, Ludhiana and another 6 districts are covered in lite model.
Speaking on the occasion, Dr Neeraj Kumar, President, U.T. Chandigarh, IMA said, "There is a steep rise of TB patients in the region and therefore, measures are being taken to make sure that all patients are notified on time to ensure their treatment is monitored and completed. With the single aim of having a TB free India, the state branch of IMA will encourage all private doctors to notify every TB patient across Chandigarh."
Dr. Jatinder Kumar Kansal, President, Punjab State Branch, IMA said, "We are taking appropriate steps and measures to engage patients and private doctors for TB notifications. To make Punjab from TB free, it is essential that we utilise resources at our disposal like the NIKSHAY app to achieve this end. The State IMA will work to inform private doctors to notify cases of TB that come to their clinics."
The RNTCP in collaboration with National Urban Health Mission is tying up with municipal corporations across cities for expansion of health facility based services with outreach activities to increase case detection in urban area.
In the recent past, the Government of India has introduced significant changes in clinical care and patient support system of TB patients to improve quality and coverage of TB patients in the public health system. This include use of molecular diagnostic (CBNAAT) for diagnosis of TB and drug resistant TB at decentralized level, testing for rifampicin resistance for all diagnosed TB patients, shift to daily regimen for treatment of drug susceptible TB patients, newer and shorter regimen for drug resistant TB patients and NIKSHAY PoshanYojana to assist TB patients for nutrition.
The Regional Programme Management Units have been established for strengthening monitoring and capacity building support, which is unique in the country. With 261 Microscopy centers, 27 CBNAAT laboratories, I Culture and DST laboratory and 18 DR-TB centers, Haryana has also opened 11 new microscopy centers in National Urban Health Mission (NUHM) set up for catering to slum and marginalized population and has plans to further expand TB case diagnosis services. In Punjab, the State has made systematic efforts to engage private pharmacies to take their support in increasing notifications. Punjab also has 274 Microscopy centers, 29 CBNAAT laboratories, I Culture and DST laboratory and 11 DR-TB centers.
The UT of Chandigarh also have made consistent efforts to leverage upon the above initiatives within the local context and accelerate uptake of these strategies with systematic monitoring and supervision which has resulted in increased case of diagnosis of TB cases.
Dr Ramneek Bedi, Coordinator of the event said "that in Chandigarh, Haryana and Punjab, IMA is regularly monitoring TB notifications and all districts have conducted meetings with Drug control officers and Chemist associations.In addition, IMA is taking innovative steps to promote NIKSHAY app and incentives to improve notification from private sector. The IMA is working to galvanize doctors in the private sector to increase notification and work toward the cause of ending TB by optimal utilization of NIKSHAY."
NIKSHAY, a useful phone app that allows doctors to notify TB patients through a simple interface also helps in TB patient management and care.NIKSHAY has been upgraded to a more user friendly version 2.0 that is compatible with both web based and app based platforms. Private doctors can also use other methods including the Government's call centre at 1800-11-6666 for notification of TB patients and for support and more information. To encourage doctors to use the NIKSHAY app for notifications, the government has also introduced an incentive scheme for doctors – Rs. 500/- on TB notifications and Rs. 500/- on the report of treatment outcome.
Dr. Veena Singh, Director Health Services, Haryana, Dr. Anil Hans, State Secretary IMA Haryana, Dr. Navjot Singh Dahiya, State Secretary IMA Punjab, State TB officers of Chandigarh, Haryana, and Punjab and IMA UT of Chandigarh and State Tuberculosis coordinators were present on the occasion.