HDFC Bank launches custom-fit car loans #AapkeHisaabSe : HDFC Bank Ltd., today announced the launch of custom-fit car loans #AapkeHisaabSe in Chandigarh. As part of this offering, customers will now be able to buy cars at lower EMI (up to 24 per cent under Step-up EMI in first three years and upto 30 per cent under Balloon repayment program).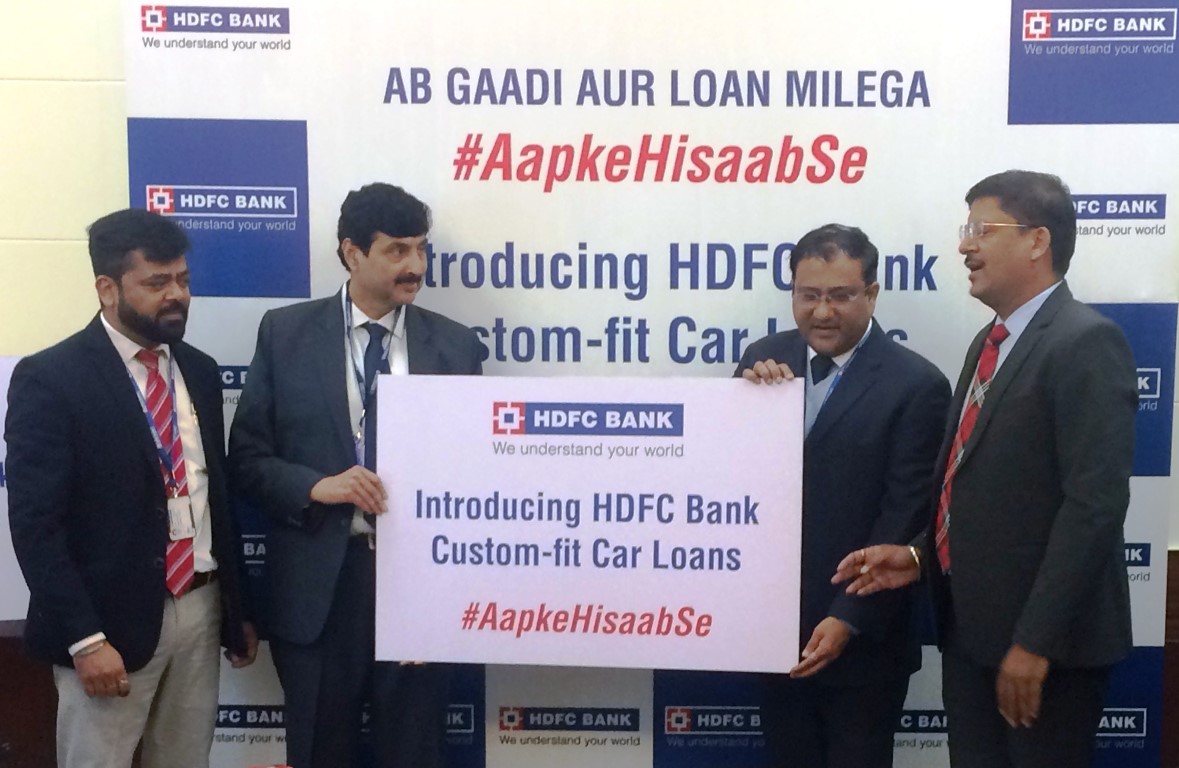 This unique product is available for all categories of cars, from standard to premium and helps people fulfil their dreams of a better car now based on future income.
At a function organized in the Chandigarh, custom-fit car loan was launched by Mr. Vineet Arora, Branch Banking Head, North, HDFC Bank with Mr. Sumit Chowdhary, Regional Sales Manager, Auto Loans, Punjab, HDFC Bank and Mr. Rajat Kalia, Regional Sales Manager, Auto Loans,Chandigarh and Haryana, HDFC Bank in the presence of other senior officials of HDFC Bank.
Offers 2 options of Step-up EMI or Balloon Repayment
To know more about custom-fit loan and new offers, click here:http://bit.ly/2A3IkMO. Customers can give a missed call on this 9667951616 number and will receive a call back. New customers can walk-in to any HDFC Bank branch or car dealership to avail custom-fit car loans and existing HDFC Bank customers can get it instantly on NetBanking.
HDFC Bank launches custom-fit car loans 2 Options

Step-up EMI:

A Step-up plan allows the customer to start repayment of your Car Loan with up to 24 per cent lower EMIs in the first three years and gradually increase the EMI. It enables a customer to take a higher loan amount at lower EMIs.
Take the case of a Rs 10 lakh car loan with a tenure of 7 years (84 months).
EMI

(Standard)

:  16,620/-

EMI

(Step Up)

: 12,390/-
Now if a person had paid a standard EMI of Rs 12,390 he would have been eligible for a loan of Rs.7.50 Lakhwhereas now he is eligible for a loan of Rs 10 lakh. With a clear saving of Rs 4,230 per month the affordability has increased for a car that meets the customers' aspirations.
Balloon Repayment:

A balloon EMIallows customers pay up to 30 per cent lower EMIs through-out the tenure and a larger lump sum amount at the end of the term.So a customer availing of Rs 10 lakh auto loan can pay 60 % of the loan as EMI for 59 months (tenure of 5 years). The balance 40 % is to be paid at the end of the tenure under the Balloon repayment option.
HDFC Bank launches custom-fit car loans
Key features :
Zero foreclosure charges*

Suraksha Kawach

: Total protection against Permanent Total Disability, Accidental Death and Accidental Hospitalization

Top-up loans

Up to 100% funding

Up to 7years Tenure

In-principle approval in 10 mins

Minimum documentation



"The initiative #AapkeHisaabSe is about customizing our products and services to help fulfil the dreams and aspirations of our customers. This is not just convenience but an experience for customers where we are offering not just lower EMIs but also 10 minute approvals, longer tenures and also insurance in the form of Suraksha Kawach. Both Step Up and Balloon Repayment have been available by the Bank for practically every car category in the country," said Mr.Sumit Chowdhary,Regional Sales Manager, Auto Loans, Punjab, HDFC Bank.
"At HDFC Bank we understand that whether it's an entry level or a top of the line vehicle, customers across the board require flexibility in loan repayments. It's this initiative, salaried, government employees and business men can purchase their dream car. As a lifestyle bank, the endeavour is to be a constant part of customers' life and be relevant. #AapKeHisaabSe we believe helps customers fulfil their current aspirations based on their future income," said Mr. Vineet Arora, Branch Banking Head, North, HDFC Bank.