It's good time to book flight tickets, if you have plans to travel in the next few months, as low-cost carrier IndiGo is offering tickets starting from Rs 1,111. IndiGo is offering the tickets at discounted rates to mark the airline's 11th anniversary. Buyers can book the tickets between August 2 and August 6 to avail the offer. And, the travel date should be between August 21 to March 24, next year. The offer is valid only on select non-stop flights.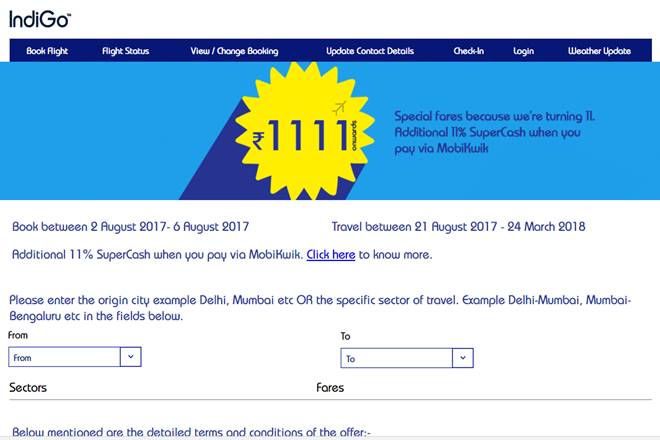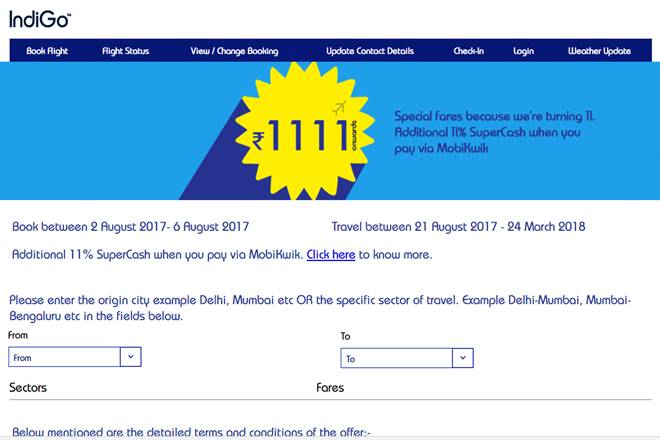 Metros – Delhi, Mumbai, Bengaluru, Kolkata – and smaller cities – Bhubaneshwar, Chandigarh, Pune, Ahmedabad – where the IndiGo flights ply are covered in the list. IndiGo's scheme is also valid for some of its international destinations such as Sharjah, Singapore, Muscat, Dubai, Doha.
Travellers can avail the discounts and book the tickets on IndiGo's all booking channels. However, the discount will be subject to availability. There's a separate offer for fliers who pay for their tickets through MobiKwik.
Under this Offer, the customer may be eligible for "SuperCash" of 11% upto INR 600 on bookings made on www.goindigo.in or IndiGo Mobile App with MobiKwik.
IndiGo lists the below terms and conditions on its website for the offer:
This offer is valid only on select non-stop flights from Agartala, Ahmedabad, Amritsar, Bagdogra, Bangkok, Bengaluru, Bhubaneswar, Chandigarh, Chennai, Coimbatore, Dehradun, Delhi, Dibrugarh, Dimapur, Doha, Dubai, Goa, Guwahati, Hyderabad, Imphal, Indore, Jaipur, Jammu, Kochi, Kolkata, Kozhikode, Lucknow, Madurai, Mangalore, Mumbai, Muscat, Nagpur, Patna, Port Blair, Pune, Raipur, Ranchi, Sharjah, Singapore, Srinagar, Thiruvananthapuram, Udaipur, Vadodara, Varanasi and Visakhapatnam.
This offer is applicable on bookings made 15 days prior to travel.
This offer is subject to availability.
The offer is applicable on all our booking channels.