inDriver Collaborates With Troll Punjabi For A New Web Series- Yaar Chale Bahar: inDriver, the international ride-hailing service with over 100 million users worldwide, collaborated with Troll Punjabi for a new web series named Yaar Chale Bahar.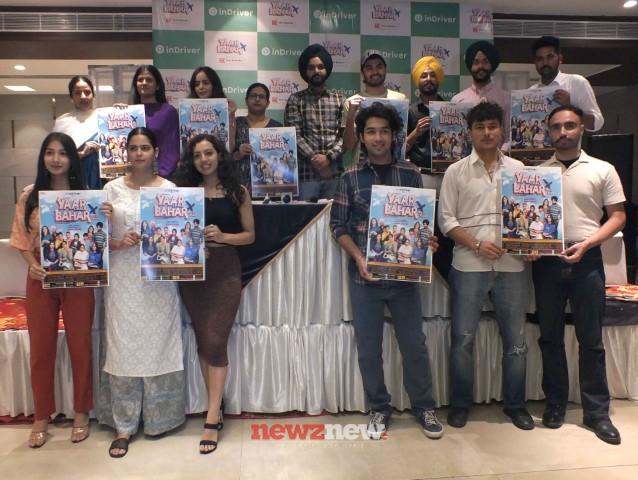 Troll Punjabi, one of Punjab's most popular Youtube channels, previously created the web series Yaar Jigree Kasooti Degree, which ran for two seasons of 12 episodes each. With over 354 million views across all episodes, the title song, and the trailer videos, the show was a tremendous hit with Punjabi people.
Yaar Chale Bahar is a story of a group of friends preparing for their IELTS exams. Each character comes from a distinct background and has a unique tale that is intertwined with the others.
The story revolves around their day-to-day struggles and shows how their lives unfold in the most unexpected ways. The characters in the series travel intercity by booking their rides through inDriver.
The makers along with the star cast shared the details about the upcoming web series with the media in Patiala and also unveiled the title song of Yaar Chale Bahar.
inDriver connects drivers and passengers across Punjab and allows them to independently agree on all the terms of each trip. With inDriver intercity rides, people can travel intercity without compromising on safety and convenience.
"We are excited to be a part of Yaar Chale Bahar. Through this web series, we are able to highlight inDriver's unique model, which allows passengers to make a price offer on their ride requests and negotiate with nearby drivers.
Aside from the fare, passengers are also able to select their driver based on their rating, estimated time of arrival, and vehicle model. In turn, drivers are not automatically assigned to passengers and can choose to accept, ignore or negotiate a more preferable fare. The feature allows inDriver users to get affordable rides at any time of the day," said Pavit Nanda, inDriver South Asia PR Manager.
The series focuses on Punjabi youth who are relocating to another country, particularly Canada. Each person has their own reason, such as higher studies, parents' dreams, becoming a singer/artist, and dissatisfaction with the Indian system.
This series will elicit a range of emotions. Yaar Chale Bahar will have a new cast and storyline but the crew remains the same," Rabby Tiwana, Director of Yaar Chale Bahar, stated.
"We are delighted to be collaborating with inDriver. The concept of the web series is closely related to the services of inDriver. Our characters' storylines include intriguing situations in which they will be riding in inDriver cabs," said Rabby Tiwana
Gur Sidhu, a Punjabi singer, songwriter, and lyricist, has sung the title song "Yaar Chale Bahar" for the upcoming series. His breakthrough hit, "Bro Oye," catapulted him to popularity. As a music director, Sidhu is best known for his tracks "8 Parche," "Pyar Bolda," and "Regret." Bamb Aagya" was his most recent hit Punjabi song, and he recently released "Step Up."