Industry representatives from across the country deliberate upon day long workshop on Pharma Export: Presently the country's pharma industry imports chemicals as raw material costing around Rs 360 billion which needs to be cut and at the same time, need is to produce chemicals in the domestic market to strengthen  'Make in India' vision.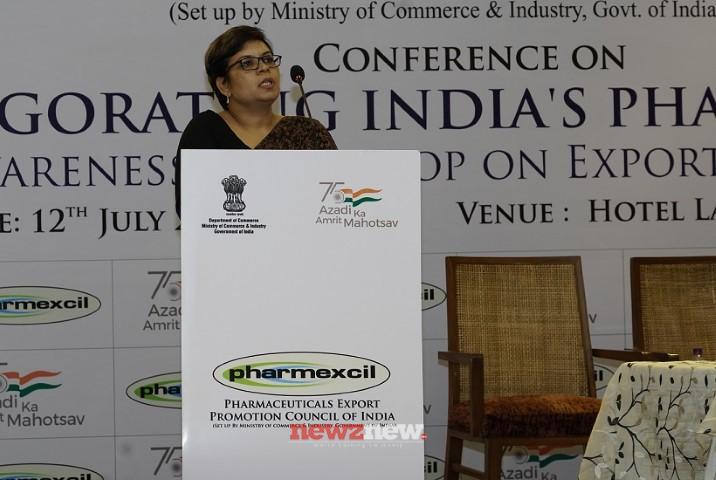 This was stated by Dr. Manjit Bhatoya (ITS), Deputy Director General, Directorate General of Foreign Trade (DGFT) under the aegis of Ministry of Commerce and Industry while addressing the pharma delegates at a day long workshop themed on  'Reinvigorating India's Pharma Export' organized by the Pharmaceuticals Export Promotion Council of India (Pharmexcil) in Chandigarh.
Bhatoya highlighted that the government is putting all efforts in this direction wherein the support of the pharma industry is equally vital which will take the country towards Atmanirbhar (self-reliance) to help cut down the chemical import by about 40 percent. She also explained the various clauses of 'Niryat Bandhu Scheme' initiated by the DGFT for the pharma sector, which will give new dimensions to this sector at the global level.
Earlier, Sahil Munjal, Chairman, Pharmexcil and organiser, while welcoming the delegates, apprised about the objective of this event. Munjal, in his address, while narrating the achievements of the pharma sector, termed India as Pharma Hub of the world, especially the generic and emphasized that this is the reason India has healed the world from global pandemic Covid 19 by reaching out with his its  'Sanjeevani' (Vaccine) in every nook and corner of the globe.
He said that the country's pharma sector has registered a massive growth of 103 per cent in the last almost a decade from 2013-14 to 2021-22, wherein the Indian pharma market has gained from Rs 90,415 crore to Rs 1,83,422 crore. He said that India is the third largest producer of medicines in the world and benefitted the entire world. He lauded the Govt also needs to make it more industry friendly to upgrade this industry.
During the program, GST Commissioner Hardeep Batra apprised the delegates about the GST amendments. He also cleared the doubts of industry representatives on GST claims and refunds.
Program also witnessed the deliverables on given subjects by  Punjab Drugs Controller Sanjeev Garg, Haryana Drugs Controller and Licensing Authority Manmohan Taneja, Himachal Pradesh Drugs Controller Navneet Marwaha, Advocate Surjit Bhadu, Pharmachem CEO Nipun Jain, Pharmexcil Regulatory Affairs Director Lakshmi Prasanna and others.